Top 7 Ad Copy Generator software in 2022 to Copy Facebook ads, Google, Adwords, and Instagram Ads easily. Listed Best FREE Online AI Ad Generator tools for Social Media & Seach Engines.
The greatest ad text generator for social media and Google ad campaigns is here.
The good news is that you've found your way to the proper blog page…
This Page has Ad Copy Generator For:
One of the finest methods to increase brand recognition and attract new consumers is via advertising campaigns. But it's difficult to write an attractive ad copy that persuades your target audience to take the necessary action.
In This Post…
We have shared all the Ad Copy Generators that you should know and also their pricing & Features.
Let's Start!!
What is an Advertise Copy Generator?
Artificial intelligence and several marketing frameworks are used to develop many ad copy variants for search engine and social media advertising campaigns using this Ad Copy Generator.
Advertising copy is generated by feeding a few keywords or sentences into the program, which then utilizes artificial intelligence (AI) and marketing frameworks to come up with a creative copy.
You may utilize the ad copies in your Google AdWords or social media accounts since they include numerous variations of the ad headline and the ad content.
A great feature of these generators is that they have an in-built grammar and spelling checker. The copy should be appropriate for use in your advertising efforts.
AI Story Generator – Write Stories & Novels using AI Writers.

Create new stories, write book or novels in minutes.
Benefits Of Using The Ads Text Generator
1. Saves Time: –
Multiple copies of your ad templates may be generated by these programs in a single effort. It's also possible to regenerate ad copies in under a minute in the event that the initial copy doesn't meet your standards.
2. Generates Conversion-Oriented Copies: –
Ad copy generators may be used even if you don't know how to write great ad copy. AIDA, PAS, BAB, and other tried-and-true marketing frameworks are built into these solutions, ensuring that your ad copy is convincing enough to result in sales.
3. Scalable & Flexible: –
Automated text generators are designed to grow with your content demands. The free plan allows you to create up to five ad copies each day. There is an exception for premium users, who may create infinite ad copy. This is a quality that advertising companies and marketing departments value greatly.
4. Reduces Manual Efforts: –
Once again, with the option to make several ad copies, you're essentially saving yourself the time and effort of doing all the tedious work. You just need to tell the program what the ad is about, a few keywords, and a few other simple things. It will then produce an ad copy for you automatically.
5. Offers Ad Templates That Can Be Modified: –
This software comes with a collection of ad templates to make the ad text creation procedure a snap. Search engine and social media ad campaigns may benefit from these templates, as well.
Best Ad Copy Generator Software
Jasper
Besr AI Ad Copy Generator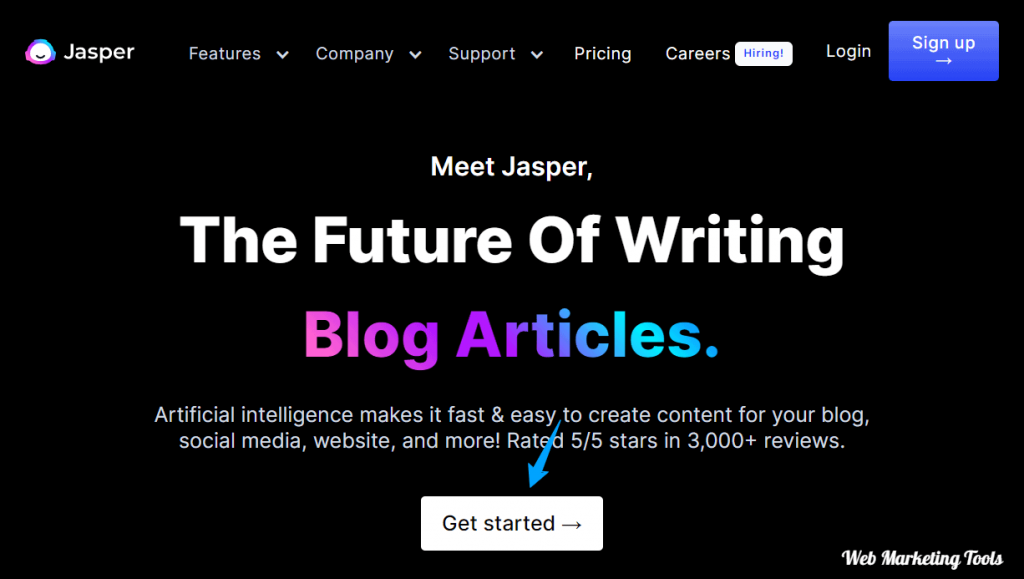 Jasper AI is now one of the most potent ad text generators on the market. It was formerly known as Jarvis.ai and Conversion.ai.
Since its introduction in January 2020, Jarvis has had over 30,000 users including marketing firms, entrepreneurs, and writers from all around the world, who use it to generate captivating copy and other sorts of content.
As a result of its speed and cost-effectiveness, this instrument has become a popular choice for many businesses. On many occasions, Jarvis has outperformed humans at creative activities that they used to do.
Jasper Key Features:
It can generate watermarks.
It has a flexible report layout.
It can accept data from multiple data sources.
It allows developers to supply data in multiple ways.
It is capable of presenting data textually or graphically.
Jasper Pros & Cons:
Pros
The tool comes with a lot of good features and shortcuts
It also has Grammarly support and a plagiarism checking facility.
Cons
Jasper.ai Pricing
Starter Plan: It starts at $29/month and gives you access to 20,000 words each month and all of the short-form copywriting templates. if you want an AI writing tool to create short-form content like headlines, and product descriptions – the Starter plan from Jasper is a great choice for you.
Boss Mode: This plan starts at $59/month and gives you access to 50,000 words along with the long-form assistant which can be used to write full blog posts, Using this plan, you can create long content like blog articles, and emails, social media posts, and more.
Additional: The best part about Jasper AI is that it offers a 5-day free trial to all users. You can visit the following special link to grab their free trial.
Start Jasper.ai FREE Trial 2022 with special 10,000 FREE Words Credit for new users. Get Jasper.ai(formerly known as …
Access all features of Jasper and Create Free Content of up to 10,00 words. (Limited Offer)
Get up to 40% Discount or 10,000 FREE Words with Latest Jasper Coupon 2022. Get Jasper.ai (formerly Jarvis & …
Get a 40% Discount on Jasper Plans or 2 Months Free on Jasper. (Limited Offer)
Get the best Jasper ai Alternatives and software like Jasper Ai, We have 12+ top alternatives to Jasper, compare all …
Compare all the Top AI writers and Assistants and Select a Better Jarvis.AI Alternative.
Ad text generator CopyAI is the world's first AI-powered program to assist marketers in producing texts for diverse reasons, from advertising campaigns to social media postings.
High-quality information is provided at a pace that is tailored to your requirements, making it easier for you to manage your workload.
Ad copy is generated automatically by evaluating the material you provide and learning about the subject matter, sentiments, and context of what you've written.
CopyAi Key Features:
It can easily be used to generate any content around the different niches.
It Can write your product description or caption for your social media post
the service can give you some ideas on your blog and social media content.
It can create Emails, including thank you notes, confirmation emails, captivating subject lines, etc.
you can generate various sales copies, including Pain-Agitate-Solution, Before-After-Bridge, and Feature-Advantage-Benefit, among others.
CopyAi Pros & Cons
Pros:
It has 90+ copywriting tools that help you to write good copy
User-friendly interface
Cons:
Not good for long-form content
CopyAi Pricing:
The monthly plan: It will charge you $49 per month as long as you stay with them.
The yearly plan: It will charge you $35 per month, but you've to pay for the next 12 months at once. You can then enjoy unlimited runs per day, tools, the newest features, 24/7 customer services support, and a premium community.
Additional: you will enjoy a free seven-day trial before you buy a monthly or annual plan. You can utilize the free trial to navigate through the features available as you work.
Copysmith is the next best ad copy generator on our list. Copysmith's development team has been hard at work since its October 2020 debut, constantly refining and expanding the app.
This AI-powered ad text creation tool can produce suggestions for copy and content for any given keywords you provide it with a list of. Material creation firms utilize it to produce content for their customers, while authors use it when they're stuck on ideas.
Copysmith's inventors saw a need for ad text generation software that was both less expensive and of greater quality, and so they came up with the concept. As a result, they realized that most copywriters were already engaged with other responsibilities and couldn't produce much new material quickly.
Even novice copywriters may produce high-quality and diversified material in a matter of minutes with the aid of Copysmith's artificial intelligence (AI).
CopySmith KeyFeatures:
The AI can generate entire posts, outlines, or intros for you
The advert writer creates both advert copy and product descriptions.
Copysmith has rewriting software that can spin existing content
It has a natural writing style with correct syntax and continuity between points.
You can create YouTube video descriptions, FAQ ideas, sales email copy, event press releases, etc.
CopySmith Pros & Cons:
Pros:
The interface is very user-friendly as compared to others.
Provides you with lots of content in a limited time.
Cons:
Blog post generations are capped
CopySmith Pricing:
Starter plan: It gives users 50 credits a month, which is about 650 pieces of copy. It also provides access to 20 plagiarism checks, most content types, and email support. which cost you $19 per month.
Professional plan: you will get starter plan features and in addition, this one offers long-form content generation, 100 plagiarism checks a month, and third-party app integration. This is also the first of the Copysmith plans with unlimited credits. For $59 per month
Team plan: you can enjoy all the features of the professional plan, but it also allows you to add a member($49/month), and also allows for 500 plagiarism checks a month
CopyShark Al makes it easy to create well-written and effective Ad copy for a wide range of purposes. It is like having an expert copywriter on hand, ready to write powerful copy at the click of any button and in a matter of seconds rather than hours or even days.
This is the best Facebook Ads Copy Generators in minutes and set ads for your own similar campaign on the Facebook social platform.
It is a free & Paid tool that lets you copy text & from websites, PDF files, images, etc. you can copy ads and use it as a copy ad generator, without leaving a trace. This means that no matter where you go or what device you use, you can always access your copied information.
Copyshark Features
Leverage artificial intelligence to unleash your potential.
It has a Content improver tool, that gives an insight into the content or ads
generates ad copy and product descriptions based on what works best.
gives you access to over fifty effective writing tools that empower you to maximize
Create ad copy, sales copy, product descriptions, blog paragraphs, and more in just a few clicks
Copyshark Pros & Cons
Pros:
They provide premium support to its users
This will give you unlimited access to annual billing.
Cons:
This tools doesn't provide a free trial to its new users
CopyShark Pricing
Monthly Plan: The monthly subscription costs $29/month, and as mentioned, it gives you access to all of the tools and features mentioned in this review article. However, you only get 200 Al generation credits, which means you will only be able to produce so much on a monthly basis.
Annual Plan: In this plan, you will get full access to this tool, you can use the tools without any limit because this plan provides unlimited access, also premium support is reserved for annual subscribers.
Mergewords is a FREE Web-Based Tool from Toptal, a powerfully helpful and effective digital tool that effortlessly combines words for almost any purpose. It's typically used to build links, conduct SEO research, and develop AdWords campaigns.
The device is high-speed and easy to use. You need to type your keywords in the three boxes and press Merge! Improve your SEO efforts by adding this tool to your daily marketing activities.
Merge Words Features:
It can be used for different purposes.
It's mobile-friendly and works on any platform.
You may choose the number of words.
Fast and easy to use.
Merge Words Pros and Cons
Pros:
Generate ideas for Domaining, Link building, and AdWords.
It's Free
Cons:
The tool is not good for long-format content.
Merge Words Pricing:
The tool is 100% FREE, with no limit of searches
No need to create a user or an account.
Another great ad text generator for marketers, agencies, and all types of organizations trying to reach new consumers are Writesonic.
Also, like other programs of its kind, this one features the most recent developments in artificial intelligence (AI). AI can also write high-converting ad copy and more than 20 other types of content with the aid of this technology.
When it comes to how it works, it's just like the other generators in this post.
It's as simple as clicking "Generate" after selecting the Google/Social Media Ad content template and entering a few phrases about your product or service. Writesonic will begin creating numerous copies of your adverts as soon as you press the button.
WriteSonic KeyFeatures:
It also includes various Additional AI Writing Tools.
The section includes adding copy for LinkedIn ads, Google ads, and Facebook ads.
The AI article writer is a very quick way to generate blog ideas, intro, and outlines.
Regarding the advanced features, the Business package comes with 1000 credits.
This feature allows you to create landing pages, headers, and SEO meta descriptions.
WriteSonic Pros & Cons:
Pros:
With write sonic easy to write marketing copy
It is popular software with a strong community
Cons:
May need manual adjustment at times.
WriteSonic Pricing:
Basic Plan: At $15 per month, Writesonic offers 75 credits for you to use with support for up to 25 languages- one user seat and access to all existing features.
Professional Plan: You can pay $45 a month and get unlimited credits. All features are available on this plan, but once again only one user can use the app.
Startup Plan: Startups and small businesses can pay $95 per month for the Startup plan. This plan also comes with all the features, unlimited credits, and up to 2 user seats are available. This plan is further enhanced by including priority support.
Agency Plan: The largest plan available is the Agency plan which permits four users. $195 a month gives businesses and agencies all available features including a custom feature request. In the near future, the agency plan will have white labeling available as well.
Anyword is another AI copywriting tool that's making a splash in the industry. Keywee was the original name given to the program when it was first released in 2012. Throughout the years, the program has evolved and been renamed Anyword.
It seems the right Google Ads copy generator software to create similar copies of your competitor's advertising. And run your own campaigns on Google Adwords.
As a result, it has become one of the most popular ad content generators for marketers and advertising agencies alike. So, if your advertising has poor engagement and conversion rates, Anyword can help you fix that problem quickly and easily.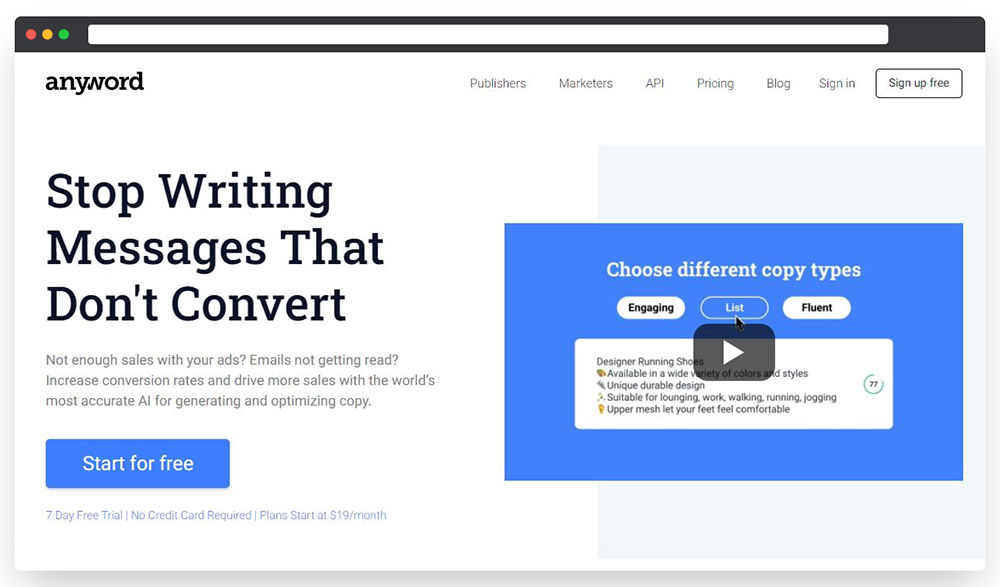 However, its predicted performance score component is what sets it apart from other ad producers. Your AI-generated ad text will be predicted and evaluated by this feature, which will then provide you with a performance score. Ad conversions are more likely when the score is higher.
Anyword Key Features
Include relevant keywords in your text ideas for the AI to use.
Validate each message's potential with an instantaneous forecast performance score.
To determine the most effective phrase, generate different variations of existing material.
For your existing advertising, get unique optimization recommendations and lift predictions.
Create a large number of text variations at once. Created with the goal of attracting and converting customers.
Anyword Pros & Cons
Pros:
Work better on both long & short Content
A credit card does not require for a free trial
Cons:
If you want more features, you'll need to pay significantly more for them.
Starter plan – This plan is available for $19 monthly. It allows you to create marketing text for introduction paragraphs, email subject lines, blog post outlines, and social media ads. 15,000 words per month are allowed, and one seat is provided.
Business Plan: This plan will cost you &239/month. The features include everything in the previous plan, plus tools to customize the AnyWord system to write in your voice. You can also link ad accounts, run text generation services for unlimited words, and create multiple user seats.
Enterprise Plan: The Enterprise plan includes all Pro plan features plus customized language models, API integration, and dedicated support bundled with fully managed traffic acquisition features.
Compared to other AI story generators, this tool is new. You can write many good stories, songs, and reviews by using this amazing tool. The tool is very effective and works on GPT 3 algorithm.
Rytr.me generate high-quality content by putting keywords. So if you want SEO-friendly content, you can get it by using this tool. If you are thinking of quilty, don't worry because this tool gives you three pieces of content after putting the text. So you can choose content according to your choice.
Rytr.me Key Features
You can use Rytr.me Chrome Extention
You may choose from a variety of languages and tones.
You may choose the number of text variations you desire.
You can Create Job Descriptions and even Interview Questions
It's mobile-friendly, so you can quickly curate content from any of your platforms
Rytr.me Pros & Cons
Pros
Generate high-quality content
It comes with an annual subscription
Cons
The tool is not good for writing long-term content
Rytr.me Pricing
Free Plan: If You want to start with Rytr, you can try their free plan, but it comes with some limited features, with a limit of 5k Words.
Premium plan: It starts at $29/month and $290/year; with an unlimited character generating facility. Generate 50k characters per month Access 30+ use-cases, and Write in 30+ languages. you also get a dedicated account manager, priority email & chat support with access to a premium community of Rytr.
LifeTime Deal: In the app sumo marketplace, Rytr me offers a lifetime deal. But the deal is for a limited time. That means if you want this lifetime deal, you have to take it right now. It is not available at this price after the offer has sold out.
Who Can Choose?
For Whom Ad Copy Generators Best For?
These ad generators are for anybody who wants to see some form of conversion from their ad campaigns, no matter who they are. Here are some examples of how ad copy generators may be put to good use:
For Newbie Freelance Marketers: –
If you're just getting started as a freelancer and want to ensure that your customers have a positive experience, these generators are for you. Even if you're not an expert in ad copywriting, these tools will take care of everything.
For B2C Marketing Teams: –
Similarly, these ad text-producing programs will be beneficial to a company's marketing staff. You'll be able to create an unlimited number of ad copy variants, utilize them in your advertising campaigns, and get the results you want. Not to mention, most of these programs have the ability to add other team members.
You may also use these ad generators to make your work simpler if you are part of a team that designs social media and search engine marketing campaigns. It's possible to make numerous copies of your ad and distribute them to your team members at the same time.
For Agencies: –
Marketing businesses that serve several customers will benefit greatly from the new software. You'll be able to build several ad versions for various customers, each with a unique target demographic group. Using the team members' function in the tools, you may still share ad copy.
Does It Worth it?
Conclusion: AI Ads Copy Generator & Ads Creator
How much time do you spend writing ad copy? If you're like us, it's probably too little. We're always looking for ways to improve our ads, and we've found a tool that makes it super easy to create high-quality ads.
Ad copy generator software that creates headlines and ad content but also employs established marketing frameworks like AIDA or PAS to make it more engaging is needed to tackle this issue.
You'd also have to spend a lot of time optimizing your ad copy on top of all that.
Ad copywriting may be dull and daunting even if you're a talented copywriter, no matter how much you like it. Your ad efforts won't provide the best outcomes in the long run.
On this page, we have shared some best Ad copy generator tools based on AI, to copy ads from the Facebook and Google platforms.
When it comes to advertising, there are two main types: display ads and text ads. Display ads appear on websites or apps, whereas text ads appear on mobile devices. They both serve the same purpose: to get someone to take action.
You can generate ads using these Generators. Most of the sites provide it free version, but you'll need to upgrade to access premium features such as unlimited campaigns and custom templates, and more.
It is possible to build mock-ups of Google search advertisements, automatically generate text and display ads for your next PPC campaign, or generate a large number of variants for optimization testing using these tools.
FAQs: Best Ad Headline Generator in 2022
Here we have shared some common queries related to Ad Copy Generator:
What is the best way to replicate an advertisement?

Copy Campaign
-access your Google Ads management account by entering your username and password.
-On the left-hand side of the page, choose Campaigns.
-Select the campaigns you'd want to repeat by checking the box next to them.
-Select "Copy" from the "Edit" drop-down menu (or Control-C for PCs, Command-C for Macs).

What exactly is AI copywriter?

An AI copywriter uses natural language processing methods to produce computer-generated text. At JPMorgan Chase, we've employed an AI copywriting tool for a home equity line of credit CTAs and online marketing content. It was then compared to a comparable work performed by human copywriters.

What makes a good ad text great?

Your headlines should include facts and figures. Invoke a feeling of entitlement in the user. Ads that elicit strong emotional responses are more likely to be successful. Make your URLs distinctive and keyword-rich.

What makes for effective text for an advertisement?

Effective advertising content will begin with a strong headline. One of two things will happen as a result of the headline. Anxiety, desire, or curiosity may all be aroused by this. The purpose of the headline is to grab the attention of the reader and entice them to continue reading.

Which is the better ad copy generator?

All the software we have mentioned in this article is the best ad copy generator because they include all the features that require for ad copywriting.