19 Top Alternatives to Fiverr and Freelancer sites Fiverr. Compare all Best Fiverr Alternatives with their commission charges and Pros & Cons, So you can choose a Better freelancing company.
If you are a freelancer or thinking of working as a freelancer, then you must have heard the name of the Fiverr app. This is the most popular online freelancing app that accommodates people from different industries to buy and sell services.
And if you don't know about it, we are giving you just a description of all the best Fiverr alternatives. these are the websites and apps that help you get a job as a freelancer.
Fiverr site offers jobs related to many freelancing things like SEO, digital marketing, content writing, translation into many languages, audio editing, video editing, etc.
Today, in this article, we will explain a few Fiverr alternatives and We have also prepared a list of the 19 best alternatives of it.
What is Fiverr.com and How it works?
Know about Fiverr and its details.
Fiverr is the leading marketplace for services starting at just $5.
Lots of people buy and sell services (and also products) every day through Fiverr.
Fiverr is the world's largest marketplace for digital services where individuals or companies can go to find freelancers with a skill that suits their needs, and it is considered a "micro-task" site, where you can do relatively quickly, small one-off tasks which they call "gigs."
The available services range from business promotion, social networking, and advertisement to funny videos, graphic design, and translations to mention just a few.
These offered services are called "GIGS" on Fiverr.
You can find almost anything you need. People from all over the world visit the site to offer their services and expertise.
How to make money as freelancing:
Work on your Freelancing Profile
Add a good description of your gig
Use your target keywords smartly
Work on similar Gigs
Ensure your service is new and unique
Market your Gigs well
Keep your clients happy
Why do People Search For Fiverr Alternatives?
Fiverr is a legit platform. But there are many sellers on Fiverr who sell low-quality services on Fiverr and Fiverr has the lowest possible BBB rating because of the low-quality services they offer (not all of them, of course), and that is why people try other Fiverr alternatives You should be wary of these red flags:
Fake reviews (usually written over and over again by the same person).
New seller offering a very low-cost high-ticket service.
Sellers who do not communicate well.
Fiverr Fess is too high
From Freelancers Side: You have to really figure out what you are going to do for $5. And realize that you are really not getting $5. You get $3 something after their commission.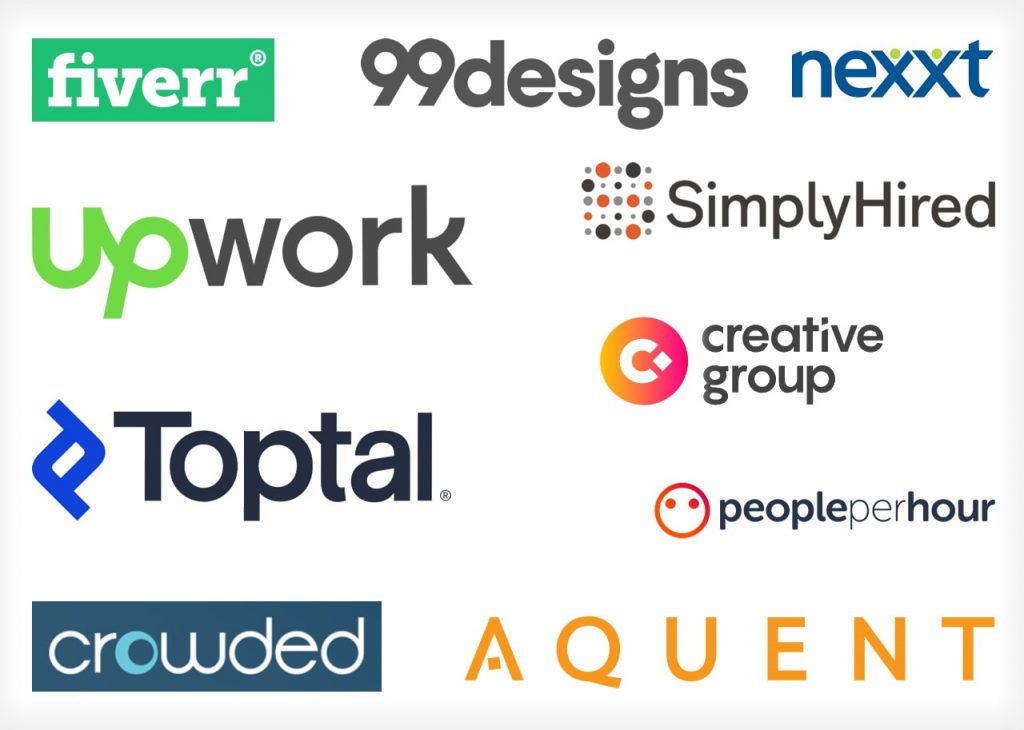 If you can do it quickly, it really does add up. But you have to have a strategy. It's a good place to get started, but when you have a regular clientele, you're better off going out on your own where you can get to keep 100% of what you earn."
That's people searching for Alternatives to Fiverr and trying to find out some other option for freelancing.
Get The Best Option For You!!
14 Best Fiverr Competitors in 2022
Are you an SEO freelancer? Then our first site, SEOClerks, is exclusively developed for you where you can find hundreds of potential jobs of your interest, all related to SEO. You can help all the clients grow their search engine traffic and boost their search visibility website sales.
You need to sign up for their platform to start selling your freelance SEO-related projects. so this is our freelancing site from the list of Fiverr Alternatives.
About SEO Clarks Processing Fees:
You have to pay a 20% commission on every project you will do successfully, It means if you got a project of $100, you have to pay $20 to SeoClerks as a processing fee after completing the project, and that means you will receive $80.
SEOCleark Pros & Cons
Pros
Exclusive platform for SEO freelancers
It provides an excellent opportunity to gain in the SEO field by working with clients.
You can pay via Paypal, so you have the ability to get 100% of your money back, with Paypal's buyer protection policy.
Cons
20% commission will be charged for freelancers
This is limited only to the people who offer SEO related services
some people believe that they support some fraud buyers and sellers and these frauds are the friends of Seoclerks owner and their team.
Upwork is the number -1 Fiverr alternative for freelancers. Earlier it was known as Elance-oDesk. Upwork is one of the most freelancing platforms used by millions of people worldwide, where you can freelance tasks according to your choice -ranging from designing to writing to SEO to virtual assistance.
You can find work according to your skills and interest like – web designing, Audio-Video, content writing, Translating, photography, and many more. this is a tough competitor of Fiverr and that is why we added Upwork in the list of Fiverr Alternatives.
About Upwork Processing Fees:
Upwork Processing fees are different as compared to Fiverr, as a freelancer you have to pay 20% as a commission fee on billing up to $500 Project, in between $500 to $10,000 you have to pay 10% and 5% for the bills more than $10,000.
and As a client, you have to pay 2.75% as a processing fee on every project.
Upwork Pros & Cons:
Pros:
It has multiple services to choose from that are available under many categories.
It has a very big network so it's easy to reach your potential clients.
Freelancers can get a full-time contract on this platform if the client is happy with their initial work.
Its commission rate is less compared to other popular freelancer sites, which is around 10%.
Cons:
It takes a lot of time to make a reputation on the Upwork platform. You generally require a lot of reviews to get more work.
Its commission fee is less, but still some people that a 10% commission is also a big amount.
This is another alternative to Fiverr, according to our list. Suppose you're specialized in freelancing jobs such as – translating, designing, SEO, or content writing.
In that case, you can find hundreds of potential job opportunities from Truelancer, as it's the best freelance marketplace that gives you access to thousands of top freelance jobs.
If you are thinking about why you should consider finding jobs at Truelancer, here are some of the main reasons-
Access to a lot of categories
Find freelance jobs in your city
About Truelancer Processing Fees:
Truelancer charges the lowest freelance industry-standard rates ie 10% of your earnings which can be lowered to up to 3% by upgrading your Truelancer membership.
that means Truelancer charge you 10% as a Processing fee, but after upgrading your Truelancer plan, they will charge you a very minimum commission.
Zero Client fee for Freelancers: you can share your Referral link with them and ask them to signup and Buy your Services or Hire you on Truelancer.com and we shall deduct NO FEE on your first transaction with your referred Clients.
TrueLancer Pros & Cons:
Pros:
If you qualify for it, there's no shortage of work on the Truelancer platform.
Truelancer is known as one of the biggest & Trustest platforms
There has a vast range of categories, which mean you can find freelancer of every field.
Cons:
Truelancer charges 8-10% per job completed and another 5% if the client requests a refund within 30 days.
you have to pay an extra amount to get your membership. which means as a freelancer you have to pay extra for less commission.
Freelancer is also one of the best and most famous platforms with jobs ranging from SEO, delivery, website development, apps creation, content writing, and many designings.
To find work on Freelancer is so simple; you have to complete your profile and fill out your skill sets to find suitable jobs that match your skills and interest.
Freelancer is on the top in the freelancing site and this is also a great choice as a fiverr alternative, There are two types of prices as processing fees charged at the Freelancer platform:
one is fixed price projects and hourly projects.
About FreeLancer Processing Fees:
For fixed-price projects, you'll pay a fee of either 10% or $5, whichever is greater. For hourly projects, you'll pay a flat 10% fee, making this a more popular choice for smaller projects under $50, as the total fee will be lower.
If you subsequently pay the freelancer more than the original bid amount they will also charge the project fee on any overage payments.
Freelancer Pros & Cons:
Pros:
There have greater flexibility and freedom in selecting assignments. As a Freelancers, you can choose their own working times
Freelancer has a downloadable app that helps you keep track of time.
Freelancer has all kinds of jobs, so you will find any kind of service you can imagine.
Cons:
It's very tough to secure jobs as a Freelancer as a newcomer.
In addition, there might be some fake service providers. So you have to be very careful before signing any work.
Our new name on the list is People Per Hour. Unlike other Fiverr Alternatives, which are mentioned here in this list.
People Per Hour offers you a variety of jobs, where you can work as little as 1 hour a day to start making more and more money as a freelancer from a wide range of categories ranging from business support to design and many more. It is totally up to you.
A small percentage of the processing fee will be levied on you whenever you successfully finish a project.
About People Per Hour Processing Fees:
PeoplePerHour charges service fees of 20% for all freelancers on each project less than 250 pounds, or $350. The service fee decreases to 7.5% for projects ranging from 250-5,000 pounds, and then 3.5% for over 5,000 pounds. (the pricing is only mentioned in Pound and that is why we mention it in the same way).
People Per Hour Pros & Cons:
Pros:
It is a budget-friendly platform, so companies looking to cut costs would find it helpful.
The entire process of buying and seeking a job is very transparent, so you are in the loop with all that goes on.
Through Your Higher work, you will get the chance to get your visibility in the dashboard, which means you will get a chance of getting more gigs.
Cons:
The interface can be kind of difficult to understand.
Too much competition for some specific gigs
The next name on our list is FlexJobs. It makes it easy to find a freelancing gig you need, as Fiverr also does. They offer lots of reliable job opportunities according to you and your skills.
With FlexJobs, you don't have to worry about endless ads, repeated postings, broken links, or scams. FlexJobs can set you free from all those problems. In addition, they will make your gig search experience safer than all other Fiverr alternatives.
About FlexJobs Processing Fees:
Flexjobs doesn't have any commission fee like every freelancing site, it works differently that means you have to buy their plan to get access, which will cost you $9.95 per week,
and there also have various different plans, these plans provide you with various features such as Unlimited access to every job we find and more.
Flexjobs Pros & Cons:
Pros:
Flexjobs has thousands of new opportunities all the time, so you can be assured that you will find a new job that you can apply for daily.
It is easier to find higher-quality jobs because each listing has been hand-screened
The website has up to 59 different categories to choose from, including full-time, part-time, global, local jobs, and many others.
Cons:
Flexjobs is not free, first, you have to by their any plans.
If we compare their prices, we can say their categories of services are limited.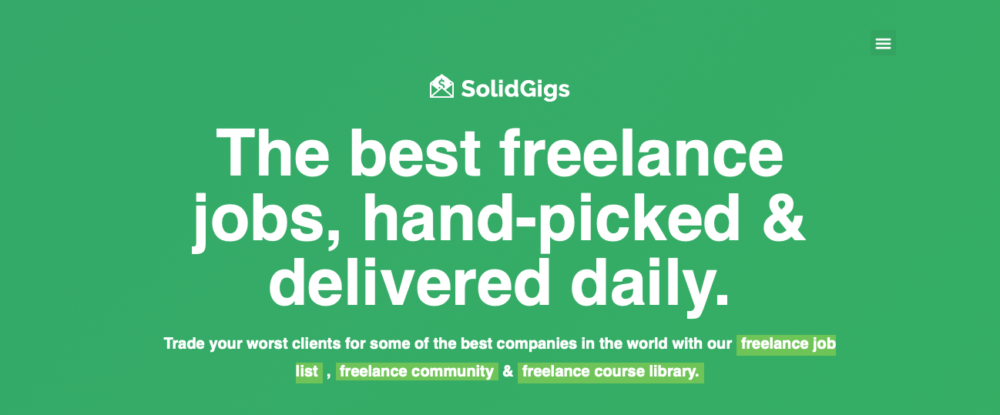 If you value your time more than anything, our new app -SolidGigs, might be a good choice. The SolidGigs marketplace app will give you daily alerts of the very best 100% of jobs available on the site. These all jobs are hand-picked by the SolidGigs team and its fellow freelancers.
SolidGigs also has over 127 courses, videos, tools, lessons, templates, and other resources to help you improve your skills and boost your freelance career. And that's why only it is here on our list.
About SolidGigs Processing Fees:
This is another option like Flexjobs, Solidgigs also doesn't have commission charges, SolidGigs costs $2 for an initial 30-day trial.
From there, the service costs $19 per month and you can cancel at any time. This price is locked in forever assuming you stay signed up for SolidGigs, even if the price goes up in the future for new members.
SolidGigs Pros & Cons:
Pros:
SolidGigs sends job alerts directly to your email daily, which can be a huge time saver, so you don't have to waste your time finding the ideal job.
The platform has resources that can help you develop, irrespective of a buyer or seller.
Aside from the job listings, SolidGigs also helps you improve your skills with various kinds of learning materials.
Cons:
SolidGigs is relatively expensive. The amount to be paid is $2 for the first day and $19 per month.
Here we go on the next name of our Fiverr alternatives list. As we know, Crackerjack is another online freelancing marketplace platform that connects local businesses and freelancers with whoever needs them.
You can easily find service professionals and creators from many industries, ranging from mobile devices to cleaning your home, writing your CV to DJ an event, and many more. Whatever services you need, Crackerjack has them all.
About Crackerjack Processing Fees:
Crackerjack doesn't provide any specific commission changes, they will charge the Customer's credit card according to the amount the Customer has agreed to on the Crackerjack Platform with respect to those Professional Services based on Pro's Quote and all applicable fees and taxes,
and for all payments for reimbursement costs, fees, expenses or applicable taxes associated with the applicable Order and the Customer hereby authorizes us to charge the credit card on file in the Customer's Crackerjack Platform account for such amounts.
Crakerjack Pros & Cons:
Pros:
Crackerjack allows only verified professionals or service providers on its platform.
Crackerjack service marketplace has the lowest fees in the market providing the best value.
Users could leave a review of local businesses and freelancers providing the service via the Crackerjack platform.
Cons:
Crackerjack is only available in the United States. You have to be a U.S resident to use the platform.
Guru is a freelance site and app that helps clients or beginners create profiles. On this website, freelancers can do finance, marketing, engineering administration, and many more.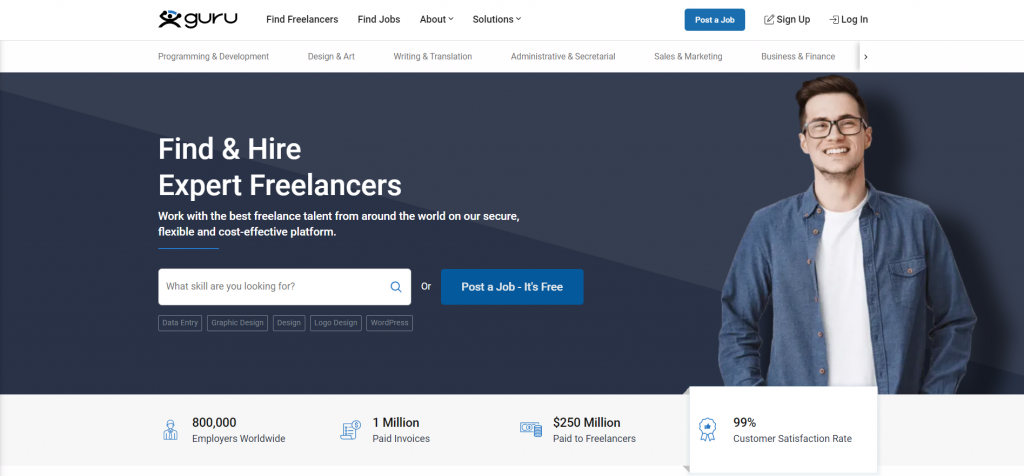 It is one of the best Fiverr competitors, which gives potential employers an easy way to get contacted. This platform posts a massive amount of jobs daily. Moreover, the guru deducts 5% to 9% payment you got after completing a task.
About Guru Processing Fees:
For Employer: They cost to charge a nominal handling fee of 2.9% for each invoice you pay. However, if you use eCheck or wire transfer you will receive 100% cashback on the handling fee! which includes lots of features.
For Freelancers: They offer membership plans, in which you can enjoy lots of features, like Making your Quote stand out when you bid for work online, receiving up to 600 Bids, with an annual rollover of 300 Bids (maximum), and many more…
Guru Pros & Cons:
Pros:
This is the best for small businesses as it helps to reduce closing time.
It has a messaging service that makes it easier for freelancers and all the clients to communicate with one another.
they have huge network of freelance jobs where you can find hundreds of postings on almost every category
Cons:
It is not suitable for big businesses.
CloudPeeps is another web portal or website/app which focuses on general freelancing work related to marketing, social media, copywriting, email marketing, etc.
It is similar to Fiverr. Cloud peeps have more than a thousand professionals working as freelancers in many works available on cloud peeps. CloudPeeps' freelancing site allows you to work remotely. that makes it a better option to add as Fiverr Competitors.
About Cloudpeep Processing Fees:
Cloudpeep does not have any processing fees, they charge you differently, they have Hourly plans, Fixed, One Time for employers, they have specific plans for every work like, if you want to hire a Social Media & Content Creator for an hourly basis so you have to pay their cost which is $30-50/hour.
Cloudpeep Pros & Cons:
Pros:
Very well designed.
Best Customer Support
Clients can set a zone preference in job posts.
Freelancer profiles are very detailed and straightforward to navigate.
Cons:
Nothing is there to be concern about
As a startup, consistency of workload (especially for freelance team members) can be a challenge.
Zeerk
Micro Jobs & Freelancing Service from $4 to $200
Zeerk website offers lots of freelancing categories like – website reviews, content writing, posting articles or blog, data entry, sales promotions, etc.
You moreover, apply for the withdrawal demand when the dealer approves your assignment. In addition, it contains a built-in transaction and conversation management system to give feedback to the employer.
About Zeerk Processing Fees:
There are no charges for buyers or employers. as a freelancer Posting is absolutely free and you can post as many jobs as you like. Post-quality jobs set fair prices, and deliver quality work and the community will thank you with positive feedback which in turn attracts more new sales.
After you deliver your work worth $5 they will credit your account with $4.25 (for levels 0-3).
They do not mention any specific detail about their commission.
Zeerk Pros & Cons:
Pros:
They have a Fast withdrawal method
It's Free & Easy to create gigs
Cons:
Buyers are limited, which makes earning difficult
Zerk has only one withdrawal gateway that's PayPal.
Freeup is another freelancing site like Fiverr for finding work. They pre-vet all freelancers so that agencies and businesses do not have to worry about the individual's credibility.
From advertising, content writing, SEO, web design, graphic design, e-commerce, and amazon specialists, they cover several work fields for freelancers of all kinds and that is why we mentioned FreeUp in the list of Fiverr Alternatives.
About FreeUp Processing Fees:
There are no signup or monthly fees to finding work through the FreeUp marketplace. You choose the hourly rate you want to bill a client. This is called the freelancer's rate. The amount we charge the client is the client's rate.
The difference between the client rate and freelancer rate is 20% with a $2.00 minimum. Freeup does not cover transaction or conversion fees when paying freelancers, but it does everything in its power to minimize them as much as possible.
FreeUp Pros & Cons:
Pros:
As its name says, FreeUp is free to use.
Payment is made on a weekly basis.
Cons:
You will find it very difficult to compete as a standalone freelancer as the sight is tailored to favor those who are willing to work for agencies.
Toptal is another one of the best Fiverr alternatives.
What makes Toptal unique as compared to other sites like Fiverr?
Toptal, just 3% of freelancers who sign up to this platform can get the project. It means that if you are the chosen one at your work and good with it, there is a massive chance for you to get high-paying customers.
Many of the best companies and startups use Toptal because of its accurate freelancer screening process. And for this reason, only you can get a chance to work with the best companies in the world.
About Toptal Processing Fees:
As a freelancer, you don't have to pay money, but They charge a client an hourly rate that is approximate twice the freelancer's rate. Example: If a freelancer has an hourly rate of $25, the client will be charged somewhere around $50.
So for a 4-hour's worth of job, the client pays $200. The freelancer gets $100 and Toptal gets a $100 too.
TopTal Pros & Cons:
Pros:
The Toptal screening process is transparent and airtight.
Toptal is known for providing gigs with a high commission so you can get paid relatively more than other freelance sites for every successful project.
with the help of Toptal, you can work with highly profitable startups such as Zendesk, Airbnb, etc.
Cons:
It is difficult for newcomers to find their favorite job on the platform.
Twine
Hire Diverse Freelnacers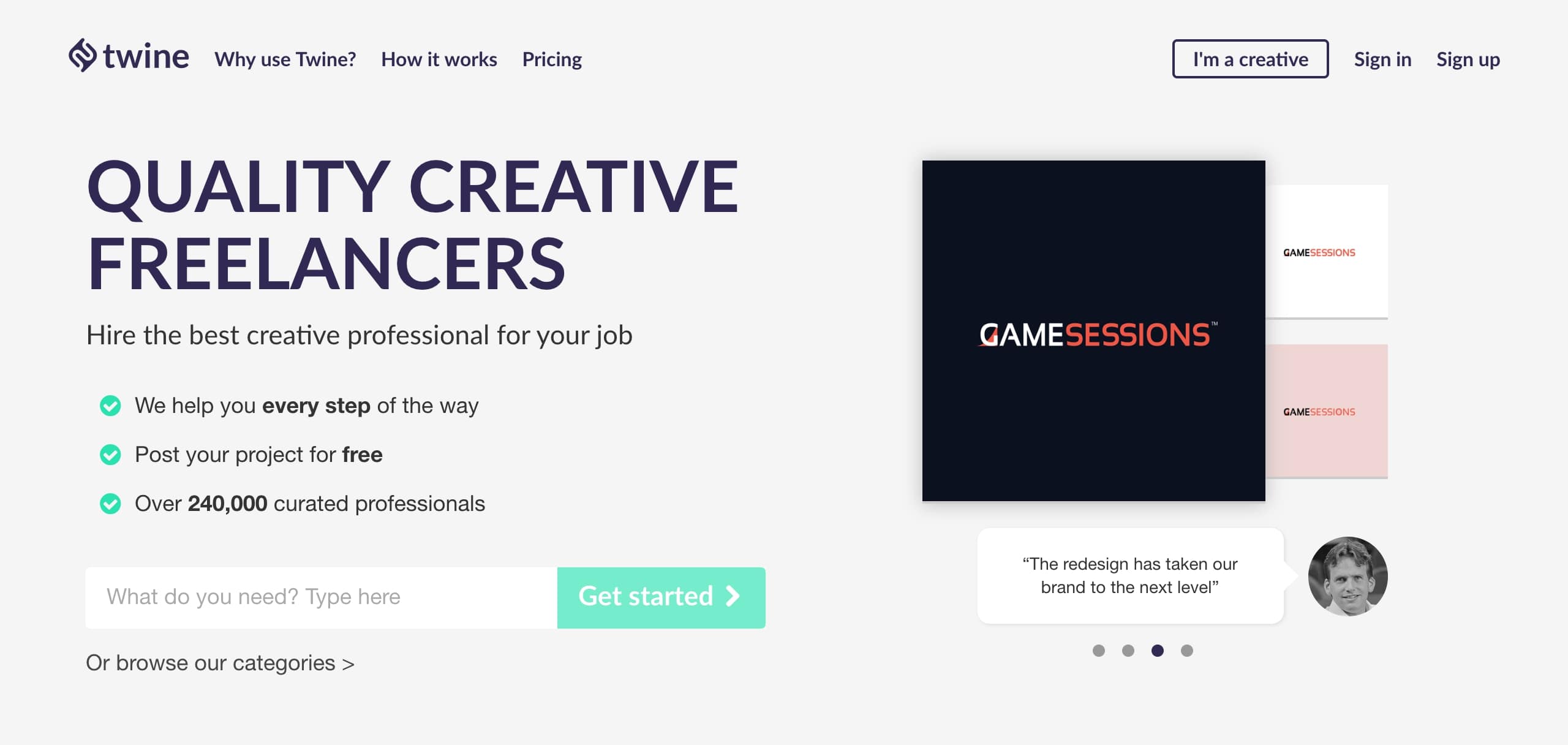 Now come to the last sites from the list of Fiverr alternatives, From digital marketing services to app development and music, and many more, you can find a ton of freelancing gigs and jobs according to your skill set and interest on the Twine platform.
The best part about Twine is that it is a great freelance marketplace for all creatives, including musicians, artists, content writers, translators, designers, photographers, illustrators – so if you've better skills in these categories, you can find a ton of jobs.
About Twine Processing Fees:
Twine does not charge any commissions to freelancers, and if you want to hire any freelancer, you are free to post freelance projects, The Twine platform will automatically screen out irrelevant freelancers from applying to your project, saving you time.
They have a business plan in which they provide you with high-class services.
Twine Pros & Cons:
Pros:
No cut-off or processing fee, because twine charges a fee upfront from the clients itself
It has an exclusive platform for designers and artists for finding a ton of gigs
High paying gigs ranging from $100
Cons:
● For beginners with limited skills, it's tough to search for clients and projects
UpStack recruits and places top engineering talent at companies looking to scale quickly. They have an expert matching team, that can connect you with some of the best tech candidates.
They offer Full-on customer support throughout every step of the customer journey. They handle everything from payroll and onboarding without any upfront recruitment fees. Developer fees range from $65 to $80 an hour
With Upstack a developer can expect great clients, simple and above-average payments models, and a very simple (but effective) work structure.
Projects at Upstack have an average time period of 6+ months or more. You can expect consistent revenues instead of searching for jobs every few days.
Preferring the term "remote workers" to "freelancers," Outsourcely sets itself up as a network for staffing and managing your startup with remote labor, rather than hiring freelancers for one-off projects.
They focus on the reduced costs of global workers and set up special features for remote workers, setting them apart from other Fiverr alternatives.
Servicescape is a freelance job website that works with startups and SMBs. This website like Fiverr offers jobs for editors, translators, graphic designers, writers, etc. You can interact with clients in numerous ways by sending a message, making a phone call, etc.
Hubstaff Talent is another replacement for Fiverr. This platform enables people to work full time, based on an hourly contract and fixed price. You can find a job as a networking and infrastructure manager, helpdesk manager, receptionist, account executive, product marketing, etc.
You can just fill out your details, skills, and your availability, and you will be notified via email whenever someone likes your service.
Which One Do I Choose?
Conclusion: Fiverr Alternatives & Freelancing Sites
In elementary words, if you are searching for work from home or, say, online freelancing, Fiverr is a highly used platform for that. But is it good for certain things only, which it offers?
So, for example, you may be surprised that there are few services, for which Fiverr is offering just $5, whereas others are offering much more than that.
There is one more point – there are no safety protocols on Fiverr, so you may have reasons to worry before deciding to submit payment.
Hence, we are providing multiple websites, which might give you an idea of where to go if you are tired of Fiverr or want more. According to our recent study, the best Fiverr alternative is Upwork mainly because of its meticulous vetting process and excellent service in its field.
Get More Queries…
FAQs: Best Sites Like Fiverr for Freelancers
What are the top Fiverr competitors?

Fiverr gigs are the expertise individuals are searching for to make money online, but when it comes to competition, there are two top Fiverr competitors which are Upwork & Freelancer.

What are the Fiverr alternatives as a freelancer?

We can say Upwork & Trulancer are the best alternatives to Fiverr, because there you have to pay limited commission charges.

what are the free sites like Fiverr for freelancers?

Toptal & Free up are the two sites that are free for a freelancer which means you don't have to pay any charges after successfully completing your project.

How legit is Fiverr?

It's a 100 percent trustworthy freelancing marketplace that connects employers and freelancers to buy and sell digital services.

Which is the best alternative to Fiverr?

According to a study, Upwork can be the best alternative to Fiverr.

Is Upwork better than Fiverr.com?

If you are looking for high-paying long-term clients, Upwork is a better choice.  It offers payment protection on hourly and fixed-price contracts and provides secure, in-platform options to receive your earnings. Payment protection, in particular, is one of the best things that Upwork does better than Fiverr. So you can go for it.

Get ✅ Massive Lists of +400 Dofollow CommentLuv Enabled Blogs List 2022 and In this article also included how to find CommentLuv Blogs to get …