Get The Details of all the Top Rank Tracking Software and Keyword Tracking Tools, Compare all these Ranking Tracking software, also Know their Pros & Cons, So you can choose the best Rank monitoring Tools For you!!
Does It Become difficult to track your keyword Position and Rank??
Checking Keyword Positions is really a difficult task!! and that is why Rank Tracking Software is made.
With the help of rank-monitoring software, you can easily track and monitor the ranking of all your specific keywords.
So, In this, you will see:
How To Choose Better Ranking Tool
Top 5 Rank Tracking Software
15 Best Rank Monitoring Software
In this post, we will clear all your doubts Related to Rank Tracking Software.
We have mentioned the 21 Best Keyword Tracking Tools, that you should know.
Post Summary:
| | |
| --- | --- |
| No. Of Ranking Tracking Tools | 20 Tools |
| Top Rank Monitoring Software | SE Ranking And SEmrush |
| Pricing Range | $18 – $119/month |
| Type Of Tools | Free and Paid |
| Compared By | Price, Review, Pros & Cons |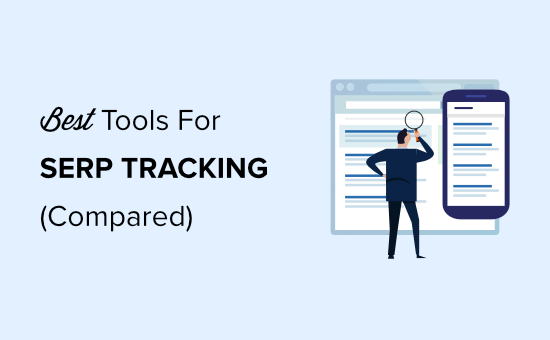 Let's Start.
How To Choose A Better Rank Tracking Tool?
There are lots of tools available in the market, but it is really hard to choose a better option because every tool comes with different features and pricing, and their interface & Usability and interface also make a big difference,
So that is why here, we are mentioning some points to know before any rank tracking, with these simple points you can choose a better Rank Tracking Software for you:
Accuracy: Not every tool show correct or similar data, there always makes some difference, so it is important to know which tool shows the most accurate because more accurate data better rank tracking.
Frequency: This point is valid for only a few tools because some tools do not update your ranking data on daily basis, these tool charge differently for their Daily, Weekly, and Monthly Data Updates.
Pricing: Pricing is a very important factor before choosing any tool because sometimes the quality of the product depends on its pricing. so If you are going to choose a cheap Tool for rank tracking first check its features.
Other SEO Features: Buying an SEO Tool just for Ranking Tracking, We don't think this is a good idea, because chances are you have to pay some extra just for buying this rank tracking tool Separately because other side you can get this feature by buying an SEO Tool.
Table of Rank Tracking Software –
| | | | | |
| --- | --- | --- | --- | --- |
| Sr. No. | Software Name | Pricing | Free Trial/ Plan | Visit |
| 1. | SEMrush | $119.95/month | 7 Day Trial | |
| 2. | Se Ranking | $31.20/month | 14 Days Trial | |
| 3. | Ahrefs | $99/month | – | |
| 4. | SERP Stat | $48/month | 7 Days | |
| 5. | Mangools | $49/month | 10 Days Trial | |
| 6. | Moz Pro | $99/month | 30 Days Trail | |
| 7. | UbberSuggest | $11.87/ month | 7 Days Trial | |
| 8. | NightWatch | $39/month | 14 Days Trial | |
| 9. | Wincher | €29 ($35)/month | 14 Days Trail | |
| 10. | Raven Tools | $49/month | 7 Days Trial | |
| 11. | Accu Rank | $129/month | Free Plan | |
| 12. | Web CEO | $99/month | 14 Days Trial | |
| 13. | SpyFu | $39/month | Free Plan | |
| 14. | Advanced Web Ranking | $49/month | 30 Days Trial | |
| 15. | Rank Watch | $29/month | 14 Days Trail | |
| 16. | Keyword Revealer | $12.50/month | Free Trial | |
| 17. | Labrika | $19/month | Free Trial | |
| 18. | Authority Labs | $49/month | Free Trial | |
| 19. | Diib | $7/month | Free Plan | |
| 20. | Search Console | Free | – | |
| 21. | SEO Powersuite |  $299/year | Free Plan | |
Our Recommendation-
Top 5 Rank Tracking Tools
Semrush is a leading online search engine for content marketing. It helps clients to find relevant content and promote their products and services on the internet.
The software is used by marketers and publishers to manage their content marketing campaigns, track keywords, measure SEO performance, analyze keyword rankings, write content and generate leads.
You can use Semrush to get the best results in our projects. It's a great tool for finding the most relevant keywords, and it also helps us to generate more relevant content. It is a powerful tool that can help us with our SEO campaign and we highly recommend it.
Main Features:
Keyword Research: SEMrush makes your keyword research easy, It has Tools like Keyword overview, Keyword magic tool and Keyword Manager Tool. and the combination of these three features is enough for better keyword Research.
Social Media Management: There are very less SEO Tools that are proving social media tool. with the help of this tool, you can manage your social media accounts, and this tool is capable of both: Social Media posters & Social Media Ads.
Content Marketing: With this feature, you can understand the value of your content, this feature can analyze your content performance in just a few clicks, and also provide some suggestions of how you can improve your content.
Competitors Analysis: For Overall Competitors Analysis, Semrush has two Features which are Traffic Analysis, in which you can analyze your Competitor's websites. With the organic research features, you can find opportunities to compete against them.
Local SEO: For Local SEO, Semrush has a Listing Management option that will get your business data automatically distributed to the most authoritative directories. Follow your local ranking progress on a ZIP code level and monitor reviews in multiple directories.
Why SEMrush For Rank Tracking:
Semrush makes your Rack tracking easy, They are working in this field for a very long time, and they know very well, what people need for SEO, And Their Ranking functionality is very good.
For Rank Tracking Semrush has software, which is "Position Tracking", you can Monitor the rankings of your site and your competitors on a daily basis. Track any location or device type. the information in Semrush is updated every 24-48 hours.
SEMrush Pricing Plan:
1. Semrush Pro Plan:
This Plan has all the basic features that require to run an individual website, this plan has features like Competitor analysis, keyword research, website audit, advertising and social media tools, and more.
This Plan will cost you $119.95/month, With:
5 projects
500 keywords to track
10,000 results per report
2. SEMrush Guru Plan:
Guru Plan comes with some advanced features which require to small businesses, this plan includes Content Marketing Toolkit, historical data, multi-location and device tracking, GDS integration, and more.
This Plan will cost you $299.95/month, With:
15 projects
1,500 keywords to track
30,000 results per report
3. Semrush Business Plan:
With this Plan, you will get Share of Voice, extended limits, API access, PLA analytics, free migration from third-party tools, and more. basically, this plan is made for For large agencies and enterprises.
This Plan will cost you $449.95/month, With:
40 projects
5,000 keywords to track
50,000 results per report
With SE Ranking, you can find the best SE Ranker and a tool integration interface to connect with it. SE Ranking is one of the best SEO platforms our company has used so far. The interface of the platform is great & user-friendly. The available options are many.
It is the most important ranking metric for search engines and the one that is used to determine if a website is relevant or not. It's also a good indicator of how many people are actually visiting your website.
You can analyze several different kinds of rankings and measure them in order to reach a conclusion that is both objective and practical.
SE Ranking Key Features:
Competitor Analysis: For Competitor analysis, SE Ranking has a tool in which you have to enter your competitor's domain you will get all the details like Traffic, keywords, backlinks, Ads, and Global Metrics and also you can check their competitors.
B2B Features: Aside from customers, SE Ranking has some B2B Features, which are the White Label features in which you allow your user to add their own logo, header and footer. also have SE Reporting, API and Access, roles and a success-driven environment.
SERP Checker: With this feature, you can analyze SERP Condition for a keyword, understand the value of competitors, Understand what makes your page on the First page, how you can optimize your Page, ways to attract visitors and Check how many backlinks, Do you require.
Social Media Tool: With SE Ranking's Social Media Management Software you can take full control of your social media communications with scheduled publishing and monitoring tools, This Tool will Auto-post social media updates to all your social networks and more.
Website Checker: For checking the performance of your website, SE Ranking has a Site Audit option in which you can check the overall performance of your website also it has an On-page SEO Checker and Page Changes Monitor, It will Automatically monitor the status of every important page.
Why SE Ranking For Rank Tracking: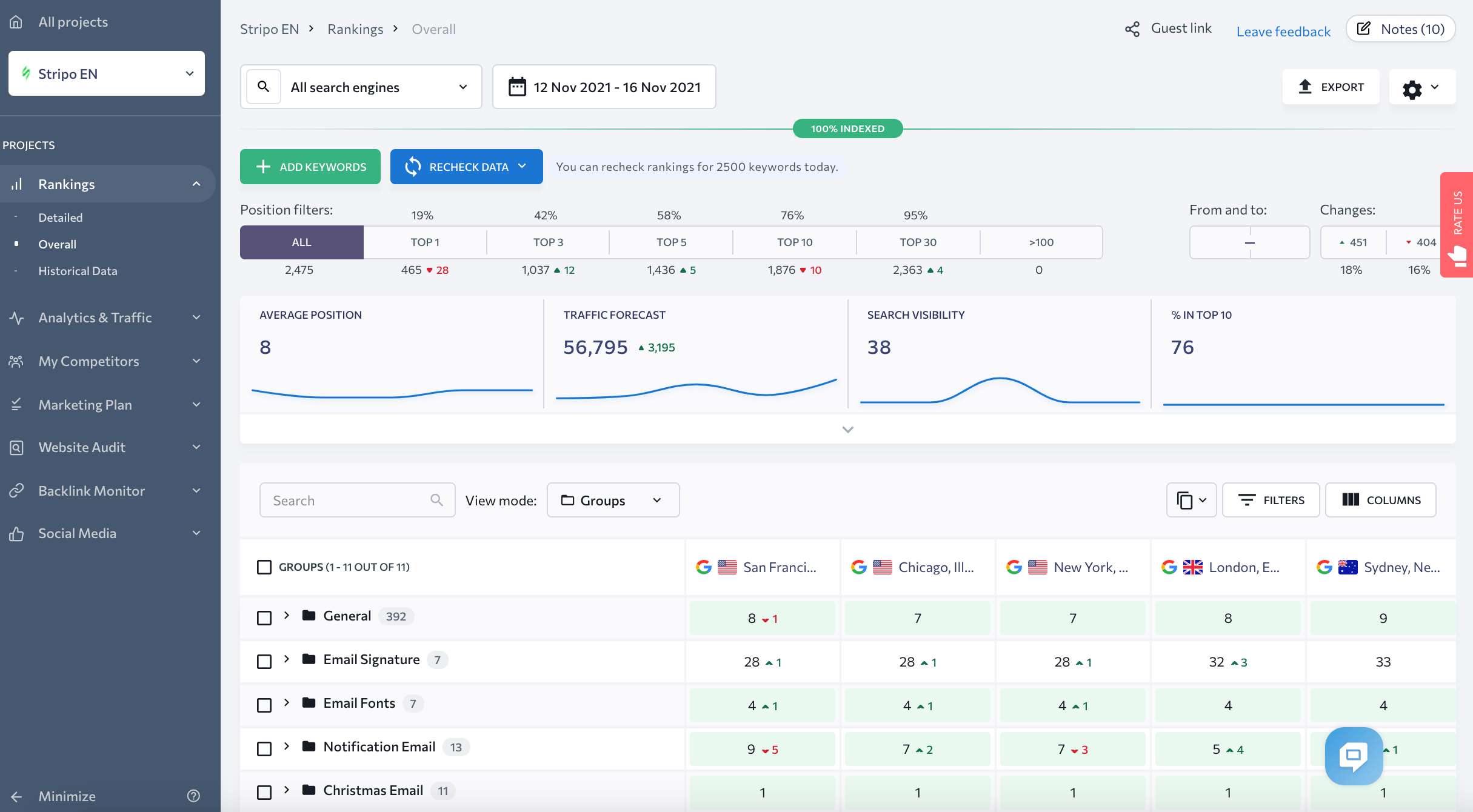 For Ranking tracking, SE Ranking has a tool which is known as "keyword Rank Tracking", with the help of this tool you can monitor your Google Ads/Maps/SERP features.
Along with your own keywords, you are able to keep an eye on your business and SEO competitors with a few clicks you can track the Top keyword and their position.
also, you can get insights into the top 100 search results to manage your rankings and online reputation.
SE Ranking Pricing:
1. SE Ranking Essential Plan:
SE Ranking has three plan, and this is one of the smallest plans, In which you will get al the basic features that require to SEO, this Plan includes Flexible SEO reporting, Social Media Analytics, and Management and keywords Grouper.
This Plan will cost you $31.20/month.
Key Features:
Project: 10
User seats: 1
SERP Analyzer: 10 keywords/pages
Competitive and Keyword Research

100 reports per day
1,000 results per report
SE Ranking Pricing and SE Ranking Plans – Choose The Best Plan

Know More About SE Ranking Pricing
2. SE Ranking Pro Plan
This is the most popular plan of SE ranking because this plan provides value-for-money features for many businesses this plan includes Page changes monitoring, basically this feature monitors your web pages and sends alerts o any changes.
This plan will cost you $71.20/month.
Key Features:
Project: Unlimited
User seats: 3
SERP Analyzer: 100 keywords/pages
Competitive and Keyword Research

5000 reports per day
50,000 results per report
3. SE Ranking Business Plan
This is the most advanced plan of SE Ranking because this Plan includes all the features that SE Ranking provides and one of them is API, with help of this feature your developer can quickly and easily integrate the functions of the existing system into a new application.
This Plan Will cost you $151.20/month.
Key Features:
Project: unlimited
User seats: 10
SERP Analyzer: 1000 keywords/pages
Competitive and Keyword Research

10,000 reports per day
100,000 results per report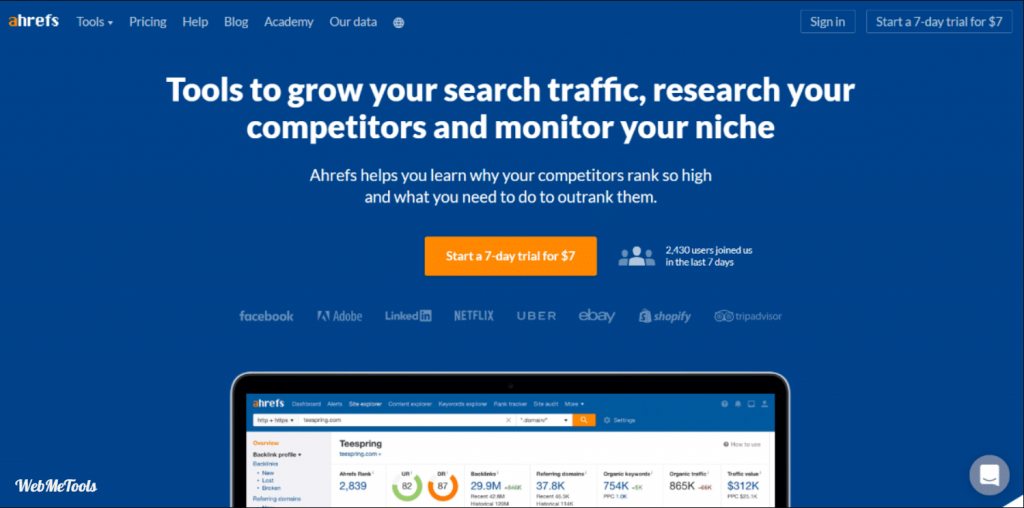 Ahrefs make your SEO work easier, This is done by providing information that allows you to identify what people are looking for in your niche and helps you build links from other sites. It also improves the technical SEO of your website.
Ahrefs is a tool for finding the keywords for your search terms. The tool works with all major search engines, can be used in website and mobile apps, stores pages and blogs related to its topics, and is available across various languages.
Main Features:
Site Explorer: These Features provide all the data of the Domain, simple you have to enter your domain in the search bar and you can see domain overview data like Domain Ranting, Referring Domain, Organic Keywords, Traffic Value, Backlinks, etc.
Keywords Explorer: This features simply provides you all the data related to a Keyword, All you have to do is add a keyword in the search bar, Then you can see all the data of the keyword, like Keyword Difficulty, search volume, Click, PCP, Global Volume, SERP Top Site for this keyword, etc.
Site Audit: With Ahrefs site audit you can check the performance of your overall website, Simply you have to add your website to your project, then ahrefs will help you to improve your Technical SEO, The data which you can see on the Ahrefs Site option is URLs Crawled, Health Score, Total issue, etc.
Rank Tracker: With this feature, you can monitor the ranking of your website, once you add your website to Ahrefs Campaign, you will get check update of your website position, And the data you can check in this rank tracking is Visibility, Average position, Traffic, SERP Features, etc.
Content Explorer: This Feature will help you to find out some better content ideas related to your niche, simply you have to enter your keyword, and you will get all the trending, high volume, low competition content ideas for your keyword.
Why Choose Afrefs For Rank Tracking?
Ahrefs of one of the Best SEO Tools, not just for rank tracking you also use its other tools which are also amazing, when asking about the best rank tracking tool, we surely mention Ahrefs in that list.
Simple you can track your keyword by two methods, first one is the "Keyword Movement" feature, where you can see the movement of your keywords in SERP, second ahrefs provide a campaign option, where you can see rank tracking option, simply add your site and monitor your keyword position.
Ahrefs Pricing Plans:
1. Ahrefs Lite Plan
The Lite plan has all the essential features that require in an SEO Tool for Beginners, you can use this plan for small businesses and hobby projects, this plan has features like SEO Dashboard, Site Explorer, Keywords Explorer, Site Audit, etc.
This Plan will cost you $99/month.
Key Features:
Max pages per project: 25,000
Max rows per report: 2,500
Unverified projects: 5
Tracked keywords: 750
Crawl credits /mo: 100,000
Keywords lists: 5

2. Standard Plan
This plan can be a better option for Professional SEO who works with businesses, also for an In-home marketer who just looking for some extra features, like 6 months of history, Position history chart, SERP updates, Content Explorer, Alerts, etc.
This Plan will cost you $199/month.
Keyword Features:
Max pages per project: 50,000
Max rows per report: 30,000
Unverified projects: 5
Tracked keywords: 2,000
Crawl credits /mo: 500,000
Keywords lists: 50
3. Ahrefs Advanced Plan
Advanced plan coverup all the features that ahrefs provides, simple this plan has Indispensable tools and more data allowance as your business scales, and this plan stuffed these features like 2 years of history, Google Data Studio Integration, and Dashboard folders.
This Plan will cost you $399/month.
Key Features:
Max pages per project: 250,000
Max rows per report: 75,000
Unverified projects: 50
Tracked keywords: 5,000
Crawl credits /mo: 1.5 million
Keywords lists: 100
4. Ahrefs Enterprise Plan
This Plan covers all the features that ahrefs provides, and they recommend this plan only to someone who runs a big company because as it cost this plan is best for big agencies and enterprises. and when we talk about its features, it has Unlimited history, Access management, Pay by invoice, Directory listing, etc.
This plan will cost you $999/month.
Key Features:
Max pages per project: 5 million
Max rows per report: 1,50,000
Unverified projects: 100
Tracked keywords: 10,000
Crawl credits /mo: 5 million
Keywords lists: 250
The Serpstat Seo tool was developed by the company Serpstat, which is headquartered in San Francisco, California. The company has been working on this product since 2008. It allows you to analyze and optimize your website for search engines. It can also work with any website in any language.
Serpstat offers an all-in-one Tool that is suitable for any SEO professional whose goal is to improve rank and performance. It has advanced and fundamental capabilities that you'll require in order to implement an SEO strategy for your website.
Serpstat Main Features:
Keyword Research tool: Serpstat is one of the largest databases of keywords that assist in determining the semantics of websites using indicators such as popularity, volume in the market, competition, and difficulty for keywords.
Keyword Trends: With this tool in just a few clicks you will get a list of trending search queries, no competitors have analogs. also, you can Find a list of the most searched-for searches within the specific region. Explore more and more trend requests as the report is constantly updated.
Competitor Analysis Tool: Serpstat's tool for analyzing competitors helps to locate relevant competitors on the internet, gather and review their most popular websites and the keywords they are using to promote ads that result in sales and determine organic traffic for the website.
PPC Analysis Tool: Serpstat's PPC Research tool aids PPC experts to establish their working with an advertising manager properly using the results of ad analysis Keywords, landing pages, and other information that is the best-suited competition.
Backlinks Analysis Tool: Serpstat's Backlink analysis tools are specialized in the analysis of backlinks, anchors, and link donors, in identifying links that are malicious and tracking every change in the links profile on both your site as well as the websites of your competition.
Why Choose For SERPstat Rank Tracking?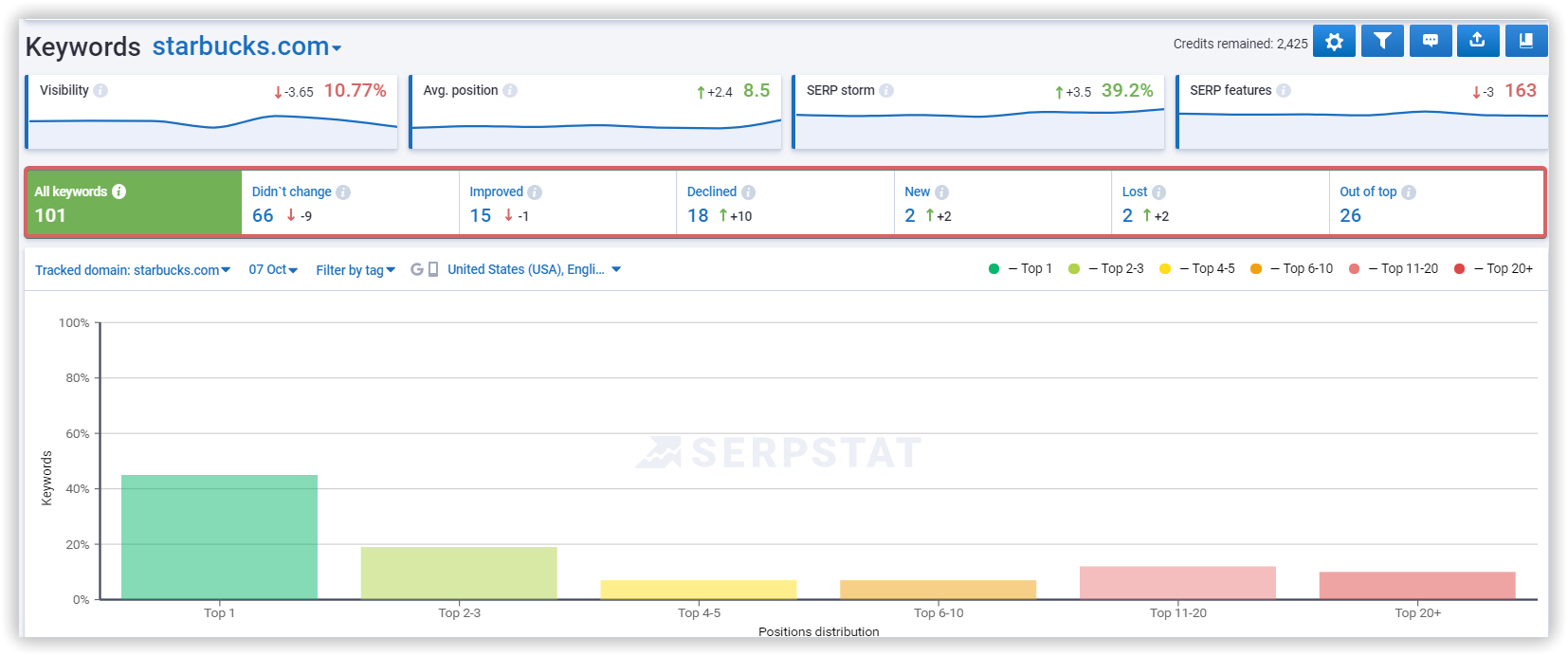 With Serstat's rank tracking tool using rank tracking tool, you can review both local and global organic and paid results for the domain as well as its competition.
Rank tracking on Google and Yandex can help you detect changes in search results as well as keep track of the market share your website is occupying.
Serpstat Pricing Plans:
1. Serpstat Lite Plan:
This Plan is best for SEO individuals, freelancers and SMBs with limited budgets. Get access to more than 20 tools for running SEC, SEM, PPC projects and analyzing the best online tactics of rivals to improve SEC efforts of your projects.
This Plan Will Cost you $48/month.
Key Features:
API credits per month: 100000
Rank Tracker and Site Audit: 10
Project Share access: 100
Position checks/month: 15,000
Tools credits: 15,000
Pages to Audit: 150,000
2. Standard Plan
A standard plan is ideal for established in-house teams and marketing agencies. All Lite features plus it has 3 users, Branded reports, Extended interface, and API credits also this plan includes some advanced features & Extra limits as compared to lite plan.
This Plan will cost you $104/month.
Key Features:
API credits per month: 500000
Rank Tracker and Site Audit: 50
Project Share access: 500
Position checks/month: 60,000
Tools credits: 60,000
Pages to Audit: 400,000
3. Serpstat Advanced Plan
We can consider this plan as the best value for big marketing agencies and large in-house teams with extensive need for data. All Standard features plus: 5 users, Extended interface and API credits. also includes some advanced features that Serpstat provides.
This Plan will cost you $209/month.
Key Features:
API credits per month: 1,000,000
Rank Tracker and Site Audit: 75
Project Share access: 1,000
Position checks/month: 150,000
Tools credits: 150,000
Pages to Audit: 1,250,000
4. Serpstat Enterprise Plan
This is the last plan of Serpstat, it comes with the highest number of features, also it includes all the advanced features that Serpstat provides, this plan is Perfect for industry leaders. also, it includes 7 users, White Label, an Extended interface, and API credits.
This Plan will cost you $349/month.
Key Features:
API credits per month: 2,000,000
Rank Tracker and Site Audit: 100
Project Share access: 10,000
Position checks/month: 300,000
Tools credits: 300,000
Pages to Audit: 2,500,000
Mangools is an online tool that offers an alternative to the usual and a couple of innovative approaches to keyword research. When we were conducting research for this project, we delved into Mangools and discovered their strategy very interesting.
In short, Mangools offers brings robust keyword research, backlink research rank monitoring, as well as competitors' website traffic analysis tools. Mangools ' tools are top-quality.
However, they also offer an affordable plan that offers five keyword searches using KWFinder, SERPChecker, and SiteProfiler every 24-hour period, 10 tracked keyword searches from SERPWatcher, and 500 backlinks/24 hours in LinkMiner.
Main Features:
KwFinder: It is a keyword research tool of mangools, this tool makes your keyword research very easy, simple you have to click "Kwfinder" features from the mangools dashboard and then enter your keyword, you can see all the data related to your keyword, like difficulty, search volume, etc.
SERP Checker: SERPChecker is a SERP analysis tool by mangools that helps you find the weak spots of your competitors. not just global, you can also use it for Local SEO you can get local SERPs for more than 50k locations. this tool most of your SEO Local Work.
LinkMiner: This Tool is used for Backlink analysis, You will get all the features that will help you to get backlinks, you can check the backlinks of competitors, and aside from them, you can check the quality of backlinks and you can the link placement in the website preview.
SiteProfiler: This Site Profiler can show you your domain overview, you can check your domain authority, Domain Authority, TrustFlow, and Alexa Rank. etc. You can also check the domain overview of your competitor sites and referring domains.
Other Features: Aside from their features, we like that they are providing a Free Trial option without any credit card option, you can enjoy their mangools for 10 days without any charges.
Why Choose Mangools for Rank Tracking?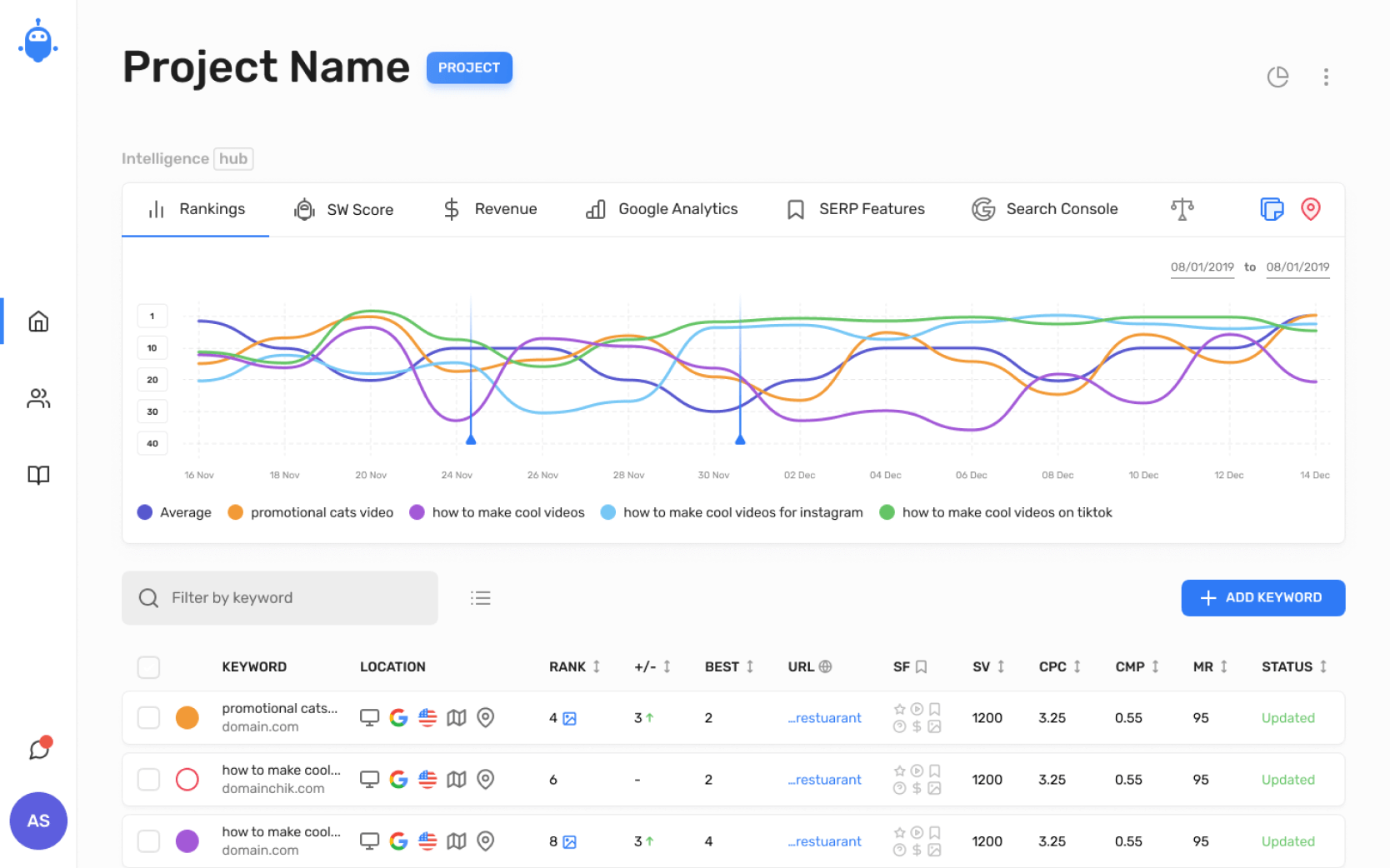 For rank tracking, Mangools have SERPWatcher, where you have to add your domain or website then you can see all the data like Top Keywords, their position, changes, average position, best position and search volume, etc.
Aside from ranking, you can also check the performance of your website and data related to indexing, also you can see the rankings of your website day-by-day and check them in the SERP previews.
Mangools Pricing Plans:
1. Mangools Basic Plan
The basic plan comes with all the basic features that you need for website SEO, and we can say that the features that they are providing at this pricing can be a go reason to choose this tool. with features like 200 keyword suggestions per search, 25 Competitor Keywords per search, etc.
This plan will cost you $49/month.
Key features:
Keyword Outlook/24hrs: 100
SERP Lookups/24hrs: 100
Site Lookups/24hrs: 20
Backlinks Rows Monthly: 100,000
Tracked Keyword Daily: 200
2. Mongools Premium Plan
People consider this plan as value for money because it comes with amazing features like Unlimited Competitors keywords/ search and Unlimited keyword suggestion/ search, also 3 people can log in simultaneously.
This Plan will cost you $69/month.
Key Features:
Keyword Outlook/24hrs: 500
SERP Lookups/24hrs: 500
Site Lookups/24hrs: 70
Backlinks Rows Monthly: 500,000
Tracked Keyword Daily: 700
3. Mangools Agency Plan
As it sounds, this plan is mainly made for agencies and enterprises, because this plan provides some extra features and limits, If you are handling multiple websites then we will surely recommend you this plan. with this plan, you will get access to 10 Users.
This Plan will cost you $129/month.
Key Features:
Keyword Outlook/24hrs: 1200
SERP Lookups/24hrs: 1200
Site Lookups/24hrs: 150
Backlinks Rows Monthly: 1,200,000
Tracked Keyword Daily: 1500
Popular Tools For Website Tracking…
16 Best Rank Tracking Software
1. Moz Pro
Moz Pro is a great tool for businesses that want to be more proactive in SEO marketing. Since its inception in 2004, Moz has been one of the most popular SEO tools. Moz Pro is the site's monthly subscription.
It offers a wide variety of tools that will help you run a more successful SEO campaign and improve your digital marketing results. It has a robust set of features that make it easier for new companies to learn about SEO. Moz is currently a leader in SEO marketing.
Moz Key Features:
Link Explorer
Keyword Explorer
Competitive Research
Domain Analysis
Moz Bar
and more
Moz Pro Pricing Plans
Standard Plan: $99/month
Medium Plan: $179/month
Large Plan: $299/month
Premium Plan: $599/month
2. Ubersuggest
Ubersuggest is a straightforward and efficient tool that assists users to increase their blog's traffic. The tool began to become popular in back 2019 after Neil Patel started offering a significant portion of the features available on the program free of charge.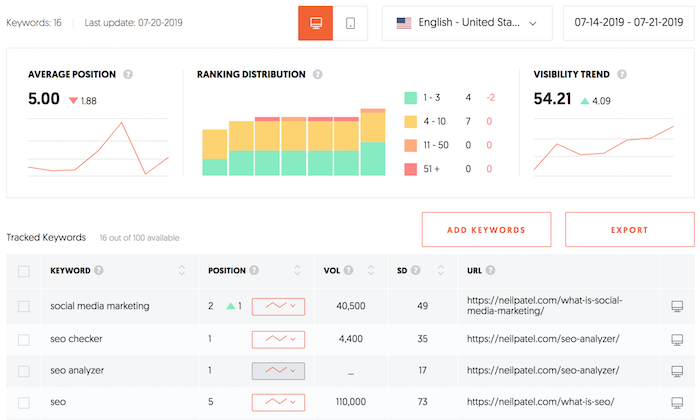 It has some incredible tools that can assist you in your SEO campaign. It is a tool that helps you with your keyword research, in-depth research and development, and more. It's a powerful search engine for the online world.
Ubersuggest Key Features:
Daily updates
Mobile rank tracking
Data reporting
Unlimited daily site audit reports
Monthly crawl on Pages
Historical data
keyword suggestions
Three years of backlink history
Ubersuggest Pricing Plans:
Individual Plan: $11.87 per month.
Business Plan: $19.97 per month.
Enterprise Plan: $39.59 per month.
3. NightWatch
Nightwatch is without a doubt an effective SEO instrument. The information Nightwatch can offer is only useful if you know which keywords you should monitor. To figure this out, you must first to conduct high-quality research on keywords.
It is an innovative search engine that tracks SEO and optimizes it that provides a thorough analysis of reports. It provides insights into website and keyword positioning, AdWords advertising, competitor performance, and other relevant aspects.
One of the aspects that set it apart from other products includes the precise graphs and graphs as well as the position of keywords within the rankings as well as the monitoring and segmentation of keywords with advanced features and backlinks.
NightWatch Key Features:
Rank Tracking
Site Audit
Reporting
Google Analytics Integration
Google Search Console Integration
Google Data Studio Connector
and more.
Night Watch Pricing Plans:
Starter: $39/month
Optimize: $99/month
Agency: $369/month
4. Wincher
Wincher is One of the user-friendly ranking trackers available on the market. It's extremely user-friendly with enough functionality to fulfill all your needs for tracking keywords. It also has amazing features such as keyword research, a keyword rank tracker, as well as the tools to optimize your site's pages.
And the best part is this tool also includes Free & unlimited keyword research, Free & unlimited on-page SEO checkers, the creation of customized automated reports, and the Free WP plugin.
Wincher Key Features:
Rank Tracking
Keyword Research Tool
Competitor Analysis
Page Rankings
Customized Reports
Downloadable Ranking Reports
and more
Wincher Pricing Plans
Starter Plan: €29 ($35)
Business Plan: €59 ($71)
Enterprise Plan: €249 ($300)
5. Raven Tools
Raven Tools comes with a rank tracker as part of the toolset. You can use the rank tracker to see your search ranking for keywords on a daily, monthly or weekly, or even everyday basis. Remember that certain tools will not allow you to view on daily basis.
It's best to wait until the tool is updated with its index. Raven's tool lets you determine rank based on the location as well as a search engine and even device. Raven also charges its services by the number of keywords you'd like to track.
The tool also shows the most similar search terms to keywords you type in. Utilize that information for opportunities to market your content using keywords that your competitors don't use. You don't need to look at each keyword one at a but.
Raven tools Key Features:
Email Metrics.
Google Analytics.
Keyword Manager.
SEO Metrics.
SERP Tracker.
Site Auditor.
Site Performance
and more.
Raven Pricing Plans:
Small Biz: $49/month
Start: $109/month
Grow: $199/month
Thrive: $299/month
Leads: $479/month
6. Accu Rank
AccuRanker is among the most effective rank-tracking tools available on the market that can track keyword rankings instantly. It eliminates the guesswork in tracking the results, so you'll be able to save time and utilize the data to make educated choices.
It can work with a range of search engines to aid in rank monitoring. AccuRanker customers are able to upload and track the position of their SERPs for thousands of terms that bring visitors to their websites.
Accu rank Features:
Keyword rank tracking
Keyword performance analysis.
Competitive performance analysis.
Keyword custom tagging
Report Builder
Integrations with Google, Databox
Accu Rank Pricing Plans:
1000 Keywords: $129/month
10000 Keywords: $848/month
25000 Keywords: $1395/month
7. Web CEO
WebCEO is a highly effective marketer and search engine optimization platform. It provides its user's tools to build links SEO research, competitor research, and much more. No matter if you're an SEO novice or an agency for digital marketing, or an online hosting company, WebCEO has something to provide you with. 
If you get stuck WebCEO gives technical support and support through live chat and email. It also includes tools for search engine optimization, SEO assessments, engine ranking reports, as well as link analysis, all of which are on the exact same system.
Web CEO's white label feature give digital agencies the flexibility to design and create professional, unique reports.
Web CEO Key features:
Rank tracker
Backlink checker
Partner links checker
Site auditor (quality checker)
Quick domain analyzer
Visitor tracking
and more.
Web CEO Pricing Plans:
Solo: $37/month(Quarterly Billing)
Startup: $99/month
Agency Unlimited: $99/month + Scanning Fees
Corporate: $299/month
8. Spyfu
SpyFu is an effective keyword research and competitive intelligence tool utilized for digital marketing to increase their effectiveness on the internet. In particular, SpyFu can be used to determine the most lucrative keywords that your competitors are using in their both organic and paid search campaigns.
SpyFu is among the most popular brands in the SEO game because of its extensive feature set, superior reporting and support for advertising and marketing via digital channels.
It is also able to match search results with keywords so that businesses gain greater insight into the kinds of queries and the strings of words that are displayed within the Google Search Engine Results Page
Spyfu Key Features:
SEO Research
PPC Research
Keyword Research
Backlink Research
Keyword Rank Tracking
Competitive Analysis
and more
SpyFu Pricing Plans:
Basic: $39/month
Professional: $79/month
Team: $299/month
9. Advanced Web Ranking
Advanced Web Ranking is an SEO software suite designed by Caphyon Ltd. The main focus of the software is the management, tracking and reporting of web page rankings across important search engines.
It allows you to handle any number of websites, projects as well as keywords from the initial research phase through day-to-day monitoring. This flexibility allows AWR highly useful for individual users as well as SEO agencies.
The style for the AWR User Interface has changed through the years, moving from a complex and confusing interface to one that is simple and easy. The site is designed with a responsive design ideal for tablet and mobile users who wish to review performance metrics at an instant.
Advanced Web Ranking key Features:
Unlimited websites and users
No charge for competitor data
Easy to manage and to scale
Free Trial Option
All SERP Features
Mobile Tracking
and more.
Advanced Web Ranking Pricing Plans:
Starter: $49/month
Pro: $99/month
Agency: $199/month
Enterprise: $499/month
10. Rank Watch
RankWatch provides an SEO tool that allows you to collect data about the effectiveness of your SEO strategy and campaigns.
One of the most difficult areas for SEO is acquiring details about the SEO performance. Although you are able to manually collect and analyze information from the internet using various online tools that are free to use, RankWatch sets out to simplify your life by doing the work for you.
With RankWatch the only thing you have to do is understand the information given to you and then focus on optimizing your website's search engine optimization performance. And, most importantly, you'll be able to achieve this without making any financial sacrifices!
Rank Watch Key features:
Simple & Effective SEO Management
100% White Label solution for Clients
Keyword Archive
CEO Dashboard
Advanced Reporting
City-Based Rank Tracking
Email Alerts
Competitors Analysis
Rank Watch Features:
Medium Plan: $29/month
Large Plan: $99/month
Extra Plan: $449/month
11. Keyword Revealer
Keyword Revealer tool lets you use keywords or a seed topic to find possible keywords. You can analyze each potential keyword in relation to patterns, difficulty scores as well as average figures from the SERPS, and much more.
It is also a great tool to generate ideas for more efficient long-tail terms and evaluate the ranking of your keywords on Google.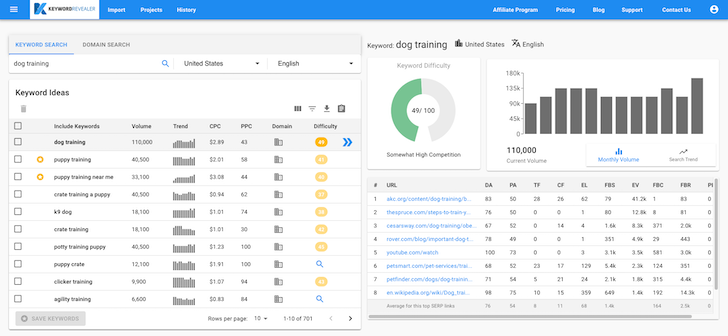 It is possible to target the most easy-to-rank keywords, however, there is a good chance that your efforts are wasted If the keywords you chose are very competitive.
The reason for this is that high-competition keywords aren't able to rank easily. It is no more a free tool. But still, it gives 3 keyword searches and seven evaluations per day for free and for further usage.
Keyword Revealer Key Features:
Competitor analysis
Backlink analysis
Rank tracking
Domain name research
Keyword Evaluations
and more
Keyword Revealer Pricing Plans:
Basic: $12.50/month
Pro: $70.50/month
Elite: $29.50/month
12. Google Search Console
Google Search Console can be used to analyze a website and improve search results on the Google search engine. Once the website is added to the Google Search Console, we can track each click through its dashboard. It is easy to measure clicks, impressions and the average keyword position in Google's search engine.
Google Search Console Key Features:
Keyword Analysis Through Search Queries
Assess User Interaction
Search Analytics Report
Link with Google Analytics
Fetch as Google
and more
Google Search Console Pricing Plans:
Google Search Console is a free tool to use, which means you don't have to pay any extra charge to use this tool, simply you have to sign in and start using this tool.
Authority Lab by Traject is a White Label SEO Rank Tracking Software and API that helps you rank higher in search engines. It monitors your website ranking and detects any changes to your website.
The White label SEO rank API allows you to monitor multiple URLs. This software will give you greater visibility into the SEO performance of your website.
Authority Labs Key features
Cloud-based Software
Daily Updates
Local Tracking
Mobile Tracking
Global Tracking
Competition Tracking
Extensive Information Tracked
and more
Authority Lab Pricing:
Plus: $49/month
Pro: $99/month
Plus Pro: $225/month
Enterprise: $450/month
14. Diib
Diib is a website that combines Dashboard, Answer Engine(tm), website statistics, Tracker, an extensive library, and website analytics. This all-in-one SEO tool can tell you everything about your website and show you how to grow your business.
It will help you find keywords that rank your website higher than other SEO websites. We aree impressed by the diib list's new keywords. It is recommended that you refer to multiple tools to get accurate data.
The tracker simply tracks your progress, learning, and efforts so that you can see how far it has taken you! You'll be more motivated to keep moving forward the more progress you make!
Diib Key Features:
Website Monitoring
Weekly Snapshot email
Weekly Snapshot email
Professionals for help
Social media Management
and more
Diib Pricing Plan:
Pro Plan: $7/month with unlimited access.
Diib only has one pricing plan which you $7/month for the first time, after that you can renew your plan with $29.99/month. in this plan, there is no limit, which means you will get unlimited access.
15. Labrika
Labrika is believed as an SEO all-in-one tool that employs machine-learning algorithms and examines key factors that affect search engine rankings to help your site get on the first page.
In simple terms, it identifies what's wrong with your website and provides you with suggestions to fix the issue.
Due to the competition for rankings on search engines, It is essential for businesses to use tools that aid in identifying problems and solving the issues.
Labrika Key Features
SEO Audit Tool
Keyword Tracking.
On-Page Optimization.
Keyword Grouper Tool.
Traffic analysis.
Plagiarism checker.
Data Export.
Sharing Reports
Labrika Pricing Plan:
Lite: $19/month
Business: $29/month
E-commerce: $73/month
Agency: $140/month
16. SEO Powersuite
SEO PowerSuite is essentially an SEO toolkit that is sold as a bundle. It comprises four applications: Rank Tracker SEO Spyglass, Link Assistant, and finally, WebSite Auditor. These are the apps that are available on each Windows as well as Mac.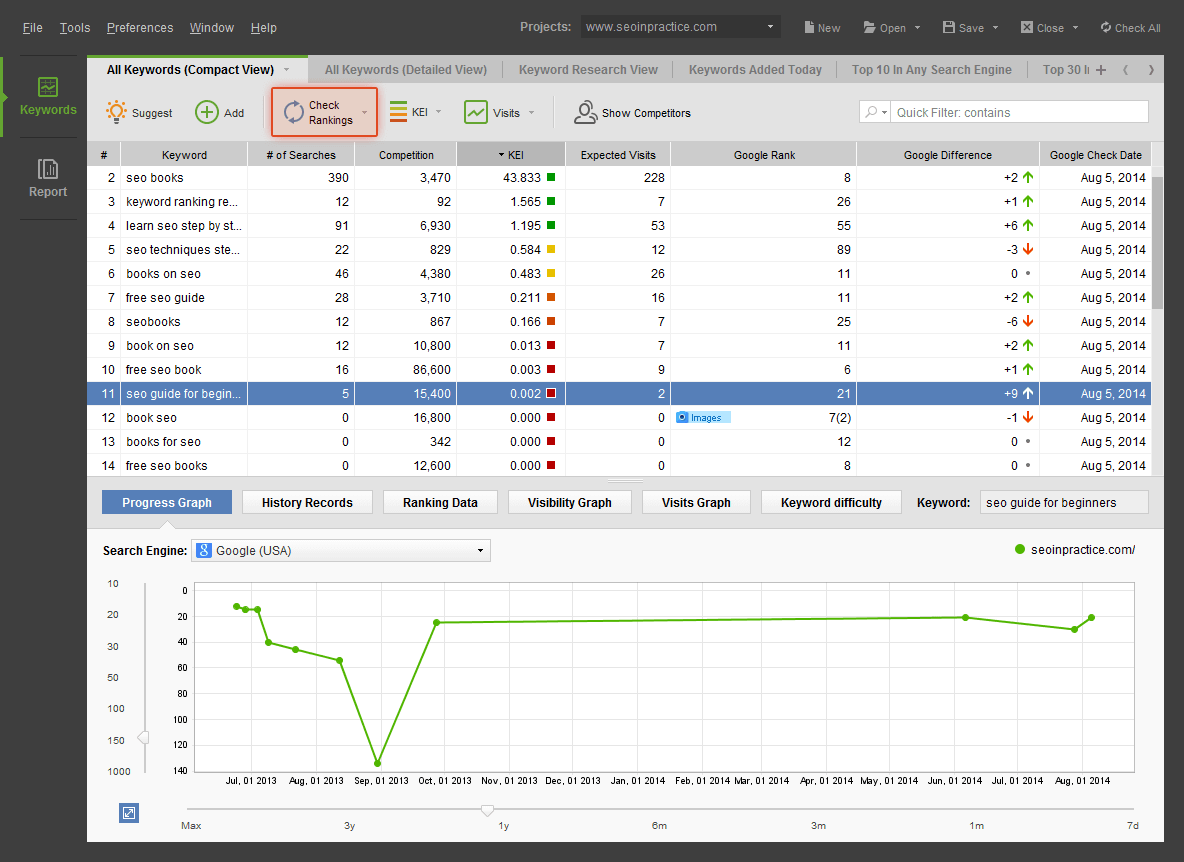 Its rank tracker is a program that allows you to track your ranking on Google for keywords. Keyword rank tracking manually isn't feasible in the case of more than one website and having more than a dozen keywords to monitor.
SEO Powersuite Key Features:
Link management
Crawl pages for SEO audit
History of ranks, backlinks
Saving projects with history
Competitors rank tracking
Copying data to a clipboard
and more.
SEO Powersuite Pricing:
Professional Plans: $299/year
Enterprise Plan: $499/year
Which One do I Choose?
Conclusion: Which Rank Tracking Software is Best?
Rank Tracker is an easy way to keep track of your ranking progress. It will show you how many times your site has been crawled by search engines, how much traffic you receive, and which keywords bring in the most visitors.
Choosing a better Rank Tracking is not that easy, There are lots of companies that are providing this tool, but it's pretty hard to choose, which one is the better?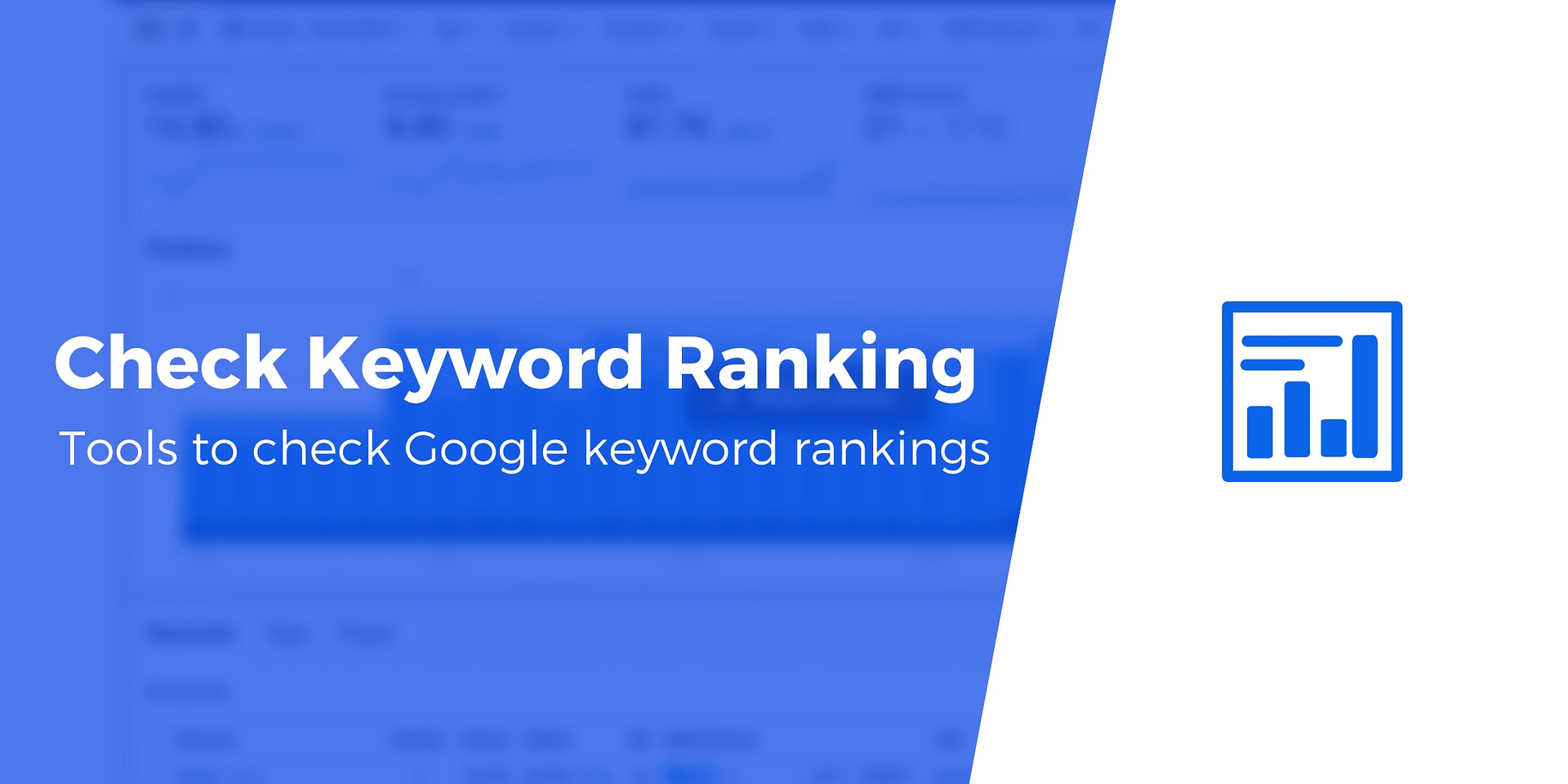 Basically, you can get Rank Tracking Software by tool ways, first buy Software that is specifically made for rank tracking it doesn't mean this software does not provide other tools actually their main tool is rank tracking, and second, buy a bundle of SEO Tools that includes rank tracking.
Now a Question comes to your mind… Which option is better??
The answer is simple if you think that all you need is rank tracking software then we can say, you should go with the first one, or if you looking for a full SEO Tool package with a better ranking tool, then you can go with the second one.
One Thing also keeps in your mind, choose a tool that is more affordable and suitable to your work.
Now the only thing you have to do is, checkout the features and pricing of all the tools that we have mentioned above and think which one is more for you.
FAQs: Best Keyword Tracking Tools
What is Rank Tracking Software?

Ranking tracking software is a simple tool, used to analyze and track the ranking of a keyword on search engines like, google, Bing, Yep, etc.

How to track SEO ranking?

A better way to track SEO Ranking is, to choose a tool, like SEMrush or Ahrefs. and add your site to their rank-tracking feature, and then you can easily track your SE ranking

Why is Rank Tracking important for SEO

The overall SEO game is based on Page Ranking on search engines, so it is important to track the ranking of keywords.

What are the best Google Rank Checkers?

There are lots of tools that provide you accurate data on your ranking on google, there are lots of better tools for ranking but some are SE Ranking, SEO Powersuite, etc.

What are free Rank tracking tools?

Google Search Console is a completely free ranking tracking tool that anyone can use and you also Choose SEO Powersuite, but there is a limit to their free plan.

What are the affordable Keyword Rank Tracker tools?

In the list of Affordable ranking tracking tools, we will choose mangools, Serpstat, these tools come with value-for-money plans.

What are the two best keyword-tracking tools?

SEMrush and Ahrefs can be your complete SEO Package, which is also provide best Keyword Tracking tool.

Which is the Best Local Rank Tracking Tool?

You can choose Localfalcon for tracking your local Ranks, this feature includes all the features that you require for local rank tracking.