ElementsKit is an Elementor Addon WordPress Plugin with Hundreds of Ready to use Blocks, Templates, and Widgets. It has high converting web elements for Bloggers, Marketers, and Web Designers.
PROS:
Hundreds of Blocks
Ready to use Templates
Easy to use
Better than Elementor Pro
Explore Review of ElementsKit Addon for Elementor by WPMet in 2022. Powerful 400+ WordPress Blocks and 100+ Widgets with Elements Kit Plugin. Check Review, Pricing, and Get 20% Special ElementsKit Discount here.
We have also shared the Latest and Working ElementsKit Coupon for Exclusive Discounts.
Use the below shared ElementsKit Promo code and Get a Maximum Discount.
ElementsKit Plugin Quick Info:
| | |
| --- | --- |
| Product Name | ElementsKit |
| Type | WordPress Plugin |
| Starting Price | $39 |
| Exclusive Coupon | Yes, 20% Discount |
| Money Back | 14 Days |
ElementsKit is No-Longer available on Appsumo
ElementsKit is also available on CodeCanyon, But WPMet has not updated their plugin there for a long.
So buying this plugin from the direct WPMet site is better.
Let's start the Review of ElementsKit.
ElementsKit is an ultimate All-in-one add-on for Elementor Page Builder. It includes the most comprehensive modules, such as Header Footer Builder, Mega Menu Builder Layoutkit, etc under the one hood.
It has 55+ custom widgets to create any site with ease. It has some most unique and powerful custom controls for Elementor, such as Image Picker, Ajax Select2, Advanced Widget, and many more.
Every widget & extension can be disabled! If you don't need something, just disable it and no assets will be loaded. So, you can reduce the extra loading time. Leverage the best addons pack for the Elementor page builder. Elementskit – ultimate Elementor addons package with lots of other features.

Elements kit Elementor Addon has Exclusive features that blow your mind. Like our Mega Menu Builder, Header and Footer Builder layout library, One Page Scroll, Sticky Content, and Parallax Effects, you will get tons of Premium features that you have never imagined.
You will get 25+ complete homepages and a total of 500+ blocks in our layout library. And we're continuously updating the numbers there.
ElementsKit Features:
Header Footer Builder
Widget Builder
Mega Menu Builder
Vertical Mega Menu
70+ Free and Premium Widgets
45+ Pre-designed Header & Footer Templates
35+ Ready Pages
500+ Ready Sections
WooCommerce Widgets
One Page Scroll
Sticky Content – PRO
Parallax Effects – PRO
Cross-Domain Copy Paste – PRO
Multi Widgets Area
Gallery Widget. Filterable, Masonry, Grid – PRO
Cross-Browser Compatible
Fully Responsive
Build with Elementor
Build content in Elementor page builder.
Use any element widgets you like.
Conditional activation (Entire site, only for home/ archive/ single pages or even a specific page).
Ajax-based modern UI
Highlights of WPMet ElementsKit Pro
1) Header & Footer Builder with ElementsKit
Build custom header footer with ease, no complex settings to confuse you anymore
build content in Elementor page builder.
Use any element widgets you like.
Conditional activation (Entire site, only for home/ archive/ single pages or even a specific page).
Ajax-based modern U
2) Build Megamenu Content in Elementor with Unlimited Possibilities
Build a website for your clients instantly with this amazing plugin.
build content in Elementor page builder.
Use any element widgets you like.
100% responsive.
Necessary Elementor addons
Add badge/ icon wherever you need.
Off-canvas style in tablet view.
Show builder content or simple lists as a submenu in tablet view
3) Integrated with Powerful New Control
They have developed some custom controls like Multi Widgets area, AjaxSELECT2, and Image-picker which can be used any theme and plugin by their own hooks.
Multi widgets are specially built for using widgets inside another widget without any hassle.
We've used it on the Advanced tab, Advanced accordion, and Off-canvas widgets in ElementsKit. You will also get all the necessary Elementor add-ons for the Elementor page builder.
4) Layout Kit Library
With ElementsKit we have Layout library features where over 7+ ready-made homepages are available and 300+ ready-made sections available. Just click the layout icon and insert it into your site, it's so easy to use without any hassle like importing JSON. You will get a complete native feel when you use this.
5) 250+ READY BLOCKS
Elements Kit All-in-one Elementor addon comes with 250+ readymade blocks. Make any website on the fly with readymade blocks from the Exclusive layout kit library.
You don't need to create from scratch just input the design from the layout kit library and modify it according to your need that's it. Your site is now ready to launch.
6) MODULAR BASED AND LIGHTWEIGHT
Elements Kit build optimization in mind. We develop our plugin Modular based so if you don't need any addons.
You can enable/disable specific elements from the Elements Kit option panel to prevent overloading your website with Extra CSS or JS code you will not use which helps your website have a blazing fast performance.
7) COMPLETELY CUSTOMIZABLE
Every Elementor widgets have Huge customizable options to control any widget according to your needs. You can build any style you want with our plugin.
Choose the Right Plan for your Sites.
ElementsKit Pricing Plans
ElementsKit has affordable Plans.
Here users also get a Lifetime purchase option that can save them huge money for a long time.
ElementsKit also has divided its plans according to a number of websites.
Users can easily pick a plan according to the Websites' Numbers.
ElementsKit Plans:
Personal
Professional
Agency
ElementsKit Pricing Yearly Plans:
Yearly Plans are best if you want to buy this tool in budget.
And here you pay as you go.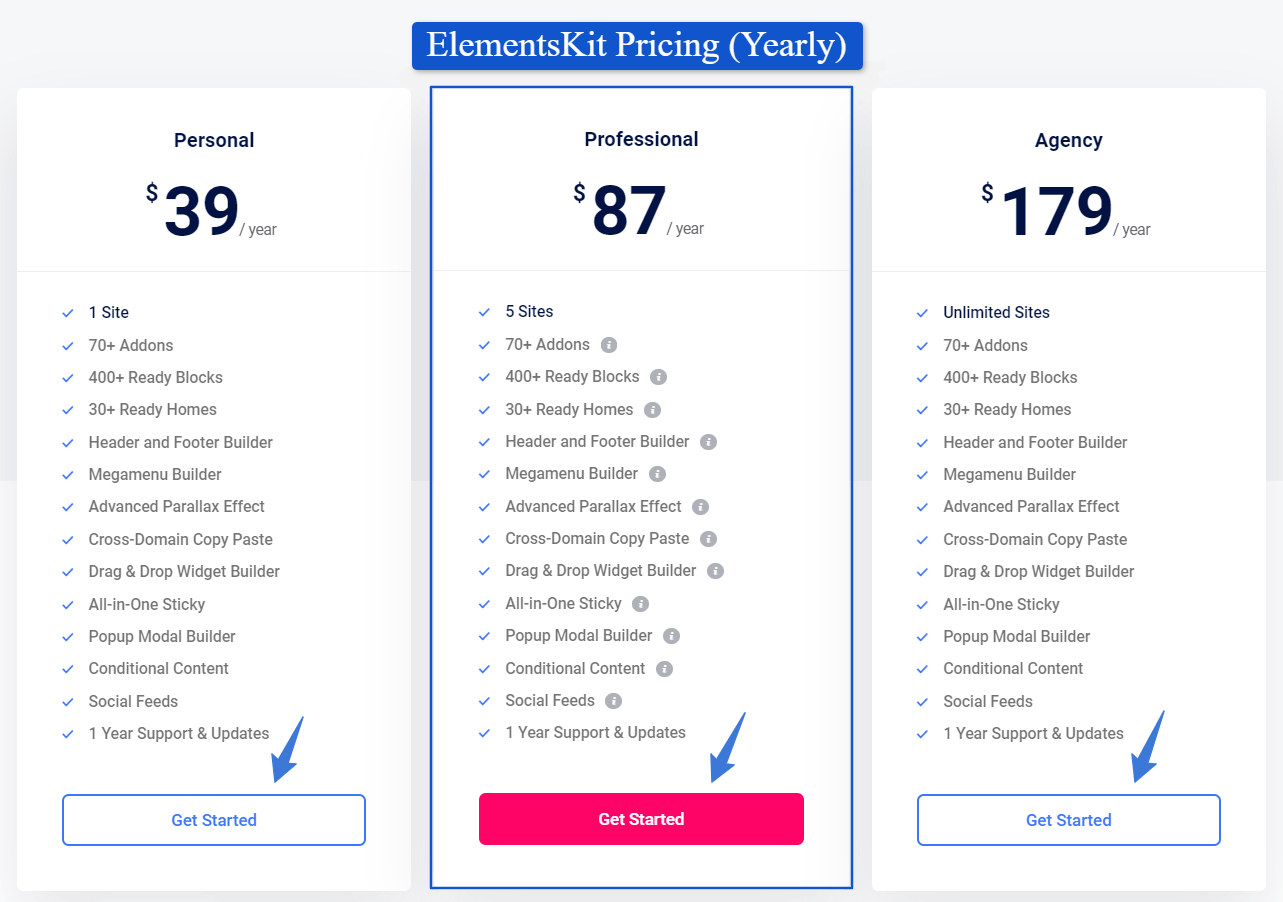 ElementsKit Pricing Yearly Plans:
A lifetime seems costly. (Almost 3x Price)
But it is value for money if you are buying for the long term.
And as we know ElementsKit is #1 Elementor Addon, that continues updating and adding new amazing features.
So your Lifetime purchase also valuable if you have a long journey like us.
Select the Best ElementsKit Plan:
| | | | |
| --- | --- | --- | --- |
| ElementsKit Features/Plans | Personal | Profession | Agency |
| No. of Websites | 1 | 5 | Unlimited |
| Addons | 70+ | 70+ | 70+ |
| Ready Blocks | 400+ | 400+ | 400+ |
| Ready Home | 30+ | 30+ | 30+ |
| Other Features | Yes | Yes | Yes |
| Support & Updates | Yes | Yes | Yes |
| Yearly Price | $39 | $87 | $179 |
| Lifetime Price | $119 | $259 | $489 |
| | Get Personal | Get Profesional | Get Agency |
Exclusive coupon for Web Me Tools visitors.
ElementsKit Discount Coupon 2022
Here we are sharing the Latest and Active ElementsKit Discount Code.
Use this shared Elements coupon at the checkout page.
$69 $87
Exclusive coupon for Web Me Tools visitors.
Get an Exclusive Discount on Elements Kit WordPress plugins. Use Shared Coupon Code to avail 20% Discount on all ElementsKit Plans.
Steps to use ElemetsKit Coupon Code:
Visit the ElementsKit page on the WPMet site
Click on the Purchase button
Choose a Term (Yearly or Lifetime)
Choose a Plan
Click on the 'Get Started' button
Enter 'webmetools' in the coupon section
It will now show you a 20% Discounted Price
Click on Checkout and Enjoy this Deal.
40+ FREE WIDGETS AND COUNTING
We have over 40+ elementor widgets with our free plugin. And Every Elementor widget and Build with care. We can say that this Elementor widget pack is best in town with design as well controls and features You will be really amazed to use the free version that will give you exactly the premium feeling.
Heading Title – Our Heading title Elementor widget enables you to adorn your headlines. This Elementor addon comes up with multiple fancy, and custom styles with Heading Title, Heading subtitles, Heading description with Separator.
Button – Our Button Widget for Elementor page builder helps you to create amazing elementor buttons with text, color, hover effects and other effects. This elementor button addon will also enable you to create call to action buttons.
Team Member – Our team member Elementor widget allows you to showcase your team members with their name, position, bio, pictures, and social media links. Using the team member elementor page builder addon, you can customize the team member section as per your need.
Accordion – Display your texts in a foldable and concise way using Accordion FAQ Elementor Widget on your Elementor pages. By using Elementor Accordion Addon in your pages, posts or anywhere on your site, the length of the page can be shorthand with custom options in color, icon, style, and motion effects.
Tab – Tab Widget for Elementor page builder will enable you to show your texts divided into horizontal or vertical tabs with the title. You can customize your tabs as per your requirement using our Elementor tab addon.
Social Media – Display your social media icons including Facebook, Instagram, Twitter, Linkedin with our Social media icon Widget for Elementor on your WordPress website. Moreover, you can customize the social media icons with different shapes, colors, styles, text, borders etc using our Elementor social media addon.
Recent Blog – Our recent blog post widget Elementor page builder allows you to showcase your blog post listing on your Elementor webpages. Using the blog post elementor addon you can change layout, query, metadata and display your blog post based on the category, publish date & top viewed post.
Client and sponsor logo – Our Client and Sponsor logo widget for Elementor helps you to showcase client and sponsor logos on your Elementor web pages with different styles including client logo carousel slider. You can also customize the client logo section as per you need using our client logo addon for Elementor.
Countdown Timer, Clock timer – Our Countdown widget for Elementor will allow you to use the countdown timer feature on your Elementor website. You can use lots of effects, styles, and formats using our Elementor countdown timer addon.
FAQ – Our FAQ widget for Elementor will enable you to showcase your frequently asked questions (Q&A) on your Elementor webpage. Our FAQ Elementor addon comes up with a listing layout, shows answers below every question where you can customize the content design with different unique styles.
FunFact – Using the Funfact Elementor widget, you can showcase the number, statistics, achievements and facts in a progressive number counter. This animated number counter Elementor addon helps to customize the background, icon, and format to display your number counter accordingly.
Icon box – Our icon box widget for Elementor allows you to display a short brief about the services you provide or products you offer within boxes with customization options like icon type, badge, content, icon box container, background, overlay etc.
Image Accordions – With our image accordion widget for Elementor, you can display multiple images in a shortened format with title, subtitle, description and call to action button.
Image Box – Our Image Box Widget for Elementor lets you add image boxes that combine images with headlines, texts, and call-to-action buttons. You can style up the image boxes with lots of effects and formats using our Elementor Image box addon.
Piechart – Our Pie Chart widget allows you to create data pie charts on your Elementor web pages. Using this Elementor Piechart addon, you can design Pie-chart styles, chart content, and percentage according to your expectations.
Pricing Table – Describe your clear product value with pricing table Elementor widget. Our pricing table Elementor addon helps to customize header, price tag, features, button, pricing figure, ordering and much more.
Progress bar – Visualize your project's progress with our progress bar widget for Elementor. Using our progress bar addon for Elementor you can showcase skills, success rate, future goal predictions or project progress with lots of styles and control options.
Testimonial – Show your clients feedback, recommendations on your sites with a perfect testimonial Elementor addon. Like our other Elementor addons, testimonial addon have various customizable options like layout, wrapper content style, description, title separator, client etc.
MailChimp – Create and manage a mailing list, automated mailing, newsletter, and many other options with mailchimp elementor widget for wordpress sites. Through our mailchimp Elementor addons you can personalize your sign-up form with attractive and multiple styles.
[ Header Info ] – Display your logos, texts, business info, advertisements, banners using our Elementor header addons. Our header info Elementor widget contains header, icon, text, content, styles with color, blocks, typography, and other advanced features.
Image Comparison – Display your Elementor image widget that compares two images and gives an attractive before and after slider effect. With our image comparison Elementor widget, you can compare the image by selecting vertical or horizontal with motion effects, customize label color, typography, background type, margin, padding etc for before and after image.
Call to action – Bring an image, button and content and other features under one box with Elementor call to action widget. With this call to action Elementor page builder addons, you can select an image, button, title, color and many more styling options
Video – Video widget for Elementor gives you the ability to add playable videos to your page. Through our video Elementor addon you can easily upload, preview, autoplay, play on mobile, Image overlay, and so on with different styles and many more features.
Post Tab – This Elementor post tab widget helps you to display your blogs, popular posts and recent posts in tabs as per the category. With our post tab addons for Elementor, you can customize post count, categories, and columns with unique styles.
Category List – Organize every section of each category in a list. Our Elementor category list widget comes with various category list styles, layout, and other advanced options. Using the category list Elementor page builder addon, you can customize the category list section easily.
Post list – The post list widget for Elementor will let you display your posts in a well-formatted list. Customize your post list elements with our post list Elementor addon and select category, change layout, text, metadata and many more.
Page list – Page List Elementor widget helps to display your list of pages in a horizontal or vertical layout and customize using the widget for WordPress website. You can change layout, target, icon, text, subtitle etc.
Offcanvas Menu – Elementor Offcanvas Menu Allow the user to display a sidebar content like demo, registration when the specific button is triggered. Our Elementor header off canvas menu provides options to add content blocks of title, text, video, images, forms, social icons etc.
Drop Caps – This Drop Caps Elementor Widget lets you display the first letter in a stylish, large, and capitalized format. Using the Drop Caps elementor page builder addon, you can customize the color, content, border, radius and other more.
[ Nav Menu ] – Nav Menu Elementor widget allows you to navigate different pages and create a drop down elementor nav menu, mega menu with different menu settings including control spacing between all elements, position, colors, background, width, separators, borders and close icon etc.
Dual Button – Display two buttons side by side with the Elementor dual button widget. You can even make colorful call to action dual buttons with dual button Elementor addon.
Business Hours – Use business hour widget for Elementor to inform about your opening hours so users can get updates on whether you are currently open or not. Use our business hour Elementor widget with unique design and styles.
Social share – Share your content in your social media accounts with one button click. Our Elementor social share widget will enable you to share blog posts, news and latest updates on Facebook, Twitter, Linkedin, Pinterest and more.
Caldera Form – Build your contact form with caldera form Elementor widget. Caldera form Elementor addon comes up with different types of form style for capturing leads.
Contact form 7 – Contact Form 7 Elementor Widget will help you to create various types of contact forms. Using our Contact Form 7 addon for Elementor, you can design your contact form container, fields and choose the preferred form layout to style it exclusively.
**Metform elementor ** –
Metform allows you to create any contact forms, feedback form, subscription forms, and other types of forms for your WordPress site in minutes. Manage multiple forms and customize the form with Metform builder for Elementor with multiple input fields.
Ninja Forms – Ninja forms Elementor widget will give you the facilities to create contact forms with different types and styles. You can customize every element of the form as per your need using the Ninja forms addon for Elementor.
Wp forms – Wp forms widget for Elementor page builder lets you build any type of forms like contact form, suggestion form, newsletter, subscribe form etc with different styling options.
We forms – Elementor We forms widget will help you to build various contact forms with different colors, fields, labels, buttons, and more customization facilities.
Search – Elementor search widget will help you to find what you are searching for on your WordPress website. You can also personalize color, position, border and more with Elementor advanced search addon.
Lottie – Our Lottie animation widget for Elementor gives you the ability to add Lottie Animations to your Elementor pages. Just easily export a JSON file or provide URL to use animation. Moreover you can enable reverse animation, autoplay, loop, render type, select hover options and lots of other features.
Post Grid: – Elementor post grid widget will help you to display your content, image, post, product etc in a group with different styles. It has customizable options including categories, post count with grid styles, motion effects and more.
Table Press – Elementor TablePress widget will allow you to create responsive data tables in your WordPress website. Style up your table header, body & filter options with TablePress Elementor table builder addon.
EXCLUSIVE MODULES
We have developed Awesome exclusive modules which saved tons of time when you are developing your site. As well it will save your time to develop your site within a short time.
ElementsKit Header and footer builder: We have built this with Elementor builder to provide your introductory content in the header and group of content or links at the footer which will encourage users to take action. Our ElementsKit plugin will help you to create your header and footer template with a logo and menus. Also you can use the constants in the pro version to show any page you like. There are three types of conditions you can select such as Entire Site, Singular, and Archive. Basically, you can choose which page you want to add your Header and Footer. there is an activation option like you can active or inactive the Header and Footer whenever you want.
Megamenu builder (PRO Layout) Develop user experience with your sites and cover all the necessary categories by using mega menu. It's the best way to navigate the deepest section of your sites with just one click with this drop-down menu. You can build your own mega menu beyond your expectations with our mega menu builder. Our most unique feature is you will have two options for mobile view to show your submenu, one is "Builder Content" and another one is "Wp Sub Menu List". Other pro features are drag and drop menu builder panel, auto add pages, social links menu, display location, pages, content, menu, badge, post, custom links, categories, and many more. Check out our video screencast:
Sticky Content: If you want your user stuck or fixed in a section, even the section won't vanish after scrolling down, then you need to use our powerful Sticky content Widget. This feature will help you to access your content from any place on the webpage. For this we have an option for choosing your place from the drop down like Top or Bottom. You can also choose your device to be active or inactive such as Desktop, Tablet, or Mobile. There are other options including Sticky offset, Add ekit-sticky-effects and other more.
Onepage Scroll: Want to Scroll through your site very easily and make your site more elegant? One page scroll feature will give you the mobile app scrolling feeling to your webpage. Our effective and lightweight one-page scroll comes with a 15+ navigation style where users are allowed to scroll through Dot Move, Scale up or Line Move and many more. One-page scroll is the most amazing module of elementsKit. Add any page with one page full-screen scroll with an ease.
EXCLUSIVE PRO ADDONS WIDGETS
PRO MODULES FEATURES IN PREMIUM VERSION
Parallax options with SVG library and animations (HOT)
Sticky content in any place.
Header footer in specific page or post.
Add Icon and label in the mega menu.
Widgets area
Should you get this plugin?
Conclusion – ElementsKit Lite Review
We shared our Best Review about ElmentsKit Plugin.
Right now:
Elementor is @1 WordPress Page Builder
and ElementsKit is @1 Elementor Addon
We have also checked so many other addons.
But the Widgets and Massive Blocks you got in ElementsKit have never exited anywhere.
So according to our experts, you must check out this plugin.
Elements kit Elementor Addon has Exclusive features that blow your mind. Like our Mega Menu Builder, Header and Footer Builder layout library, One Page Scroll, Sticky Content, Parallax Effects, you will get tons of Premium features that you have never imagined.
You will get 25+ complete homepages and a total of 500+ blocks in our layout library. And we're continuously updating the numbers there.
Know your plugin better.
FAQs – ElementsKit Review & Discount Coupon
1. What is required to use ElmentsKit?
Elements Kit is an all-in-one advanced addon built to enhance the page builder with widgets and features. Therefore, you will need to have the latest version of Elementor installed on your website to be able to use our addons.
2. How long do I get support & updates?
The annual license of the Elements Kit promises one year of support and updates from us. While the lifetime license for lifetime update and support.
3. What happens after my ElementsKit License expires?
Yes. You will get a notification about the renewal date a few days before the expiry date. If you don't want to renew it, You may apply for cancellation of the license.
4. Does ElementsKit pro provide a refund?
We are sure that you will love ElementsKit. If you have an issue within 14 days that we can't solve via support, you're more than welcome to get a full refund!
5. Will, my license renew automatically?
Our system will send the notification to you a few times to renew your license. In case if you decide not to renew it, no worries. You will still be able to continue using our plugin on your website. You will not get access to our plugin updates and support.
6. Can I use ElmentsKit on my Client website?
Yes, you can! All the pricing options of the Elements allow you to use it on your client websites.
7. Can I use Elements Kit with any Theme?
Definitely! It works with any theme you like. We have tested all the most popular themes with our plugin.
8. Does Elementor Kit Require with Elementor Pro?
No! You can use it with the free version of the Elementor. If you need more extra features, then you can use Elementor pro as well with our plugin.
Specification:
ElementsKit
| | |
| --- | --- |
| Category | Elementor Addon WordPress Plugin |
| Starting Price | $39 |
| Key Features | 250+ Blocks and 100+ Widgets |
| Verdict | Powerful Plugin that You Need. |
2 reviews for
ElementsKit