Enfold is WordPress Multipurpose theme with Ready to use demo content,
PROS:
30+ Predefined templates
More than 2 dozen demos
Drag and drop feature
Personalization availability
Customizable page title bar
6-month support
Lots of visual effects
20+ predefined skins
Extraordinary layouts
Press forum plugin
CONS:
No option to import dummy content
No option for retina logo
Admin area look is old
Enfold is one of the bestselling responsive multipurpose themes. It is available on ThemeForest. The focus of the Enfold WordPress theme is user-friendliness and unique designs. This Enfold WordPress theme review has covered its features, price, and best use.
If you want to create a website for any niche?
The Enfold WordPress theme should be in your consideration. This theme is full of features, and it is a performance-oriented theme. It can be easily used by anyone to create a website.
In this Enfold theme review, We are Going To Describe:
Enfold Theme Examples
Enfold Theme Pros & Cons
Reasons to Choose Enfold
Enfold WordPress Theme tutorials
You do not need to be an expert to use this theme. Enfold is easy to use theme. Technical and Non-Technical people both can use this theme easily.
Does It Worth?
Enfold WordPress Theme Review –
Enfold WordPress Theme is a multipurpose best-selling theme with ready-to-use sites, simple and clean design.
This WordPress theme is a trendy theme, and it has been updated regularly since its launch. Enfold will provide you with every tool to create your website beautifully. This beautiful and unique theme will help you to attract more customers to your website.
Category: Multipurpose WordPress Theme
Author: Kriesi
Founded Year: 2013
Sales: 200K +
Average rating: 4.82
Enfold is an innovative kind of theme that you can use to create different types of websites. It has the flexibility to let you make your website personalized as per the requirement.
It was released in the year 2013. Since then, it is updated regularly to remove bugs and to include new and unique features. It is one of the best multipurpose themes.
There are more than 207K + customers of the Enfold theme.
There are 12K + comments on the theme.
The average rating of the Enfold theme is 4.82 out of 5.
It was last updated on 27th March 2020.
It was founded on 16th April 2013.
The resolution of the enfold theme is high.
It is Widget ready theme.
It is Compatible browsers of enfolding themes are IE9, IE10, IE 11, Firefox, Safari, Opera, Chrome, Edge.
The enfold theme includes various ThemeForest files such as Layered PSD, PHP Files, CSS Files, JS Files.
There are 4+ Columns.
It is a well-documented theme.
The layout of the theme is multiple responsive.
Enfold is created by Kriesi and its web development team is from Austria, Vienna. In this, Enfold theme review we'll find out its features and reasons why you should do this or not?
Here are the core features of the Enfold WordPress theme.
Responsive Layout:

The layout of the enfold is very responsive.

Outstanding Support:

The support you will get at the time of purchase will be of 6 months. You can extend it for 12 months by giving $17.63.

Well-known 2-minute setup:

It is famous for its 2-minute setup

Drag and Drop Feature:

The drag and drop feature is handy

Retina-ready display:

It provides a Retina-ready display.

Mind-blowing Admin area:

The administration area of the enfold theme is awe-inspiring in terms of quality.

Narrated Video Tutorials:

The users who don't feel like reading the documentation can use video tutorials.

SEO Ready:

The theme is well built with SEO best practices in mind.

Translation ready:

It is an available translation theme. You can use this theme in any language or multiple languages with the WPML plugin.

Fantastic slideshow:

Enfold provides some great 2D/3D/layered/fullscreen/parallax slideshow options.

Integrated form Builder:

It provides an integrated form builder as well as gravity form support.

31PSD files:

It provides 31 PSD files for users ' all mock-up needs.

Sidebar Manager:

For different sidebars on your pages.

Shortcut editor:

If it feels complicated to build templates you can use a shortcut editor.
User Review On Enfold WordPress Theme.
Enfold Theme Is Best For
Enfold theme is best for users who are not developers. The reason is it has various types of pre-build theme templates. It can be utilized easily.
The quality of the theme is very impressive. It includes various features for the users. It will help them to make their website look beautiful.
The theme is useful for
Non-Developers
Bloggers
WooCommerce Website
Choose The Right Plan For You!!
Enfold Theme Price
Enfold Theme pricing for Regular WordPress theme is 59 US dollars. For extended license costs, 2799 US dollars. You can pay an extra $18 amount for 6-month extended support.
There will be 2 types of license:
Regular
Extended
One of the best parts is you get all these features for the price of one theme. In the license, ThemeForest will provide basic features such as quality checks, future updates, theme hosting offers, and 6 months of support from kriesi.
The regular license with extended support of 12 months will cost you around 76.63 US dollars.
The extended license with extended support of 12 months will cost you around 3623.63 US dollars.
Regular
Extended
Theme Price

[With 6-Month Support]

$59
$2799
6 Months Extra Support (Add-On)
$18
$824
Enfold Theme Price Summary:
The regular license of salient costs 59 US dollars.
The Extended Licence of Salient Costs 2799 US dollars.
The extended support for a regular license costs 17.63 US dollars for 12 months.
The extended Support for an extended Licence Costs 824.63 US dollars for 12 months.
Enfold Theme Review – Features Highlights
Enfold is a complete package. Appreciations to more than 25+ Enfold Website Demos, You can create any type of website by using this theme.
Enfold is a premium WordPress theme, just like you expected it to be.
Here we will be exploring how easy it is to program Enfold WordPress theme. We will check out the core features of the Enfold WordPress theme and will let you know how these features can be helpful to you. Let's start the Enfold Theme Review and explore its elements.
Let's start the Enfold Theme Review and know its Highlights.
Enfold Provides a Bunch of Features to make you look at your website more creative and attractive.
1. Easy Setup and Premade Content of Enfold Theme
We have seen that lots of people want to make their website look like the demos of the theme. Sometimes they struggle a lot and end up wasting lots of valuable time.
Here Enfold Solves this problem by providing ready-made content for different use cases. You can easily select the layout you desire and it will be filled with the demo content. Now you can simply remove the demo content and put your content.
2. Pre-improved Layout Editor of Enfold Theme
The WordPress theme Enfold arrives with a power-pack Layout editor.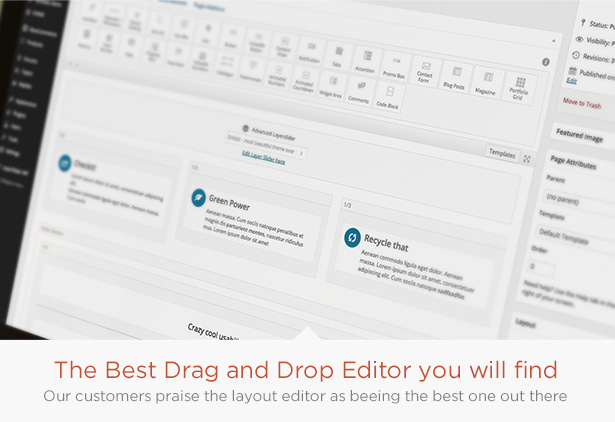 This easy-to-use drag and drop feature allows you to create possibly any kind of layout you have desired. You can add the following things such as:
Grids
Columns
Slideshows
Buttons for Call to action
Videos
Picture Galleries
The advanced layout editor is very flexible and extremely simple to use for newcomers.
3. Easy to use Sliders with Enfold Theme
The WordPress theme Enfold comes with a simple slider that allows you to make full-width sliders with a simple user interface.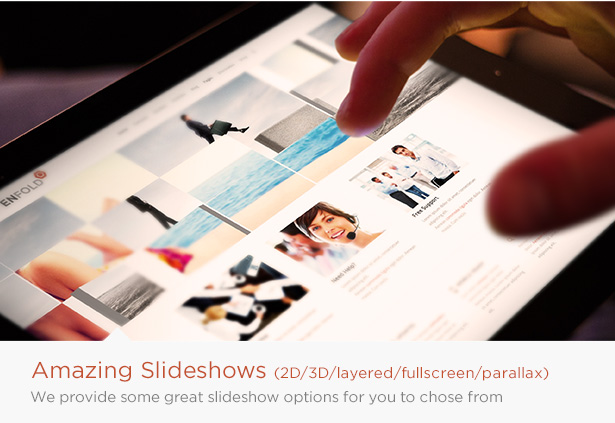 This will be very helpful to the users who find sliders very complicated to setup.
Enfolds comes with its copy of layers slider plugin full-fledged with the theme. The layer slider feature will help you to make your website look beautiful with a slideshow and use it anywhere on the WordPress site.
4. Enfold Theme Sidebar Manager
Most customers feel that the sidebar is the real pain to work with. Many WordPress themes come with very few pre-made sidebar or widget-ready areas. While searching for Enfold theme review, we found this amazing feature.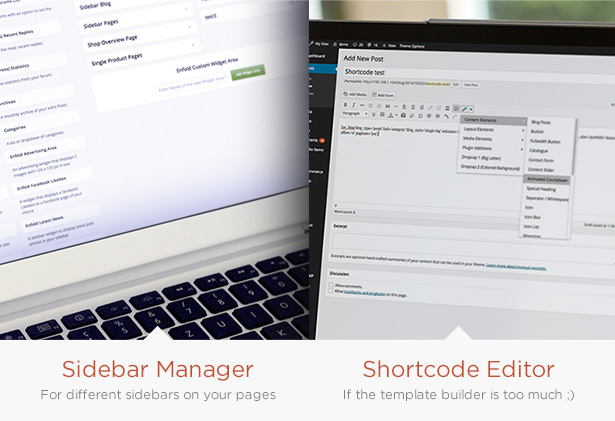 Enfold has its slider-bar manager, which will allow you to create a sidebar manually, and then users can use them while creating a page or post.
The website sidebar plays an important role to convert more conversions, get more target traffic and ads. Enfold WordPress theme provides these unique features, so we added them in our Enfold theme review.
You can create and use any sidebar or widget in your manual slide bars.
5. A Visual Shortcode Editor with Enfold Theme
Enfold arrives with lots of shortcodes. You can use these shortcodes with your theme. Shortcodes are used to add many things to WordPress. Visual shortcodes make it work easy and like page builder tools Elementor or Thrive Architect it creates all visual effects during editing.
Most WordPress theme comes with shortcodes, but users find it always difficult to use these shortcodes. This feature really worth so we added it inside Enfold Theme Review.
Enfold comes with visual shortcodes that will allow you to add shortcodes easily when you want to add them.
6. Famous 2-minute setup with Enfold Theme
Many WordPress themes are complicated and that is the reason users feel that it is difficult to use the theme.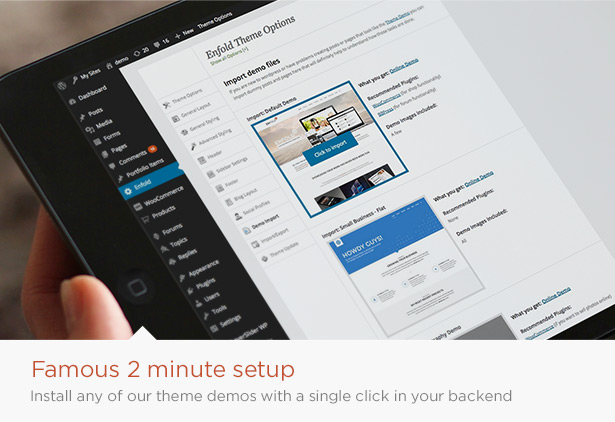 As we have mentioned earlier is easy to set up and premade content that so it is easy to choose the demo you want and add that to your website.
After that, you can simply replace your content with that demo. By doing that, you can eliminate the requirement to set up theme options and perform other projects.
7. Documentation and Support of Enfold Theme
The theme of enfolding is created by a bunch of talented people who work in kriesi. The team knows how to make and support WordPress products.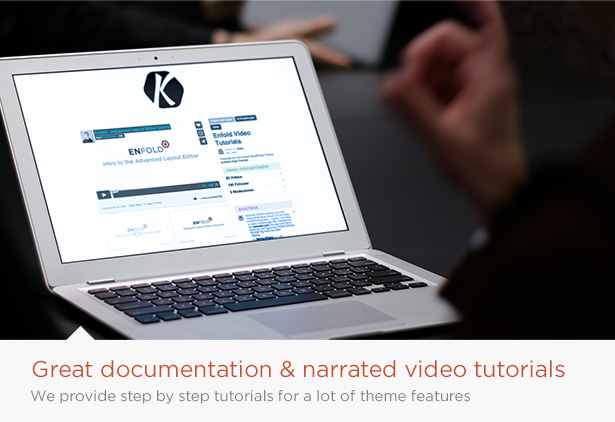 In the documentation of the enfold theme, they have mentioned each feature with step by step guide. This makes it very simple and less complex to use.
There are lots of videos made by the team for the users who don't like to read much. These video tutorials will help you to make your website look more beautiful and unique than before.
Users will get support by accessing the support forums on developers' websites and Themeforest Websites. Each license will ensure you give 6 months' support and update.
There are more than 12000 registered members that help enfold out faster than they can.
#1.Excellent Enfold Theme options:
Enfold provides excellent preview options for some of the configurations. i.e., if you access the normal layout section, you will see the modification created on the page itself. That will help you find the design of desire for your website.
Moreover, You can add the header section the way you need it like that you will not need to refresh every time.
#2. Personalize elements like a professional developer:
If you want to make a few changes, you will need to have experience in HTMT or CSS editing. This section is made for you. Select whatever option you want to change from the dropdown to make desired changes.
#3. BBpress 2forum support:
Enfold has added an amazing BBPress 2 Forum plugin. You can build your community, and you can use it for support.
#4. Translation and multi-language optimization:
This Enfold theme comes with English language files and po/mo files for easier translation.
The theme is also optimized for the WPML plugin so that you can add multiple languages at once. When you activate the plugin, the theme creates a unique option set for each language.
More than 20 languages file included:
#5. Epic Menu:
If you are running the site, which has lots of sub-menus, we advise you to use the mega menu. The feature is inbuilt in the default WordPress menu builder. It works without any extra effort.
#6. 2D/3D sliders:
The theme comes with a fantastic and flexible layer slider slideshow, which permits you to make awesome 2d and 3d slideshows. You don't need to pay an additional $15 license for the layer slider; it will come in when you buy the theme.
#7. A large number of Header Layouts:
There are tons of headers for taking care of the needs of everyone. So it doesn't matter if you have a small menu or extra-large, you can modify it according to your requirements.
#8. Free Updates and Support:
Once you purchase the theme, you will get updates for a lifetime. Enfold's support forum is a vibrant place. You will get supports, offer feedback, and help from others. There are more than 1,80,000 satisfied customers.
Some more features of the Enfold WordPress theme.
Responsive layout and clean and modern design
Drag and drop template builder
More than 2 dozen demos
WooCommerce booking support
Drag and Drop Feature
It has 20+ predefined skins
Retina ready display
2D + 3D layer slider slideshows
Mind-blowing Admin area
Great documentation
Translation ready and bbPress Forum ready
Easy one-page design
Integrated form Builder
What Are Some Of Enfold Theme Demo?
Enfold is essentially a black and white theme, though a whole lot of color options are available. The colors are muted, which gives it a professional feel.
It is minimal and modern, making it ideal for most present-day websites. The simple white business design can also serve as a canvas for the creation of your perfect website.
We are sharing some Enfold Theme Examples, all these Examples We have chosen from the post of Colorlib.com/Enfold Theme Examples.
Example #1 Gentleman's Gazette
Example #2 Village
Example #3 Dapper Goat
Example #4 Innovative Lighting
Enfold Theme Documentation and Support
Enfold theme provides 6 months of support for new customers and you can simply ask your queries on the ThemeForest Enfold comment section or visit their official website.
In the Enfold support, the following factors will be included such as :
Availability of the author to answer the questions
Assistance with reported bugs and issues
Help with included 3rd party assets
Customization and installation will not be included in the support
Enfold Support – https://www.kriesi.at/support
Enfold Video Tutorial – https://vimeo.com/channels/aviathemes/
The theme also comes with documentation files, which guide you step by step in setting up a new site. Enfold documents & tutorials are helpful to solve your minor issues. Or else if you've any problem yet you can simply ask them for support.
Get More Idea About Avada Theme
FAQs: Enfold WordPress Theme Review
To extend this Enfold Theme review, We've included some common FAQs here.
Do I need to pay extra dollars for the layer slider while buying the Enfold theme?
You don't need to pay an additional $15 license for the layer slider; it will come in when you buy the theme.
Will I get regular updates and support of the Enfold theme free of cost?
Yes, after you purchase the Enfold theme for the first time, you will get regular updates and support free of cost.
Can I personalize the Enfold theme if I am a new user and less experienced?
Yes, you can customize your Enfold theme without being a professional developer. Still, we recommend you get the help of a developer. It will save your time and effort.
What does the support include in the license of the Enfold theme?
In the support following things will be included-
Availability of the author to answer the questions
Assistance with reported bugs and issues
Help with included 3rd party assets
Customization and installation will not be included in the support.
How do you get the enfold theme?
To install a theme from the WordPress dashboard navigate to Dashboard > Appearance > Themes and click on the "Add New" option on the top. On the next screen click on the "Upload Theme" option. Browse the downloaded theme file and install.
Should I Choose This Theme?
Conclusion: Enfold Theme Review
Enfold WordPress Theme is a multipurpose theme for creating any kind of website.  You can simply use its 2 minutes setup to import the demo content and build your site. This amazing theme has 100+ ready-to-use and a page builder that works so smoothly.
Create a blog, pro-business site, or sell anything online using the Enfold theme.  All the possibilities seem simple with this easy-to-use and clean theme.
It comes with a plethora of options so you can modify layout, styling, colors, and fonts directly from within the backend. Build your own clean skin or use one of 18 predefined skins right out from your WordPress Admin Panel.
Font, background, and color options as well as the dynamic template builder will help you create the Website you need in no time.
We hope after seeing this Enfold Theme Review you've got is it the right theme for you?
If yes, then go with the Enfold theme. Otherwise, we've got a large variety of themes for your next-gen idea.
Enfold Theme Alternatives
Here are some best alternatives to Enfold Theme.
Specification:
Enfold Theme
| | |
| --- | --- |
| Category | Multi-Purpose WordPress Theme |
| Starting Price | $59 |
| Key Features | lots of demos and creative content. |
| Verdict | Best WordPress Multipurpose theme optimized with SEO & Speed with dozes of Demo and Ready to use the content. |
1 review for
Enfold Theme