Top 15 Best LeadPages Alternatives in 2022. Check ✅ Top LeadPages Competitors with their Features, Price, and Reason why 🔁 these tools are Similar to LeadPages. And Select the Best Landing Page Builder Tool at the Right price.
LeadPages is also the finest theme, but there are various other themes that offer innovative characteristics and are more beneficial than LeadPages.
Due to some disadvantages & better tools available, you must search for other landing pages. On this page, we've shared Best Landing Page Builder Tools similar to LeadPages.
We all know that LeadPages clean and modern high-converting page template.
But If you are seeing for the Alternative of the LeadPages then we have brought you the top alternatives of the LeadPages.
In this article, We are sharing all the details you need to know about Leadpages Alternatives, we also shared their features & Pricing.
Top Alternatives of Leadpages.
What are LeadPages Alternatives?
LeadPages is a powerful lead generation tool. It also works as a marketing tool for online business owners. The major thing about LeadPages is it gets used across the globe for those goals. It's one of the most reliable tools for generating handsome landing pages that convert.
It's a popular choice for PPC marketing specialists as well, and it is very proficient.
But you just can not rely on one option. Proficiency does not mean LeadPages is the best or single answer to the business. There are lots of LeadPages alternatives worth considering, But we've selected only some Top landing pages that are even greater than the software solution.
Why Do People Search For LeadPages Competitors?
The LeadPages landing page is easy to create new pages. It makes it easy to integrate the landing pages with different domains, but there are some holes and cons that you need to consider.
Here are some cons of using LeadPages Landing pages:
Difficult to incorporate custom HTML & CSS
Difficult to incorporate custom fonts
Tough to use for beginners
Fewer video tutorials
Top Alternatives To LeadPages
Table of all the Leadpages alternatives with their Prices & Specifications.
Here are some of the best Alternatives of LeadPages with Price and Key Features.
| | | | | | |
| --- | --- | --- | --- | --- | --- |
| Sr. No. | Name | Starting price | Specification-1 | Specification-2 | Get Alternatives |
| 1. | LeadPages | $25/month | Free Hosting | Mobile-Responsive Template | |
| 2. | Instapage | $199/month | Insta blocks | A/B testing | |
| 3. | Unbounce | $79/month | 75 landing pages | 8 popups and sticky bars | |
| 4. | Landingi | $25/month | Unlimited Landing pages | 5 custom domains | |
| 5. | Thrive, Architect | $67/month | 334 landing pages | Unlimited free updates | |
| 6. | EngageBay | $12.99/month | Advanced marketing automation | Social Suit | |
| 7. | OptimizePress | $99/year | Unlimited pages | 20+ premium integration | |
| 8. | Sumo | $39/month | Advanced visitors targeting | A/B tests | |
| 9. | Clickfunnel | $97/month | 20 funnels | 100 pages | |
| 10. | Sendinblue | $25/month | Unlimited contacts | No daily sending limits | |
Top 3 Leadpages Comparision:
| | | | | |
| --- | --- | --- | --- | --- |
| Landing Page | Landingi | Lander | InstaPages | Leadpages |
| Starting Pricing | $35-129/month | $49-99/month | $149/month | $37-71/month |
| Trial | 14 Days | 14 Days | 14 Days | 14 Days |
| Templates | 300+ | 100+ | 500+ | 100+ |
| Refund Option | 30 Days | N/A | 24Hours | 7 Days Money Back |
| Custom Domain | 1-5 Sites | 3-10 Sites | Unlimited | 1-3 Sites |
| Integration | 10+ | 10+ | 10+ | 40+ |
Choose The Best Option For You.
15 Best LeadPages Alternatives & Similar Tools
It is one of the best lead pages alternatives to enhance your email list. It comes with lots of options for the user to create a page easily. It contains buttons, icons, themes, templates, and many other excellent features.
Users can easily and effectively build an amazing and impeccable landing page to generate leads. The price range of the landing page is very affordable.
Thrive Architect Features
24/7 customer support
Regular updates
Easy to operate
236 landing page templates
30 days money-back guarantee
Thrive Architect Theme Plans & Pricing
There are a total of 3 plans of Thrive Architect Theme
Thrive membership at $299/year: Up to 25 websites, 334 landing page templates, unlimited free updates, and Unlimited support.
1 license pack at $97/year: You can install thrive architect on 1 website, it includes all the features of thrive membership.
Want To Know More About Thrive Architect?

Thrive Architect Pricing & Total Costs
Why Thrive Architect is LeadPages Alternative for WordPress
You will get a full feature set in a to thrive architect that you will not get in the LeadPages landing page. You can activate 1, 5, or 15 sites. You will get unlimited updates and 1 year of unlimited support in Thrice architect.
You will not get an Affiliate Program on the LeadPages landing page. Also, you can pay monthly at Thrive architect.
Landingi is Best Alternative to LeadPages, It also have similar pricing plans and features. So we're spacing it on #1 as LeadPages alternatives.
Landing is an end-to-end landing page platform for all digital marketers and agencies. It permits us to build, optimize, test, and publish the landing pages.
The best thing is you can do all these things without knowing coding or graphic design knowledge. The goal of the platform is to save the time and effort of the digital marketing campaigns team.
Landingi Features
A/B testing
WYSIWYG editor
Mobile optimization
24/7 customer support
20 custom domains
10 account users
Up to 200,000 unique visitors per month
Click Reporting
Landingi Theme Plans & Pricing:
There are a total of 4 plans for the Landingi Theme:
1. Core: You will get Unlimited Landing Pages,1 custom Domain,1000 Unique visits/month, and 2 Account User, Support: Email at $29 per month when billed annually.
2. Create: You will get Unlimited Landing Pages, 2 Custom Domains, 20000 Unique Visits/month,10 Account Users, Support: Email, and phone chat at $65 per month when billed annually.
3. Automate: You will get Unlimited Landing Pages, 4 custom Domains, 40,000 Unique Visitors/month,10 Account Users, Support: Email, and phone chat at $89 per month when billed annually.
4. Agency: You can customize it by paying $145-$245 according to your need.
Do You Want To Know More about Landingi Pricing?

Landingi Pricing Plans – Get a Right Plan on Actual Cost
Why Landingi is LeadPages Competitors
Many customers preferred Landingi instead of LeadPages landing page builder because it has unique categories such as A/B testing and Lead capture.
Landingi provides more satisfaction in A/B testing, Conversion goal, Confidence level, and multivariate testing.
The Landingi editor and landing page building of Landingi is better than the LeadPages Landing page builder.
Instapage is the leader in post-click automation. It helps digital advertisers create more relevant and impactful advertising by unifying the post-click stage of the advertising funnel.
You can maximize conversions by creating and personalizing post-click landing pages. It automatically connects ads with relevant post-click pages. There are more than 2 million landing pages and the average conversion ratio is 16%.
Instapage Features :
80+ professional templates
20+ marketing integrations
A/B testing
Drag & drop WYSIWYG editor
Social widgets
Support for video
Social widgets
Form builder
Publish to multiple domains
Instapage Theme Plans & Pricing
There are majorly 2 plans of Instapage landing page builder.
Business: You will get Admap, Instablock, A/B testing, Heatmaps, etc at $199 per month.
Enterprise: This is a customized plan for the landing page builder. You can customize the landing page according to your need and the price will be charged as per that too.
Want To Know More About Instapage Pricing??

Instapage Pricing Plans & Instapage Plans
Why Instapage is the right Alternative to LeadPages
Many people loved Instapage and chose it instead of LeadPages. The Pricing of Instapage may seem higher than the price LeadPages but the features and characteristics provided by Instapage are great.
They both are categorized as Landing page builders. But there is something that makes Instapage superior. Instapage is categorized as personalization, A/B testing, and Heat maps, whereas LeadPages has no unique categories.
The pricing may be higher not but you will be getting a free demo before purchasing the Instapage Landing page builder. Both the landing page builders are providing free trials.
Instapage is easy to use compared to LeadPages. It is easy to set up, and easy to admin. The quality support of Instapage is great. If you want easiness of doing business then you can choose Instapage. The confidence level of the Instapage landing page builder is higher than LeadPages.
This is also considered one of the best tools to support entrepreneurs get leads and growing their email lists. It is very easy to use and has great credibility to build incredible landing pages.
This landing page a lot of attractive and unique templates at a very affordable price. It also has an interactive interface that will let you create the pages very quickly. The plugins of OptimizePress can work with WordPress.
OptimizePress Features
100+ templates
500+ google fonts
100% flexible editor
Choose from 1,000,000 royalty-free stock images
24/7 support
OptimizePressTheme Plans & Pricing
It comes in 3 plans.
Plan-1: Essential plan for $99/year. It consists of the features of Unlimited Leads & Traffic, Builds Unlimited Pages, Templates Cloud Access including 100+ Templates, and much more.
Plan-2: Business plan for $149/year. It has the features of Premium Templates Collection, Access to 1million+ free photos with Unsplash integration, Priority Email Support from our global team, and many more.
Plan-3: Suite plan for $199/year. It includes the features of OptimizeFunnels, Priority access to our new product releases, OptimizeCheckouts, and many more.
Want To Know More About Optimize Press??

OptimizePress Pricing & Plans [Get a Right Plan]
Why use OptimizePress instead of LeadPages Landing page
If you want to sell funnels and membership sites you need to choose OptimizePress. If we talk about pricing Optimize press is a better choice for you. It has a lower price compared to LeadPages.
If we compare both the landing pages with the concern of ownership, OptimizePress is a clear winner because you can own your pages forever.. If you are using WordPress and willing to spend some more time on your landing page, you should choose Oprimizepress.
EngageBay
All-In-One Marketing Tool.
EngageBay is another great lead management and email marketing software.
Tens of thousands of small businesses, firms, agencies, freelancers, and global tech startups use EngageBay for its affordable pricing and comprehensive tools, making it an excellent LeadPages alternative.
EngageBay Features
Lead management
Predictive lead scoring
Social listening
Project and task management
Lists
Free CRM
Email broadcasts and sequences
Autoresponders
Segmentation
Visual workflow builder, with predefined actions and conditions
Facebook Ads
Social Suite
Drag-and-drop email form and landing page builder
Predesigned templates
A/B testing for email forms and landing pages
Timezone-based email delivery
Conversational inbox
Dozens of integrations
Drip campaigns
Android and iOS applications
EngageBay Plans and Pricing:
EngageBay offers four different plans to choose from, making it easy for businesses of all sizes to choose the one that fits best, All below prices are based on biennial Pricing :
Free: The free plan is great for SMBs just starting out and offers 500 contacts and 1,000 emails for up to 15 users. 
Basic: For $11.99 a month, you get 1,000 contacts and 3,000 emails.
Growth: The Growth plan lets you store 10,000 contacts and send 25,000 emails a month and is priced at just $39.99.
Pro: The Pro plan offers Unlimited contacts and 50,000 branded emails. Priced at $39.99 a month, this plan suits larger businesses in need of advanced features. 
You also get a 20% discount on annual subscriptions and a 40% discount on biennial subscriptions.
With EngageBay, you also get a 20% discount on annual subscriptions and a 40% discount on biennial subscriptions.
Why choose EngageBay over LeadPages?
EngageBay is much more affordable compared to LeadPages. For example, EngageBay's Pro plan costs just $49 a month, while LeadPages' Advanced plan sets you back a whopping $321 a month! This makes EngageBay one of the best choices for small businesses and startups.
Unbounce helps to convert more of your visitors into your leads. It also helps to convert them into sales, and customers. You can create your landing page and publish it.
You do not need any developer to code these landing pages. You will get conversions of intelligence insights. You can improve your intuition and skills you already have to ensure the best campaign performance every time.
Unbounce Features
14 days of a free trial
24*7 Customer Support
Real-time stats
2-factor authentication
375+ Landing pages
40+ popups
15 sub-accounts
Unbounce Plans & Pricing
There are a total of 5 plans of Unbounce as per the following
Launch: You will get 500 conversions, up to 20,000 unique visitors, 1 domain, 2 users, unlimited landing page, etc at $80 per month.
Optimize: You will get 1000 conversions, up to 30,000 unique visitors, 5 domains, unlimited users, unlimited landing page, etc at $122 per month.
Accelerate: You will get 2500 conversions, up to 50,000 unique visitors, 10 domains, Unlimited users, unlimited landing pages, etc at $203 per month.
Concierge: you can personalize the page builder at $518+ per month. You will be getting everything that consists of the Scale package.
Want To Know More About Unbounce pricing??

Unbounce Pricing Plans – Get a Right Plan at Fair Cost
Why use Unbounce instead of LeadPages Landing page
Many users loved Unbounce because of the quality page it provides. The price range is higher in Unbounce compared to the LeadPages but it provides features such as Pop-up builder and A/B testing.
The free trial is available for both page builders. Unbounce wins the race in terms of Meeting requirements, ease to use, easy to set up, ease of admin, Quality of support, ease of doing business.
Clickfunnel can grab the first place in the list of LeadPages alternatives. Clickfunnel has some of the same things that LeadPages designed to do. Clickfunnel has opt-in forms, shopping carts, and everything necessary for an online sale.
This LeadPages alternative works extremely well for creating sales funnels designed to encourage victory. It has better sales pages and rapid sales funnel creation.
Clickfunnel Features
Up to 3 users
Up to 9 payment gateways
9 custom domains
24/7 support
Share funnels
Clickfunnels Theme Plans & Pricing
There are two plans for Click funnels.
Click Funnels: Users will get share funnels, 20 sales funnels, 1 user, 3 payment gateways, 3 custom domains at $97 per month.
Click Funnels platinum: Users will get share funnels, Unlimited sales funnels, 3 user, 9 payment gateways, 9 custom domains, and many more at $297 per month.
Want To Know More About ClickFunnels?

ClickFunnels Free Trial – Start ClickFunnels Trial Now
Why use Clickfunnel as LeadPages Alternatives
ClickFunnel is the choice of many customers because of various reasons. Clickfunnels has unique categories such as A/B testing and Website builder. The price range of click funnel is high but it provides the best possible features to the users.
Clickfunnel is best at things such as meeting requirements, Easy of use, and ease of admin. The quality support of click funnel is great. It helps to do the business with ease.
Sumo is all in one email collector along that makes it the best LeadPages competitor. It consists of apps like a builder that will create different attractive popups to capture the emails of leads.
The best part about the Sumo is that it is free to use. There are no hidden charges and no one-time payments. Sumo works on all sites such as WordPress and HTML.
Sumo Features
30 days money-back guarantee
A/B testing
Up to 50,000 emails per month
1-on-1 onboarding
Unlimited stats for your emails, forms and more
Sumo Theme Plans & Pricing
There are a total of 2 plans:
Free: Email opt-in forms, fully customizable design, social media sharing, etc.
Pro at $39 per month: You will get all the features that have included in Free pack along with Advance visitor targeting, A/B testing, Remove sumo branding, 50,000 emails per month, etc.
Why Sumo is LeadPages Competitors
Sumo is easy to install on any website. If you want to grow your website traffic and search for free-tool then the Sumo landing page is a better option. If you have a small or medium-sized business, you can choose sumo.
The pricing range of the sumo is very low. You can use it for free. If you want to experience premium features then you can opt for the pro pack.
Sendinblue is the perfect all-in-one sales and marketing toolbox. There are more than 80,000 customers across the world of Sendinblue. The reason is that it offers competitive pricing, active customer support, and all in one package for marketing automation.
SendinBlue contains Email marketing, SMS marketing, chat, Facebook ads, CRM, and for sending transactional messages via email and SMS.
Sendinblue Features
Email Solution
Chat and SMS solution
A/B testing and reports
300 emails per day free
Open rate
Sign up forms
Heat map for email
On-time Mail statics
Ready to use the landing page
Send time optimized
SendinblueTheme Plans & Pricing
Sendinblue has some valuable features according to its plans. It also offers a free plan. There are a total of 4 plans.
Free plan: you will get templates and real-time reporting along with 300 emails per day.
Starter Plan: you will get all the free plan features along with 20,000 emails per month with no sending limits at $25 per month but this plan doesn't include any.
Business Plan: You will be getting free plan features plus A/B testing and advanced reports with Multi-user Access and Landing Page Option at $65 per month.
Enterprise Plan: You will get all the features that Sendinblue provides, including advanced features like Enterprise-grade Security at $1000 per month.
Want To Know More About Sendinblue?

Sendinblue Plans And Pricing – Get a Right Plan at Actual Price
Why use Sendinblue instead of LeadPages Landing page
People like Sendinblue because the interface straight forward and easy to use. It is very user-friendly. The deliverability is great for the landing page. Sendinblue Tools and features are very useful and play a bigger role in the market. It fits the requirements of users.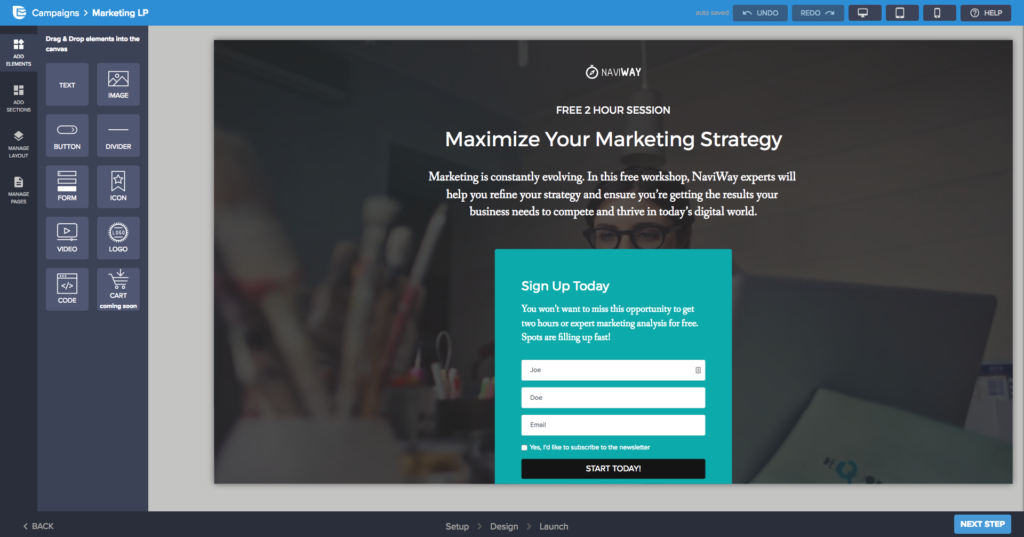 It is very easy to report. The dashboard and performance metrics are available for every campaign. Users can easily grab the metrics for a send and understand what needs to change for user metrics. Users also love the pre-built templates and email builder tool.
Want To Try Sendinblue for Free??

Sendinblue Free Trial – Start 14 Days Sendinblue Free Plan
It is one of the easiest builders they have worked with across the industry according to them.
The price of Sendinblue is based on the number of emails per month. That gives a clear perspective to the users regarding their need for email. They can choose the plan according to their email requirements.
Lander is a landing page solution applied by small businesses, in-house marketers, and companies that are leading large marketing campaigns to develop and advertise high-converting and mobile-ready landing pages.
With Lander, users get a powerful, feature-packed landing page builder with a high level of granular control and a wide-reaching set of analytics tools. The learning curve is a fair bit steeper, however, so beginners should be prepared to invest more time and effort into learning the software.
Lander Features:
100+ ready-made templates
Easy-To-Do editor
80+ Landing page templates
Google Fonts included
Free online marketing services
14-day free trial
Auto-Fill Forms
Lander Plans and Pricing:
It has two plans with a number of features based on the pricing. Let us discuss it below.
Plan-1: Basic plan for $16. It consists of the features of SSL Encryption, Facebook Landing Pages, A/B Testing, Auto-Fill Forms, Email Support, Custom Code Editing, and much more.
Plan-2: Professional plan for $83. It includes the features of Dynamic Text Replacement, Salesforce, Marketo, Custom Code Editing, Webhook Integration, SSL Encryption, and much more.
Why Lander is Leadpages cheap Alternative:
Here's another promising, highly affordable tool. It shines at social sharing though viral loop creation is not recommended and split testing involves traffic distribution (but is confined to 3 variants).
Luckily Lander has integrations with the top email marketing tools, CRM tools, Analytic tools and even eCommerce tools and We are just naming a few. Some of these integrations include MailChimp, Marketo, Salesforce, Vertical Response and AWeber.
The landing pages can also be published on Facebook. Their FB landing page templates are optimized for Facebook's aspect ratio. So now, you can optimize your Facebook page for conversion.
Lander also allows the testing of various variants of landing pages managing its A/B testing tool. Last but not the least, Lander helps users in getting insights into the actions on their landing pages and campaigns by its alliance with Google Analytics.
Get More Idea About Leadpages.
FAQs – LeadPages Competitors & Alternatives 2022
Why Should you Search for LeadPages Alternatives?

There are some cons in LeadPages, that purse you to search for landing pages like Difficult to incorporate HTML, CSS & Fonts. Or You may also get better features & less prices than LeadPages.

What are the Top 3 Alternatives to LeadPages?

Here are the Top 3 Best Landing Pages according To Us:
1. Unbounce
2. OptimizePress
3. Instapage

Does LeadPages Provide any Free Trial?

Yes LeadPages is providing 14 Days Free Trial and 30 days of money back. You can try LeadPages free for 14 Days to test out its features.

Why choose Sumo landing pages as LeadPages Alternatives?

If you want to grow your website traffic and search for free-tool then the Sumo landing page is a better option.

Which is better Sendinblue or LeadPages landing page?

Sendinblue is easy to use. It is very user-friendly. The deliverability is great for the landing page. So if you are not great at coding you can opt for Sendinblue.

How is Landingi better than LeadPages landing pages?

You can get features such as up to 200,000 unique visitors per month and Click Reporting. The WYSIWYG editor and landing page building of Landingi is better than the LeadPages Landing page builder.
Which One Should I Choose?
Conclusion – Top Leadpages Alternatives
The landing page makes our work easy and quick, we don't need to create a website from scratch. Just use a temple and edit content according to desire and now ready to use.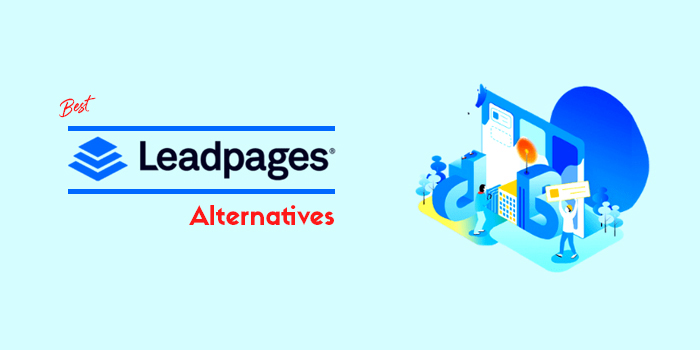 Here are some more Tools like LeadPages:
KickOff Labs
Insta Builder
All the tools that we have mentioned above are comes up with amazing features, all need to check what features you are expected with your Leadpages alternatives and choose from the above list.
LeadPages is a good platform to build instant landing pages and get leads or make sales.
Not Found a Better Alternative for LeadPages?
Try LeadPages Self
LeadPages will help you Create code-free websites and landing pages to engage your audience from the first click to the final sale. LeadPages is a very fast landing page.
It can easily publish your webpages in minutes. It is a search engine optimized and mobile responsive template. You can customize it inside the Drag & Drop Builder. You can also begin a professional-looking landing page or website that's intended to convert.
Wherever you're publishing or posting content, now you can optimize it all for market growth. A complete conversion toolkit, includes Alert bars, Pop-ups, Opt-in texts, and many more.
You can optimize every aspect of your marketing campaigns. Because it has easy to read analytics dashboard, A/B split tests, and real-time conversion tips.
Leadpages have good customer support & detailed knowledgebase with complete tutorials to help newbies on creating a website or landing pages.
This landing page template can be used to support Saas products, musicians, and yoga teachers. It also helps to promote food bag kits startups, gyms, medicinal clinics, artists and decorators, linemen, production businesses, mobile & web apps, and all kinds of marketing and startup websites.
Start 14 Days Trial of any LeadPages Plan.
Get a Best LeadPages Plan and Check Total Cost of Each Plan & Subscription.
Get a Special 21% Discount on LeadPages, Save up to $984/year, or Start 14 Days Free Trial without CC.
Others – Landing Page Builder Alternatives:
Our Other Post Of Landing Page Builders.
Compare 12+ Best Unbounce Alternatives with their Quick Review, Features, Price, and Reason to Choose.
15+ alternatives to OptimizePress with detailed analysis.
15+ best and similar alternatives tools to Landingi
7+ Similar & Better alternatives and tools to Lander