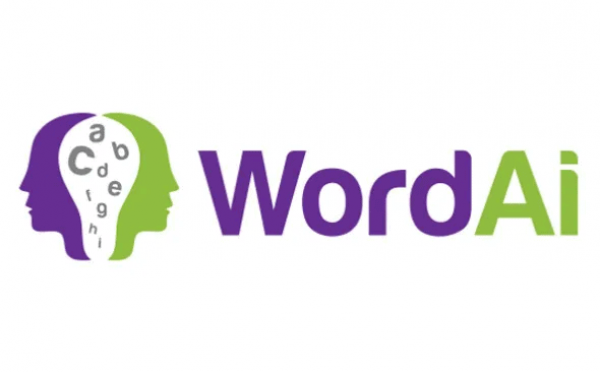 WordAI is a Premium Article Rewriter tool which use AI technology to create new unique content within multiple languages, Bulk Spinning and Its is quite fast.
PROS:
3-day free trial
Bulk spinning
Supports four languages
Generates Completely Unique Content
Paragraph and list spinning
CONS:
It is expensive
Have words monthly limit
In this article, we've unwrapped WordAI Review – Article Review Tool, Best Content Creation tool on AI.
Creating content is time taking work. That is why the website owners who don't have ample time to produce new content daily prefer to use spin content. Writing unique content is very hectic if you are a single person working on a collection of sites.
But is it safe to use spun content?
Which Content Spinner Tool should you believe in?
Several questions come to one's mind when it gets to content. You might have discovered this phrase, "Content is King." Yes, it's correct.
Content is the central part of the websites, and the whole online business begins with the quality of content. So it's tough to negotiate this sector.
Paying freelancers for the content writing material or letting someone write your regular content isn't a good idea periodically as sometimes it's challenging to manage them. If you are interested in this content stuff, a spinner plugin must have come in your mind. A plugin that, too, can integrate with your WordPress site isn't a bad idea to consider.
So, for this, I came across the best spin writer called the Word Ai. So let's get an in-depth look at the things proposed by WordAI, including both of its Spinners- Standard and Turing to spin the content and analyze the quality of the material.
What is WordAI?
WordAI is an automated content spinning tool that writes all the sentences and articles by switching their words, but it remains the same. It creates unique content. It has termed as the primary multi-language content spinner, which can spin in the content written in four main languages: English, Spanish, French, Italian.
A quick view of WordAI Review
Founded – 2011
Tool Category – Content Rewriter
Starting Price – $49.95/mo
About WordAI
WordAI can understand the variation between 2 words. It makes sure that each word that has a synonym will replace, and that the sentence is in the present tense. It not only interprets the significance of each word but also understands how every word of the sentence mixes and linked with the different terms of the sentence.
So in this WordAI Review article, we'll know about its Features and Highlights And find out what makes it one of the best content rewriter tools in the industry.
Using WordAI, you will be ready to produce human-readable content with a single click of your mouse. It seeks all the potential ways to rewrite the content on the basis of the original meaning of the material. WordAI seldom rewrites the entire sentences, so it misses the authenticity, and the purpose may change.
Before producing the article, WordAI read the whole article to know what it is about and then spin the content with his knowledge. It aims to create human written content. With the conclusion of the article, WordAI produces the above paragraph and document level spins.
WordAI is a web-based API integration tool. In plain words, you can reach it from everywhere. Whether you are at the house or prefer software, the API will perform all that job. And in this, you oughtn't to play with spinning. You need to set the content there and click the spin article.
You will receive the spun article with the spinning syntax for SEO purposes. The best thing about it is that it carries bulk spinning. You can upload the content to turn as a zip file, and you can also download spun one as a zip file. It goes great in case you have to deal with loads of clients. I am sure you will prefer WordAI for this feature.
WordAI key Features
Key Features of WordAI:
Bulk spinning
Supports four languages
Only Uses Synonyms That Make Sense
Spun Content Looks Human Written
3-Day Free Trial
Lightning-fast
Import content with Article Forge
WordAI Review and Highlights
WordAI is an automatic spinning tool that writes complete sentences and paragraphs so you can receive unique content. It supports Spanish, English, French, and Italian and is one of the most discussed tools for rewriting content.
Let's start the WordAI Review and take a look at its key points. According to the official website, WordAI can understand the contrast between words and make assured each word that it picks gives a sense.
Not only that, it knows what each term means, but also how each word associates with each other. It marks for potential ways to rewrite your article based on what the article implies. WordAI will usually write sentences, so the spun content does not match with the original content.
1. WordAI Spun Every Content
An article spinner after producing an article provides synonymous terms or phrases, for specific words or phrases. It is quite a tiresome task and needs good hardwiring of the tool. WordAI has tried to catch a leap forward of its analogs by including it as a Word dedicated online product.
You can use this tool from everywhere in the world with an internet facility, rather than downloading it on your single system. Most of the article spinners perform poorly as their configuration is OS based, i.e., their functionality has restricted to a unique platform. So carry your business anywhere and begin spinning without bothering that if the downloadable software will work in tandem with your OS or not.
Before beginning the rewriting, WordAI first gets the idea of the content in both general and specific ways. It lets the WordAI generate more helpful sentences and paragraphs on spinning. The content created after spun is more different versions of the original content.
As none of the different rewriting tools has an in-depth knowledge of the content, so the content created by WordAI looks like Human written. It will spin each word into a meaningful format so that the users may understand the significance of the generated article.
2. Unique Quality Content
The quality of the material that you provide on your website serves as the deciding feature for the readers if they want to revisit you in the future. Technically, you can expand an SEO tool to hold some traffic, but it cannot produce quality articles on your behalf. And your marketing strategy is based wholly on content writing, then how are you planning to serve a new dish each time?
The prescribed tool helps us to maintain quality content and helps to drive traffic to the website. The specified settings for this one are identical to the one above, with the only variation being the change of the 1st input to "Readable."
It will generate more unique variants of your content while still maintaining an exceptional level of readability. Usually, this is the most suitable setting as it receives the right balance between human readability and the uniqueness of the content generated.
3. Spun content like a human
2nd point of WordAI Review is its Spun Content Like a Human Do.
WordAI is a multilingual article spinner which automatically produces human quality content. The Ai in the name endures for Artificial Intelligence, and it has been called so for a purpose. Your work is to copy an article and paste it in its workspace so that it can help some piping hot articles.
Unlike different spinners, WordAI fully knows what each word in the content indicates. It doesn't observe sentences as just a listing of terms; it sees them as real things that communicate with each other. This human like understanding lets WordAI rewrite whole sentences from scratch automatically.
This considerable level of rewriting will guarantee that Copyscape and Google can't identify your content while it remains human-readable. So if you genuinely wish to immerse yourself into an online war of securing a competitive rank, then improve your workflow with Word Ai.
4. Faster Spun Content
In this part, you get shocked to know that it needs only 10 seconds on average to spin an article by an exceptional quality Article Spinner. After deciding to turn an article on WordAI, it took me about 5 minutes to be through with it. As times passed, my expectations were going down, and so was my WordAI review.
But to my surprise, it not only presents me with proposed synonyms but preferably, it provided them with freshly stocked articles. This way, I can pick the piece which best matches the description without settling on the ingenuity. It also generates a unique quality article too.
Many of us might think that due to the faster response of the tool, there will be no quality in the article. So, it's the unique feature of this tool that you will get the spun quality content within a matter of seconds.
5. Create Content in Multiple Languages
What if you had some of the most exceptional writers from over the world giving their thoughts with you? As attractive as it may sound, with WordAI, you can turn it into a possibility. Being a multilingual article spinner, WordAI can assist you to spin articles accessible in languages ranging across French, Spanish, English, and Italian.
Visualize the variety of topics and styles that you could add to your website and invent the uniqueness. It will usually interest the number of readers and influence immediately on your Search Engine Indexing. So add your creativity and research to stay forward of the competition by presenting a more profound insight into your articles.
6. Title, Paragraph, and List spinning
It is a single feature of WordAI, which lets it generate a title for the spun content. It creates the title after learning and getting the idea of the unique content before turning it. It gets convenient while generating content for SEO purposes as it saves time.
Proceeding to the functionality as given by most of the content spinners, but they don't serve well enough as WordAI does. WordAI works to know the context of the entire content and writes sentences, following the meaning of the same as the original.
It doesn't see sentences as a list of words, preferably it look at them as they are whole things striving to communicate with each other.
The human-like feature of WordAI enables it to produce content from scratch. Also, it provides high-level content which simply passes through the plagiarism content detectors like Copyscape, and even it is difficult For google to list it as a copied content.
7. Standard and Turing Spinners
The Standard spinner can do all the duties that a content spinners accessible in the store can do. I would say it deliver a little better performance than others. The quality of the material depends on the settings you have done before spinning the content, whether you go for word spinning or paragraph spinning.
The further you stern while arranging the settings, the unique content it will produce. But in this case, readability might undergo badly. The content provided will not be in a human-readable format but can be solely used for SEO purposes.
Turing spinner of the WordAI concentrates more on the quality of the content and its formation.
It stresses more on the flow of the content and not exchanging the words with their synonyms. First, it clearly understands the meaning of the material and then transfers the words in a method that doesn't alter the purpose of the content. It rewrites the entire content as it has written by a human author. This spinner is better if you wish to produce content for client work.
The quality of the content is excellent. I will prefer to use the yearly spinner as it matches the best to my need. I am much satisfied with its quality, as I have never met any issue with the quality of the Turing spinner. However, I will suggest the standard spinner for SEO purposes as it takes a shorter time to spin the content.
8. WordAI Support Bulk Spinning
The unique feature of the WordAI is the bulk spinning. It doesn't matter whether you want to spin ten articles or 1,000 articles. WordAI can manage it all with one single upload.
It is the last point of our WordAI Review, It also performs bulk spinning. So like you buy its monthly plan then you can finish your work within a month and create lots of new content using bulk spinning.
You can save time by this feature, and if you are working on many blogs such that each blog requires unique content based on the niche. So, you can spin the articles based on your niche and can get all the materials at once.
WordAI Plans Pricing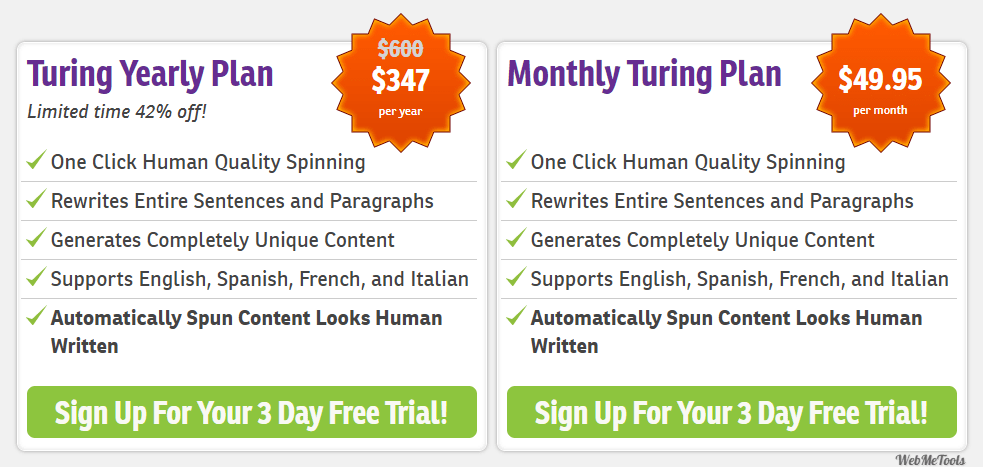 WordAI proposes two plans: Monthly Turing Plan and Yearly Turing Plan. Both plans have the same features and configuration options. It also provides a 3 Day Free Trial Plan.
| | | |
| --- | --- | --- |
| WordAI Plans/Features | Monthly Turing | Yearly Turing |
| Human Quality Spinning | ✅ | ✅ |
| Rewrites Every Sentences and Paragraph | ✅ | ✅ |
| Unique Content | ✅ | ✅ |
| English, Spanish, French Italian | ✅ | ✅ |
| Automatically Spun Content | ✅ | ✅ |
| Price | $49.95/month | $347/year |
| | Visit WordAI | Visit WordAI |
Though it is remarkably favorable to use it for SEO services, it does generate quality content, but the content looks like spun, which is okay for search engines.
WordAI Pricing & Cost
WordAI price starts from $49.95/mo on the Monthly Turning plan. WordAI Yearly Turning Plan costs $347/year. It also provides 3 Days Free Trial at Free of Cost.
The yearly Turing plan is hugely beneficial for excellent quality content. It is like you will remember to 'fire your writers' because the quality of the content is unique, and the spun content is human readable. You can even market the content on sites like Fiverr.
| | | |
| --- | --- | --- |
| WordAI Price | Monthly Turning | Yearly Turning |
| Price | $49.95/mo | $347/year |
| Total (12 Months) | $599.4 | $347 |
| | | |
Currently, there is an offer if you buy for a Yearly Turing plan. There is a Limited time 42% off if you purchase it now. It offers $600 per year, but due to the offer, you can get the plan for $347.
Conclusion, WordAI Review 2022
We shared the WordAI Review of Content Spinner tool. The automatic spinning features of WordAI are fabulous. But the tool does have limitations when it gets to adjusting the Spintax by hand. As you noticed, WordAI does produce fresh content for software.
There is a lot of room for growth, but until computers go to an entirely new level or until we discover how it infers the power of consciousness, We can't see a machine making an "A" in human language.
Content will regularly maintain excellent quality, but there are times when it seems spammy and requires manual editing. If WordAI gets content, then the tool can provide some pretty impressive output.
Spinning before publishing an article and assuming it to be readable and unique is, in most exceptional cases, a step too far right now. But it all depends on the type of content of your source.
We would like to add that in various spinners, there is a suggestion of similar words while creating a manual release of the Spintax.
It is natural and straightforward to use WordAI and is integrated to work with all the best online marketing tools. My view is that WordAI is excellent with straightforward content that doesn't have many technical terms.
WordAI Review, Pricing FAQs
To get more ideas about this amazing content-creating tool, here we've shared some common FQAs about WordAI.
What Is WordAI?

WordAI is a multilingual article spinner that generates human-quality content, you can generate your whole articles in just one click

How many languages does WordAI support?

Currently, you can use Wordai for four languages, WordAI supports four languages, i.e., English, French, Spanish, and Italian.

Does WordAI offer any trial period?

Yes. you can try Wordai for free, you can use their free trial option where you will get a 3-day trial period.
| | |
| --- | --- |
| Category | Content Rewriter Tool |
| Starting Price | $49.95/mo |
| Key Features | Fast, Title + Paragraph & List Spinning, Multiple Languages |
| Verdict | Expensive but worthy Article rewriter tool. |