Web Marketing Tools provides Ad space and sponsor posts to give a kick to your biz. Advertisement and promotions create an engagement with users that increase the trust of a user in your Biz or services. therefore it helps grow biz.
Try Web Marketing Tools Ads to enlarge your presence and productively increase revenue.
Reason to choose us.
Why Advertise with Web Marketing Tools
Check our performance on the Top SEO Tools.
INFO – Recently(6 March 2022) we changed our domain name from webmetools.com to webmarketingtools.com
This new domain name has more clarity about our website, marketing, and AIM.

It also has good authority due to 301 Redirects and new promotions.

We changed our domain name on 100+ social profiles, and build 5k+ new manual & fresh backlinks.
>> We will update all the below screenshots in May 2022 Month.
These Images will help you to understand our progress.
Last Update – 1st Week of June
Landing Pages – Google Analytics
Current Stats:
Avg. Users Visit ~ 14k
Avg. Monthly Page Views ~ 30k
Organic Traffic ~ 89%
Top Countries – USA, India, UK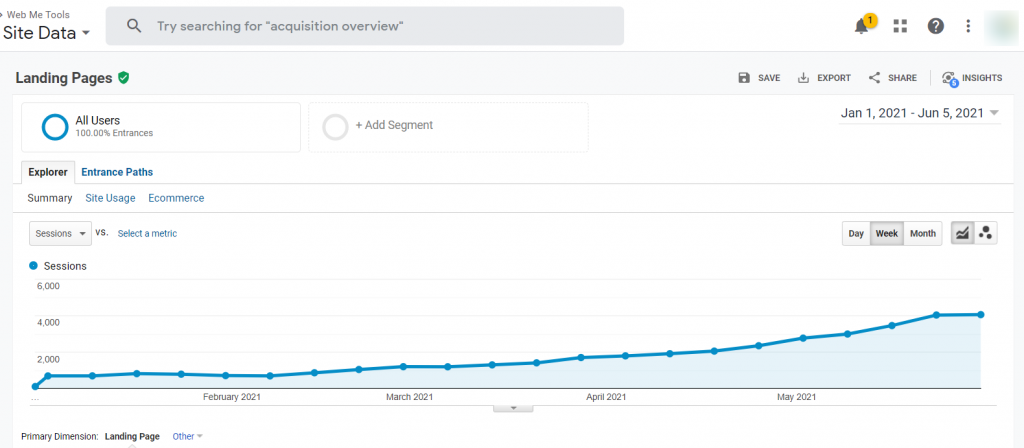 Moz – Domain States
Don't believe much, but we added this.
SEMRush – Website Stats
See our Traffic Growth here.
Domain Authority – 45
Organic Traffic ~ 5.5k/month (Almost 1/3 of Real)
Ahrefs – Website Stats
See our Domain Name Strength
DR – 41
Organic Traffic ~ 3k
Now let's come on to our Advertising solutions.
Best Solution and Valuable Range.
Types of Advertise & Cost
Here are the solutions, that we are providing to our Advertisers.
Complete Review Article
Give your presence on Web Me Tools
Complete Content with Full Details
Multiple Do-Follow Links
Social Media Promotion
Newsletter Promotion
Validity – Lifetime
No Sponsered TAG in the URL
This is the best advertising method on Web Me Tools.
Example:
Add your Tool in the Listing
Get a Link from our Existing Article.
We have some Listing articles on Top ___ Tools, ___ Alternatives & ____ Free Trials.
You can add your Marketing Tool there.
Short Content
2 Do-Follow Links
Validity – 1 Year
Top 3 Positions are Reserved
Example:
Like this, we have also added new Tools to our existing listing posts.
Best Place to Promote your Tool.
We have 85% Traffic from the Desktop/Laptop.
In Both devices, the Sidebar is the most visible part of the Website.
It is a good opportunity for Brands/Tools to promote.
1 Do-Follow Link
Banner in Sidebar
Categorywise Promotion
Validity – 30 Days long
This is the best advertising method on Web Me Tools. This Price is for a 1 Category Sidebar Banner. Banner Position will be on Top.
Guest Posting
Best Way to Get a Link & Promote.
Guest Posting helps a New Blog and Brands to scale their outreach.
Every day we received lots of emails for Guest Posts, but only a few posts were published.
Words > 1500
Unique Content
Right Structure
Validity –
Publish your post on Web Me Tools Blog.
Visit on Guest Post Page, for more information.
Guest Post Pricing:
Quality Guest Post (Words > 3,500) – FREE
Individual Bloggers – $29
Freelancers/Promoters – $39
Brands/Tools – $49
Examples:
<br>
If Words > 3,500 It is around a target keyword that can rank on SERP.
Free Guest Post Example:
Contact Us
Email
–
[email protected]
Avg. Response
– 3 Hour
Payment Methods
– Paypal or Bank Transfer
Thanks for Selecting Web Marketing Tools for Advertising.