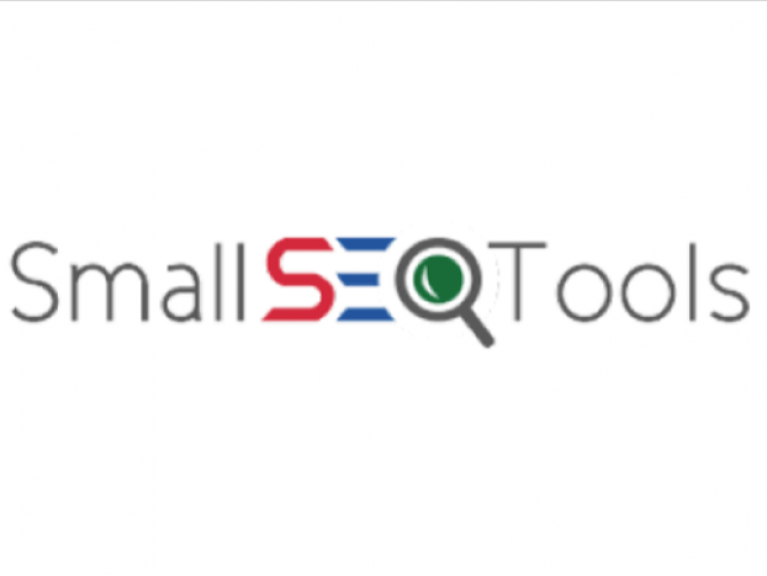 SmallSEOTools is one of the leading websites providing free and online tools for everyone. It offers a multitude of marketing tools to its users that can be used for various purposes. From plagiarism checker to article rewriter, grammar checker, and more.
SmallSEOTools aims to assist bloggers, digital marketers, writers, students, and people from different fields of life in accomplishing their daily bases tasks easily.
In addition to that, content-based tools like plagiarism checkers and paraphrasing tools enable the users to create and optimize their content without getting into any intricacies.
As a result, the website has garnered positive ratings from many SEO experts and netizens as well. Therefore, SmallSEOTools is also known to be the industry pioneer in the respective domain.
Reasons To Choose SmallSEOTools?
Let's get started with a detailed overview of the top-rated tools of this website.
SmallSEOTools plagiarism checker is trusted by millions of users around the globe. This plagiarism tool helps writers, students, researchers, digital marketers, bloggers, and more find instances of plagiarism in their content.
The advanced algorithm and deep search technology used by this plagiarism checker compare the textual content with various online sources and generate an appropriate report in a matter of seconds. The results generated by this utility are accurate and precise.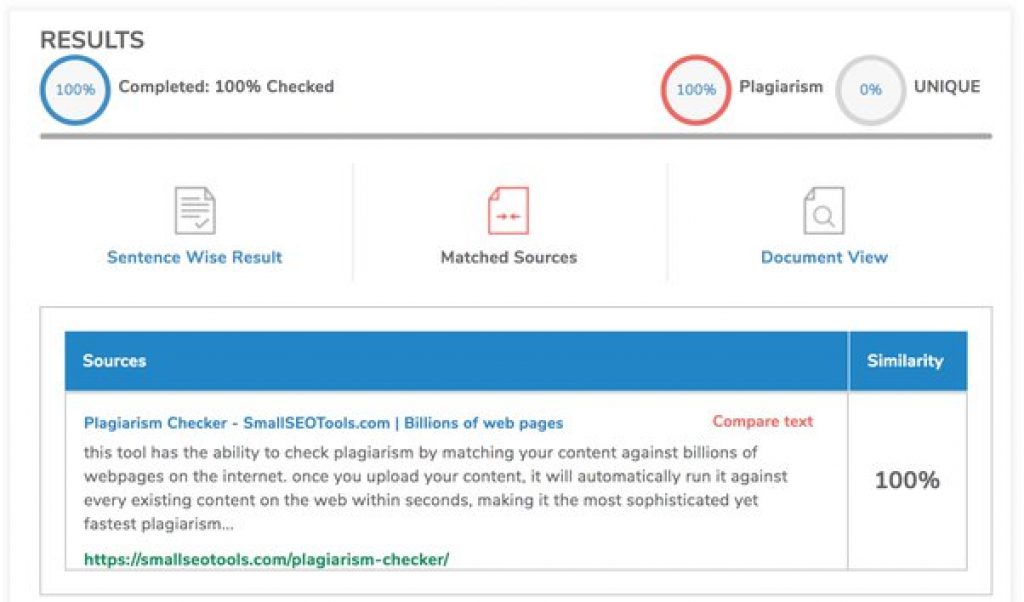 Almost all academic institutions have a zero-tolerance policy for plagiarism. This copyright checker helps students to check plagiarism in their assignments, research papers, synopsis, and thesis to know that their work is unique before submitting it to their respective instructors.
In this way, they get to save their marks from getting deducted by eradicating instances of duplication from the content.
Moreover, the plagiarism checker also assists bloggers and content writers in detecting duplication in their content to get themselves saved from the penalties of Google and other search engines.
The article rewriter is one of the most useful facilities that let the user rewrite their textual content in no time. It is an advanced rewriting tool, which lets the user rewrite the content on a human level.
This article rewriter does not only replace the words with their contextual synonyms but rewriter the content from scratch.
This rewriter tool helps students, researchers, and writers to produce quality content in no time. This rewriting utility is developed in a way that it processes to generate the desired results for the users on the go.
If you are looking to produce content in abundance, then it would be the best text rewriter for you. Furthermore, the sentence rewriter changes the sentence structure in a way that completely eradicates duplication.
Therefore, it is also known as a plagiarism remover. Firstly, you can check plagiarism with duplicate content detection tools, and after that, there is an opportunity to remove plagiarism with the assistance of this rewriting facility.
There is no doubt that reverse image search has become a necessity over the past few years. The generation of image-based queries helps in fetching accurate and relevant results. This image search utility provides the facility for users to fetch images with the help of image-based queries.
Once you upload the image on this reverse image search utility, it will match your uploaded image with the images available over the web and its database with advanced algorithms and AI-based content processing systems.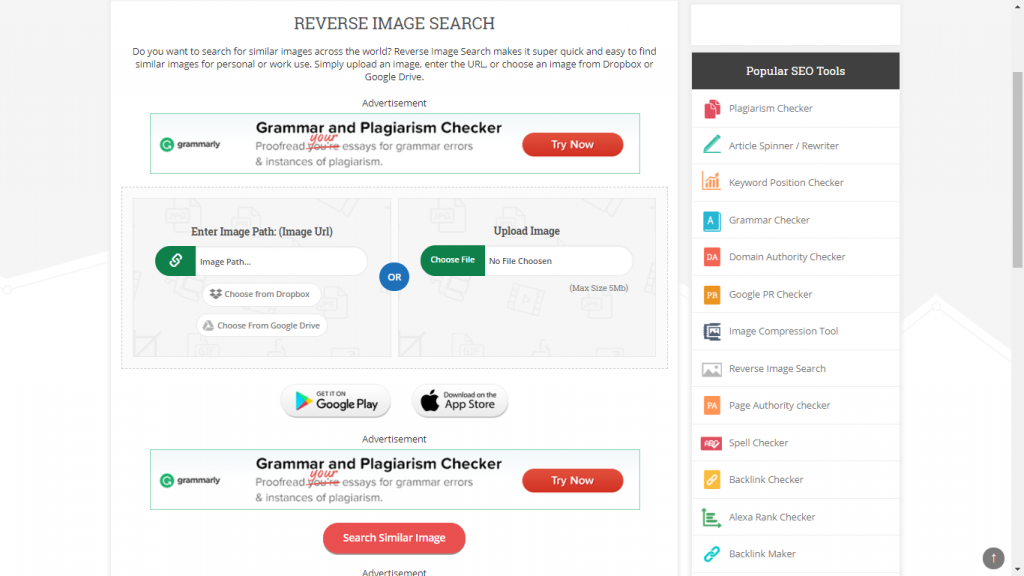 The is a great tool for digital marketers as they can check out the replication of their originally produced content and ask the copycats to give back credits or backlinks to their respective pages. It is surely a great tool from a marketing standpoint.
Additionally, this tool is helpful in finding your desired products on the go. It will enable online buyers to purchase their desired products by uploading a picture of the product and finding the source of online sellers. It has truly smoothened up the process of buying products online.
The e-commerce industry is truly benefitting from this tool. In addition, this picture searching facility also helps in verifying fake news; you can upload an image on this tool, and it will locate the actual events that happened and associated with that particular image.
This grammar check tool is designed for the users to detect grammatical errors in their content and fix them on the go. This grammar checker helps in checking the spelling errors, grammatical errors, sentence formation errors, and syntax of a sentence.
Therefore, it is considered to be one of the most reliable sources for knowing grammatical errors. This is surely a great facility for writers as they can instantly verify the authenticity of their content in terms of grammatical formations.
No one would ever want their content to be de-ranked on the search engine result page (SERP). Google and other search engines prefer to rank web pages, which are free from grammatical errors.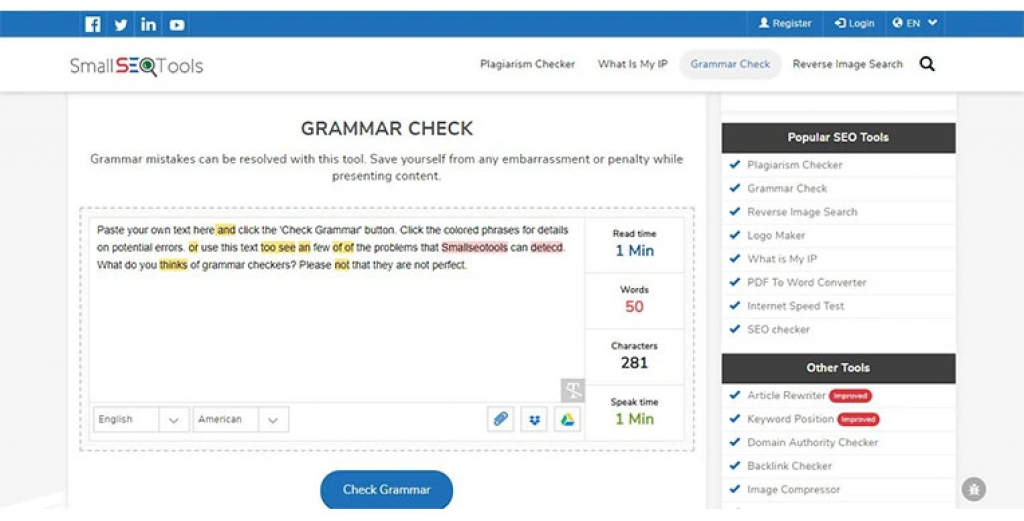 Therefore, it becomes a prerequisite for the writers, webmasters, and bloggers to check grammatical errors in their content before getting it published on their website.
In addition to that, the students, researchers, and other people from academia can also take assistance from this punctuation checker. They can check the sentence formation and other grammatical errors in their assignments, synopsis, research papers, thesis, and more.
It will help them in getting high marks in their respective subjects because almost all the academic institutions deduct marks of the students in terms of sentence formations and grammatical structure of their content.
Therefore, this free grammar check tool could be the next one-stop-destination for the writers, students, and researchers.
SmallSEOTools also offers the best paraphrasing tools to its users. A paraphrasing tool is of great assistance in creating fresh and unique content, as well as it will also be an ultimate companion for writers, students, and researchers.
It helps them in coming up with unique and plagiarism-free content. You can use this paraphrasing tool to rephrase the content by changing the words with their contextual synonyms.
However, the words aren't replaced randomly, this AI-based paraphrase tool first understands the context of the text and then replaces it with appropriate synonyms.
In addition, this rephrase tool removes all the instances of plagiarism from the content in no time. The content generated by this tool will be based upon natural language, and there will be no vagueness and ambiguity in the content at all.
As we all know, Google and other search engines do not prefer to rank content, which consists of duplication. The website content needs to be updated on a regular basis for staying in the competitive market.
Therefore, it becomes necessary to publish content, which could be regarded as original and unique. It surely becomes difficult to produce content in abundance, especially when you are running a blog website.
In addition to that, the content agencies also need to produce deliverables on time; they are mostly under the workload. At that time, an online paraphrase tool will help them in generating content within no time, and they can easily meet the deadlines. Hence, this paraphrasing tool is surely the best option to opt for.
No one would ever deny the fact that backlinks are still an important factor in search engine ranking. Google and other search engines determine the authority of a site and its goodwill by determining its backlinks.
Therefore, analyzing the backlinks is an important task that SEO experts need to perform. They need to check the backlinks of their own web pages for laying out a concrete strategy.
In addition to that, they also need to know about the sources where their competitors are creating the backlinks.
In this way, you can use this online backlink checker to check out the websites and other sources where your competitors are creating inbound links for their websites. You can contact those websites and get incoming links to your web pages.
It will help you in competing with your counterparts, and your search engine ranking will also be increased.
Therefore, an online backlinks checker is surely the best option that could enhance your marketing efforts. Most of the online tools come up with a monthly or yearly subscription plan.
But this platform is providing the facility to users without asking them for any subscription charges. Moreover, you would find yourself at ease using this backlink checker because it is easy and free to use.
The is a great tool for creating backlinks without paying a single penny to webmasters. You can create backlinks for your website on the go without getting yourself indulged in the complicated process of contacting webmasters for fetching an incoming link.
There is no need to invest additional efforts and money in getting quality backlinks. Therefore, you can use this backlink maker to get free referring links to your website.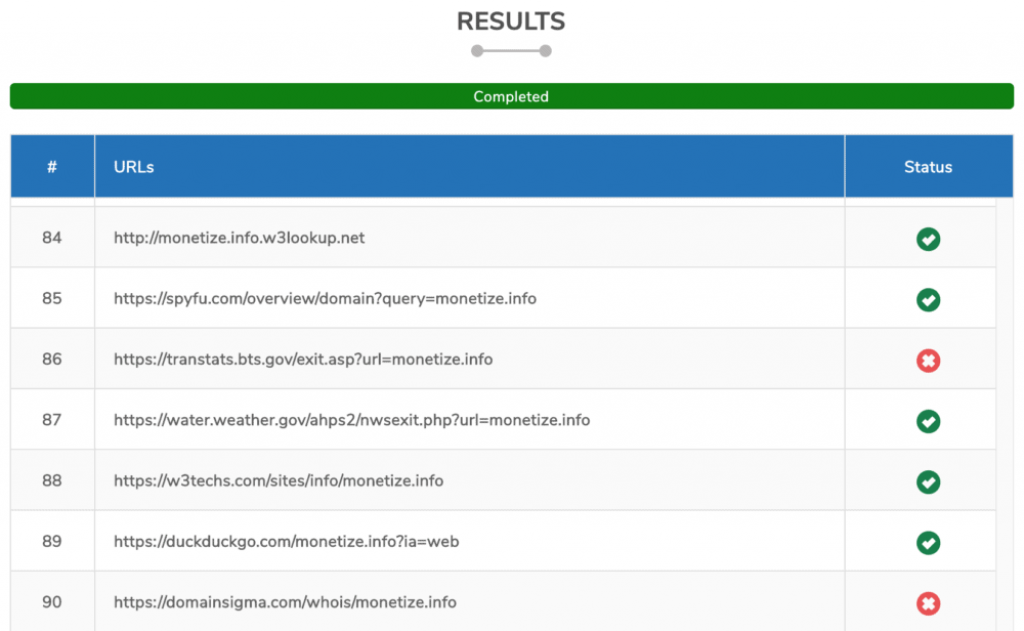 All you would need is to provide the link to a webpage, and the tool will generate quality inbound links without consuming much of your time.
In short, the backlink generator will make your life easier by providing you with the chance of creating backlinks on the go.
SmallSEOTools is also offering Design Studio to its users which include many tools like logo maker, poster maker, flyer maker, resume builder, invitation maker, and more. You can use design studio tools for creating resumes, logos, flyers, invitations, memes, posters, and business cards in no time.
The platform offered hundreds of premade templates that can be edited and customized as per your requirement and preference.
Design Studio is an advanced facility that gives you complete control over the design process. From altering the background, color scheme, and other elements, the platform is great for designing an asset as per your needs.
You would need not possess any designing or technical skills for accomplishing your tasks. Therefore, using Design Studio tools for creating stunning design assets is surely the best one. Along with that, Design Studio tools also have the potential to create unique and original design assets for you.
As you know, these days hiring a freelance designer or an agency for covering design needs is quite expensive. You would have to pay extra bucks for meeting the end needs.
However, design studio tools are available free of cost and there is no need to pay any charges. For that reason, Design Studio tools are the most useful and cost-effective option for you.
The image compression tool lets you minify the size of your images. Mostly high-quality images can't be shared with other people through email and other data-sharing mediums due to their large size.
The image compressor will smoothen up the process by reducing the file size, and you will be able to share with other people on the go.
You will only need to upload the image on the tool, and it will reduce the size for you in less than seconds. Many people are also often worried about the quality of an image because when size is reduced, the quality is distorted.
However, the photo compressor will keep the quality intact, and you will be able to send the image in its original quality but with a reduced size.
For that reason, the image compression tool is surely the need of everyone out there, no matter from which field you belong. In addition to that, images also occupy a considerable space in your device, so it is better to store them in small sizes.
The domain authority checker helps you check the domain authority of a website. The authoritative repute of a website is determined by the incoming links and how many other websites are referring to a particular site.
However, this DA checker provides accurate results, and you can use them to contact a website and request backlinks.
The more a site has authority backlinks, the more are the chances that it will be able to get link juice. Therefore, it will be beneficial for you to achieve a high search engine ranking.
SEO checker is a useful tool that helps in determining the credibility of your SEO efforts. Using this SEO checker, you can check the SEO score of your website without getting into any intricate or convoluted process.
You would only need to enter the link of a domain in the tool. The SEO score checker analyzes the website for on-page and technical seo errors and shows you reports and seo scores for the website in a few seconds.
keyword position checker allows you to track the position of your keywords in the search engine results page (SERP). In this keyword rank checker, you would only need to add the domain name, search engine name, and the keywords you need to check the position.
After that hit the "check position" button. The tool will display the keyword positions in a matter of seconds. If you want to check the position of multiple keywords for that,
you need to separate the keywords with a comma. In short, the keyword position checker is the best seo tool to check the SERP positions of your targeted keywords.
The video downloader allows you to fetch mp4 videos directly to your device. Most of the online video streaming websites don't provide the option to download the videos.
But this online video downloader is specially designed to help users in getting their favorite visual content right into their device so that they can watch at any hour of the day, even without having access to an internet connection.
The tool is of great assistance for getting videos right into your device. You would only have to provide a URL of the video in the tool, and the rest of the heavy-lifting will be done by the facility itself.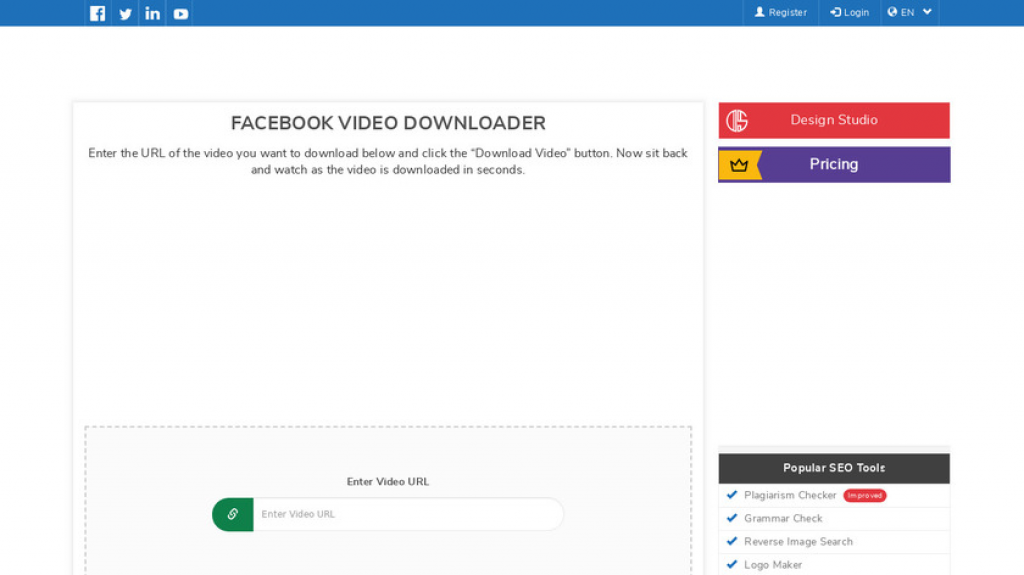 Over and above that, the video downloader doesn't require you to sign up or register to download videos.
Along with that, there is also no need to pay any subscription charges for fetching the video right into your device. Therefore, the video downloader is surely the best one to go for.
SmallSEOTools is also offering a great tool for those who have not installed MS Word into their devices. This online text editor will let you edit your text and other documents on the go without getting you into any intricate process. The tool is of great assistance for everyone out there. You can use this text editor on any device without any hassle.
JSON editor is the best tool for java developers that provide a complete coding environment. This JSON editor helps developers to edit their JSON code and make the required changes in the code they want.
The tool will let you identify errors in your code and highlights the code errors with an error message. This JSON editor is a free service for users.
This tool efficiently works on all devices and there is no intricate procedure required to use this tool because of its easy-to-use interface.
Everyone wants to have access to a facility, which can help them in editing their documents. There is no doubt that editing a PDF file is not an easy task.
You would have to pay for getting editing access. When there is an option to edit a PDF file by converting it into MS Word format, there is no need to pay any charges.
The PDF to Word converter helps you convert any PDF file to word format and makes it editable. You just have to upload the file on the tool, and the tool will convert the file into a Word format.
At the same time, you can convert multiple pdf files into word format with this doc to pdf converter.
The word format would allow you to edit and make required changes in the file. The tool is essential for handling official tasks, be it an academic institution or a traditional office. They will be able to streamline their tasks with the assistance of this facility.
The optical image recognition technology has truly shaped new dimensions for netizens. This JPG to word tool is truly helping the netizens in a number of ways.
This online JPG to Word converter allows you to fetch the text from images easily. You would only have to upload an image on the tool, and it converts all the content in word format, which you can edit as per your needs.
The Lock PDF tool is a great facility to protect your confidential documents from getting into the hands of unauthorized sources. This PDF locker will help you protect your information with a password.
All you would need is to upload the pdf file on the tool, enter the password as per your desire, and hit the "Encrypt PDF" button.
The password-protected pdf file will be ready in a few seconds and displayed on your screen. Hence, this PDF locker helps you out in protecting your confidential information.
Conclusion: Does It Worth To Buy SmallSEOTools?
In the last analysis, SmallSEOTools is surely offering great assistance when it comes to online tools. The Website has incorporated a number of tools.
These are only a few tools that have been discussed. Apart from these, there are several other tools available on the platform. Visit smallseotools.com to use its advanced tools.
Along with that, the best part of these tools is that there are no charges at all for using these facilities. In addition, there is also no need to sign up or register for using the tools.
Therefore, it is regarded as one of the most in-demand websites that provide efficient online tools.